If you've ever tried dropshipping or working with a supplier, you know how frustrating managing your inventory can be. You'll get disgruntled customers when a product is out of stock, or you might end up getting angry calls when one of your products isn't delivered on time.
Dropshipping is a rewarding and profitable business strategy, but getting that darn inventory into the shop can take up some of your valuable time.
However, the Oberlo company is looking to change all that.
What Exactly Does Oberlo Do For Your Store?
The main point of Oberlo is to import hundreds or thousands of products into your store within minutes. It sounds like a nice offer, but there's far more included with the program. Let's take a look at the standout features:
AliExpress.com Integration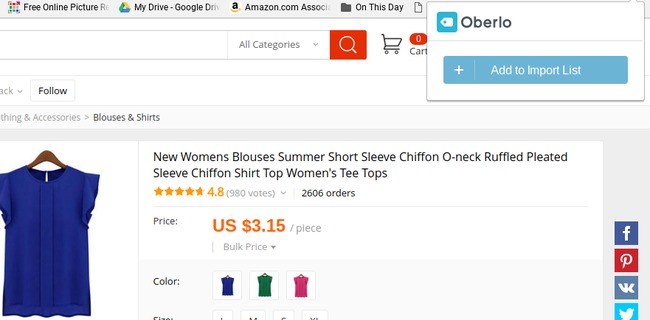 The primary reason I enjoy Oberlo is because it integrates with AliExpress.com, which is the retail side of Alibaba, allowing you to complete smaller batch orders for reasonable prices. Once you install the Chrome extension you can go to the site and click on all the products you want to import into your store.
Automatic Order Fulfillment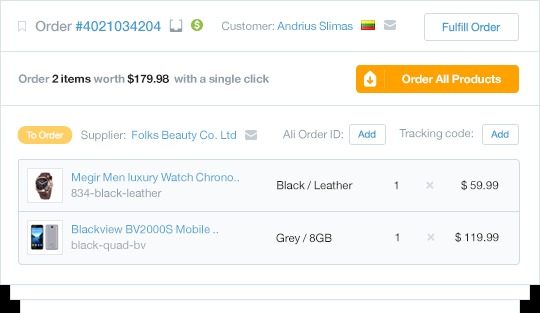 You only have to click one button to ship the product to a customer. After that, everything is done by the supplier through AliExpress. Therefore, you don't really have to worry about any of the shipping, storage, packaging or anything like that.
Automatic Inventory and Pricing Updates
Another huge benefit is that if one of your suppliers runs out of inventory, it's automatically pulled from your site. The same goes for pricing updates. So, if the pricing goes up, the system factors in your markup and changes it on your site.
Sales Tracking
One hint I would give dropshippers is to always test the waters before committing too much money to a dropshipping endeavor. Sometimes you'll find that you're not marketing properly or your products are just not right for your core customers.
For example, if you spend more than $100 on Facebook ads and you've not received a sale yet, it's time to stop throwing away money and rethink your strategy. Luckily, the sales and cost tracking in Oberlo combine well with this mentality, since you can gauge exactly how much money you're spending and bringing in.
A Direct Integration with Shopify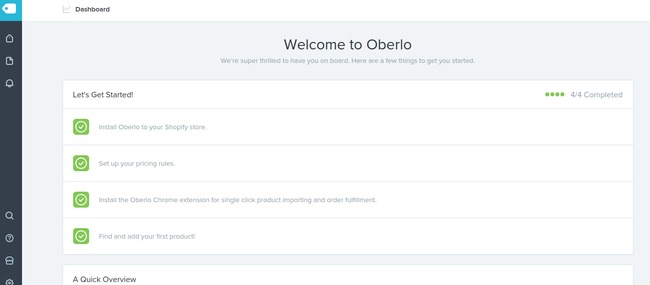 Both Shopify and Oberlo have free trials, so you have an awesome chance to test the waters. The Oberlo app only takes a moment to install and it has some solid reviews on the Shopify App Store.
Sweet Pricing Rules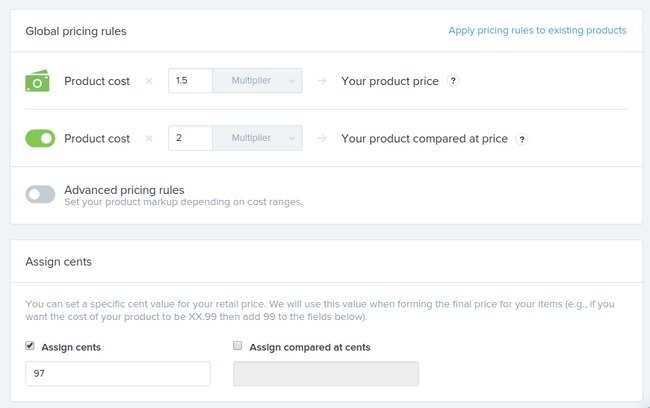 All of the products have their set costs on AliExpress. Some people like to set pricing manually, but with lots of products this becomes a pain. Therefore, you can set something like a 50% markup for all of your products. Or, Oberlo has a rules setting for modifying markups based on price ranges.
Importing Only Some Products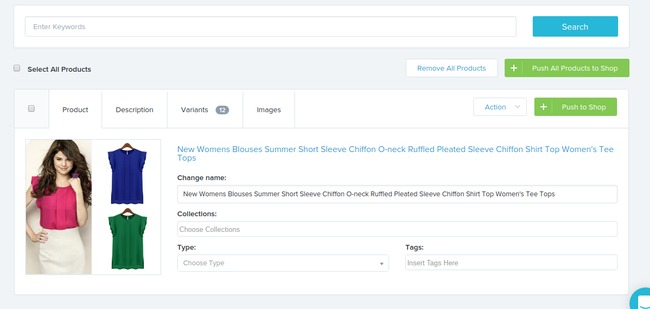 Oberlo has a tool called the ePacket filter, which locates the products with the fastest delivery times. Since shipping times are often the difference between a sale and no sale, it's nice knowing that you can only choose to import the products with fast shipping.
You also get a few other cool features with ePacket. For example, it enables door-to-door tracking, along with postal customs clearance on whatever taxes or duties are paid by the recipient. The main reason for this is because most of the products in AliExpress are coming from China.
Oberlo Pricing
Before we go into the actual pricing, it's worth mentioning that you get a free Oberto trial for 30 days. What's interesting is that the free trial is actually the Pro plan, so you receive every possible feature available. The company has also reduced some of the pricing recently, so they are far more competitive today.
Starter Plan – For $4.90 per month you get support for 500 products, 50 orders per month, daily products syncs, automatic order fulfillment, pricing automation, a free Chrome extension and sales reporting.
Basic Plan – For $29.90 per month you get support for 10,000 products, 500 orders per month, everything from the previous plan, shipment tracking and order fulfillment monitoring.
Pro Plan – For $79.90 per month you get support for 30,000 products, unlimited orders per month, everything from the previous plan and multiple users.
It's also worth noting that the Pro Plan has a few other features coming soon: multiple sales channels and verified suppliers.
It's a little misleading starting off with the free trial, since you're eventually going to lose some of those features. However, I will say that the Starter Package is still an incredible deal, seeing as how you get up to 500 products for less than $5 per month.
Oberlo Support
I don't know if I would consider this part of the Oberlo support, but you can get a free eBook when signing up for their newsletter.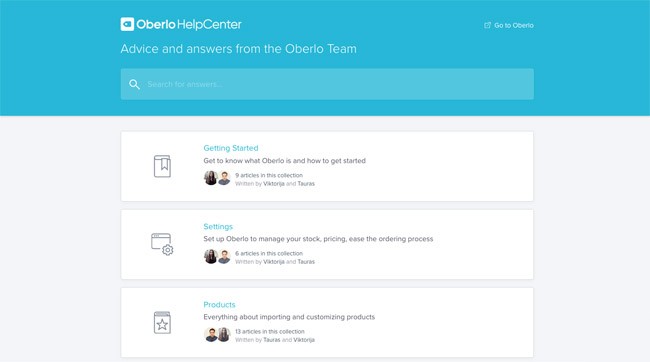 In addition, the help center is filled with documents that you can search for, along with a button for submitting your own ticket. A user forum is also provided for talking about dropshipping with the other folks utilizing the Oberlo system. Finally, the support team at Oberlo is available 20 hours per day, five days per week. Along with a blog and social media presence, Oberlo does a pretty good job of helping assist customers.
Who is Oberlo Best Suited For?
Since so many people are rating it well on the Shopify App Store, I'd be hard pressed to deny a recommendation for Shopify users. Both Shopify and Oberlo are made for dropshippers, so it's no wonder they are seeing such great feedback.
Overall, my favorite part about Oberlo is that it allows you to setup a Shopify dropshipping store without any money down. Since Shopify provides a 14-day trial, and Oberlo's trial is 30 days, testing to figure out the right products to sell is pretty much done without any upfront capital.
I like it for current eCommerce companies trying to expand into dropshipping, along with individuals who want to start a store but don't have the money for the traditional route. If you have any questions about this Oberlo review, feel free to drop a line in the comments section below.