WordPress is a piece of freeware that has become the most popular website building tool on the whole internet. It began in 2003 as an offshoot of a different piece of software, and today it is designed and maintained by a community of volunteer programmers.
WordPress Pricing
WordPress is free, and not in the same way as the free plans from some other website creators. WordPress is open source freeware, and you can download the source code and modify it to your hearts content.
To get the site up and running, however, you'll need a couple more things. WordPress will not host your website for you. You'll have to find a third party that will host your site. That will cost money. You'll also need to register a domain, possibly through a different site, but most hosting sites will also register a domain for you.
WordPress will probably end up being less expensive than other options. The hosting shouldn't cost you more than five dollars a month. That is much cheaper than many of the other website builders out there. The only problem is that WordPress is a little hard to use for beginners.
WordPress Design
WordPress lets you do a lot of stuff and can be very powerful in the right hands, but it does not have the drag and drop editing capabilities of many other website builders. That said, there are so many themes to choose from that you can probably find something that will suit your fancy.
It can be a little stressful to get WordPress up and running to your satisfaction. There are a lot of free themes to wade through. Many of the free themes can feel very static. Here is one of the default WordPress themes.
I think the bananas really make it pop. So, as you can see, the default template is just your basic everyday blog. On the left are the design options. You can change a few things. The background image is customizable, as you can see by the bananas. Not much else can change, but there are many many other themes that are more feature rich.
Overall, the design is difficult, but deeply customizable. The sheer number of templates and add ons make WordPress able to mold itself into your desired shape. There is no reason you can't make a usable website in WordPress.
WordPress Frontend Features
WordPress can be anything you want it to be, with a little tweaking. The basic WordPress is a blogging platform, but you can fiddle with it to get any kind of site. If you need something more sophisticated than a blog or personal website then you may want to work with a website developer that specializes in WordPress. If you have a little coding knowledge you may be able to muddle though.
This is a pretty vanilla version of WordPress that is running one of the most basic themes. There are a lot of other themes available that let you create whatever kind of site you want. Here is a different theme.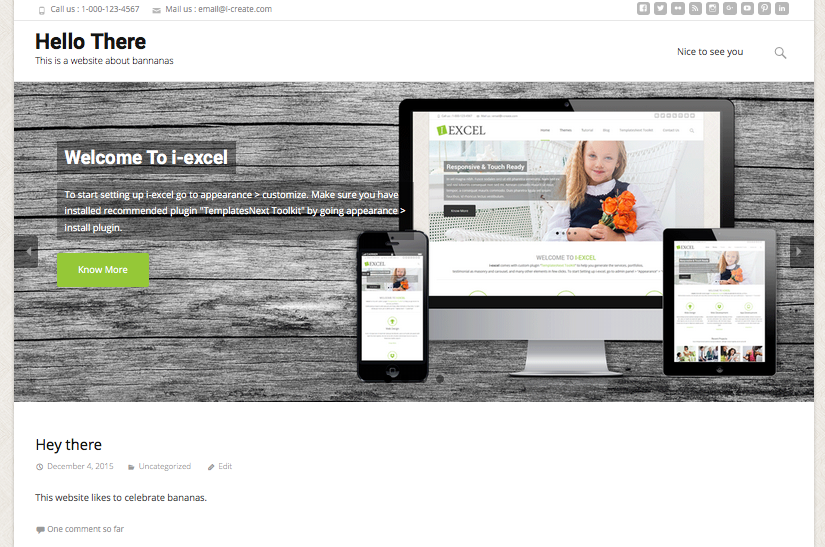 This one has a slideshow in it and also a bunch of social media things to click on. Underneath it is the same kind of bloggy goodness that powers all WordPress entities.
WordPress Backend Features
The WordPress backend is very easy to navigate, even when you add third party apps. Everything is well laid out on the left hand side, and it is very hard to get lost.
A lot of you will most likely be familiar with this view.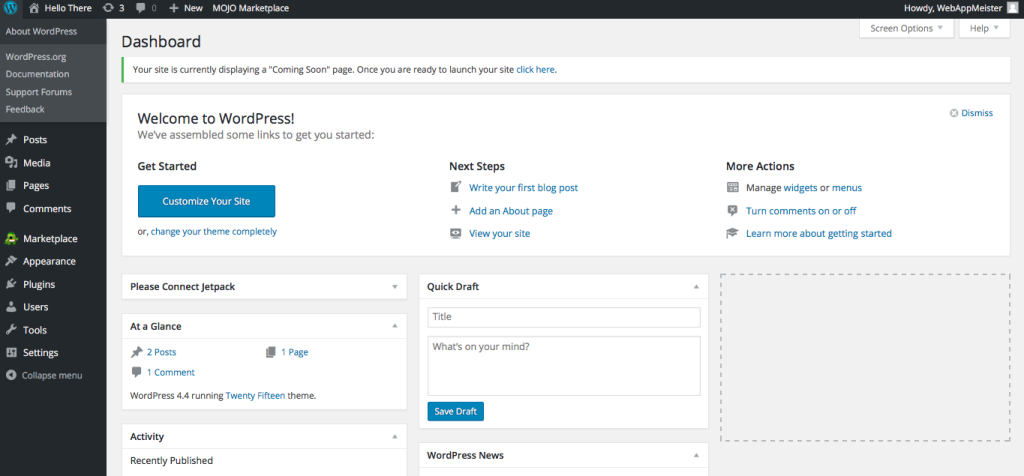 This is what the backend of WordPress looks like. Pretty simple right? You have your quick draft and any pages you might want to create. They even have a nice welcome to WordPress starter kit.
WordPress Hosting & Security
WordPress.org does not provide its own hosting. They have a few sites that they suggest you use for hosing your website. The cheapest one will set you back $2.95/month. There are a bunch of other hosting websites out there to choose from, and all of them will be able to run WordPress with varying degrees of difficulty in setup. Shopping around a bit could save you some money in the long run.
This part can have a few pitfalls if you've never set up a website or worked with WordPress before.
If you have need of extra security, you can set up SSL encryption on your WordPress site. There are a few plug-ins to make that process easier, but the real barrier is the cost of an SSL license. Once you purchase a SSL license, you still have to install it on your site. That task can be daunting for a newbie. Don't attempt it unless you absolutely need the extra security.
WordPress Reports & Statistics
WordPress only has third party integrations for reports and statistics. There is a third party Google Analytics plug-in that you will most likely end up using. There are a bunch of other statistics plug-ins that are really useful. Some track how users interact with your website. They show where visitors click to give you more granular data.
It is too bad that WordPress doesn't have its own statistics, but since it is freeware that makes sense. Don't hold out hope that they will implement it in the future. It just isn't going to happen. I'm so sorry to disappoint.
WordPress Extensibility
There are tens of thousands of WordPress plugins. If you can't find what you're looking for then you're probably just not looking hard enough. There is an official WordPress plugin directory with 41,782 plug ins to suit your every need. That is so many plug ins!
The plug-ins in WordPress are not just extra stuff like in other platforms. WordPress plugins can fundamentally change how your website works.
The massive amount of customization through plug ins is reason alone to give WordPress a try.
WordPress Support
WordPress has so many sites and so many people who know what they're doing that it is pretty easy to find help all around the internet. WordPress itself is not for profit, so you won't find a dedicated customer support department or any other trappings of a for profit company.
They do have a support section on their website though. The support forums are pretty detailed and the articles for beginners will help you get started.
Conclusion
WordPress is still a great option for people wanting to start their own website. It is more complicated than other drag and drop editors, but it is much cheaper. If you want to start a good looking personal website on the cheap, WordPress is the platform for you. Those looking for ease of use may want to try other options. The support is non-traditional, but still very helpful. If you foresee needing personalized help getting your site setup, WordPress may not be for you.
That said, the numbers really don't lie. WordPress is used by so many people for good reason. It just works.