IM Creator was conceived out of a need for a website. It has since grown to be a relatively minor player in the wide world of website building.
IM Creator Pricing

As you can see there is a rather stripped down free option. They give you a subdomain of IM Creator's website, which is less than ideal. The free version is not really worth it. There are much better free options from other apps, like Weebly.
Their pricing structure is a bit strange. They charge you by biannually, but they have a monthly rate. That is very confusing. They mean that they charge you twice a year and not once every two years. It would be nice if they didn't use a word with two meanings in their pricing options.
Glad we cleared that up.
The Pro & Whitelable option lets you brand IM Creator as your own product. This is very useful for freelancers.
IM Creator Design
The editor is pretty nice, but it does have some cosmetic issues that ding its credibility.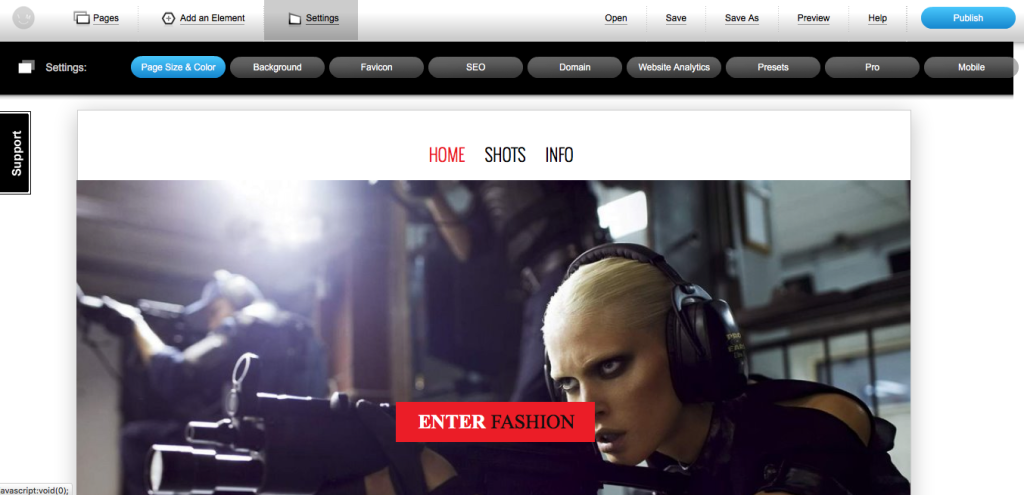 You can see on the right side of the screen that the "Mobile" button overlaps with the black bar. It is a bit unsightly. There are a few things like this throughout the interface.
This kind of thing is always a bit of a red flag. It suggests that there might be other problems that aren't exclusively cosmetic.
The sites are nice. There are a lot of templates to choose from, and they are pretty good. There isn't a lot of deep customization, but they will let you set up a solid website. These sites are best for people who want to put on a show, but don't necessarily need a wealth of features. Designers, artists, and writers will love the simple designs and the ease of use.
IM Creator Frontend Features
The sites work very well, and you can do basic website stuff like embed video, but they are pretty stripped down. The sites are platforms for imparting information rather than for glitz and glamour. There is a bit of that in there too, but you won't be able to make a really professional and fully featured site with IM Creator.
That said, it is nice if you need to garner a web presence quickly and easily, and the sites look pretty good for what they are. There is defiantly something to be said for a simple website that looks good. It is nice to have a web presence that doesn't require much thought to create or maintain.
IM Creator Backend Features
The backend is pretty stripped down. It ends up feeling clean and easy to use. That makes it pretty easy to find all the important pages, but the problem is really the missing pages. The backend really doesn't have much going on. Here, I'll show you.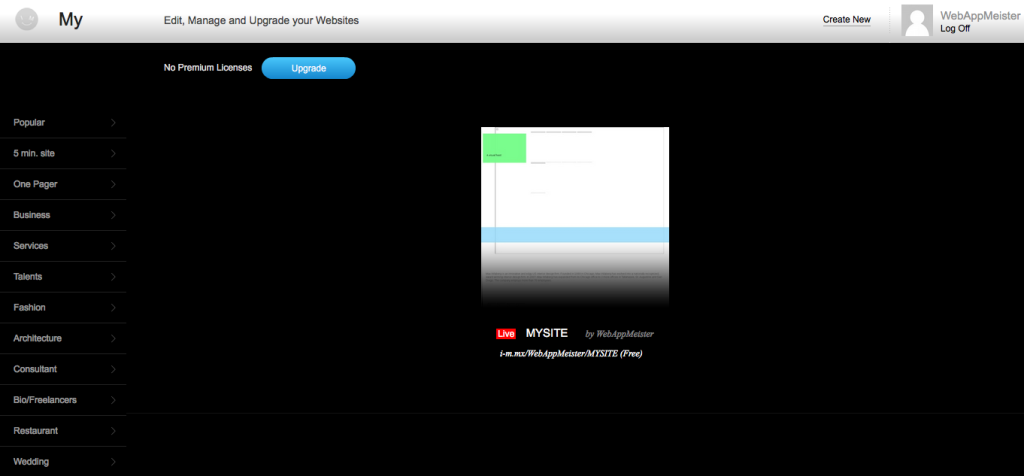 There really isn't much to see, and there is almost nothing at all in the way of features. The only things in the IM Creator backend are the editor and all of the templates. It is kind of off-putting. There ought to be something there, but there just isn't.
IM Creator Hosting & Security
They give you unlimited hosting for all of their paid options. The free plan has up to 50MB of hosting, which is the least of any of the sites we've reviewed. This further cements that the free option is not really worth your time.
The hosting is reliable, and it better be considering how easy these sites are to host. Most of them are simple enough that they don't require and special hosting capabilities.
Sadly, if you want SSL encryption on your IM Creator website you'll have to purchase the license and install it yourself. This can be a pretty daunting process for anyone who doesn't have knowledge of how to manage websites. They do still allow SSL on their sites, unlike other apps like Wix.
IM Creator Reports & Satistics
IM creator only supports integration with third party analytics, through Google for instance. They don't have any internal statistical tracking. Would that they did. It would brighten up the backend considerably and give users something else to look at besides the inevitable inky blackness.
IM Creator Extensibility
They really don't have support for much. IM creator is not really for creating feature heavy websites. They are all about creating easy to navigate websites that show off whatever it is you want to show off. They are not about creating a online store or anything else.
So they don't really offer support for other third party apps. That is disappointing but understandable given their target market. Still, it makes their product feel cheap.
IM Creator Support
IM creator gives you a couple of support options. They have an extensive downloadable PDF manual, an FAQ section, a support forum, and 123 how tos.
The paid plans give you access to premium support, which lets you get your support tickets taken care of more quickly.
Their support is responsive, but there are not a lot of support options. It would be nice if there was a live chat or something of that nature. Speaking to a real human can be invaluable. However, considering how simple the websites are they should be intuitive to most people. If not, the self-help section will most likely prove sufficient to solve any issues. This is a very uncomplicated piece of software.
Conclusion
IM Creator is great if you need a quick and dirty website set up as quickly as possible. Also if you are an artists some of the templates might agree with you. They are pretty good at displaying images in a compelling manner. Overall, IM Creator doesn't have enough features for most people's needs. The editor and backend are very sparse, and there are a limited number of things you can do with the sites, especially with no third party integrations.
Most people can give IM Creator a miss, especially if you're looking for something that handle more demanding applications, like eCommerce.