The Shopify platform hosts more than 200,000 stores, making it one of the most popular commercial ecommerce systems on the market. In fact, compared to its direct competitors, it blows every other company out of the water. The Shopify brand started in 2006, and it's grown quite a bit since then, evolving into a publicly traded company and joining forces with various other companies to make the integrations for your ecommerce website that much better.
And that's just what makes Shopify special. Users receive a full website building suite, along with beautiful themes and tons of apps to expand their stores. Other platforms put a focus on developing a structure where all the features are packed into the actual software.
Although Shopify does have quite a few features in its system, many of them are in the form of apps, which makes it similar to WordPress, where you can turn your store into something as simple or complex as you want.
Keep reading to learn more about Shopify and the areas in which it excels and falls short.
Shopify Pricing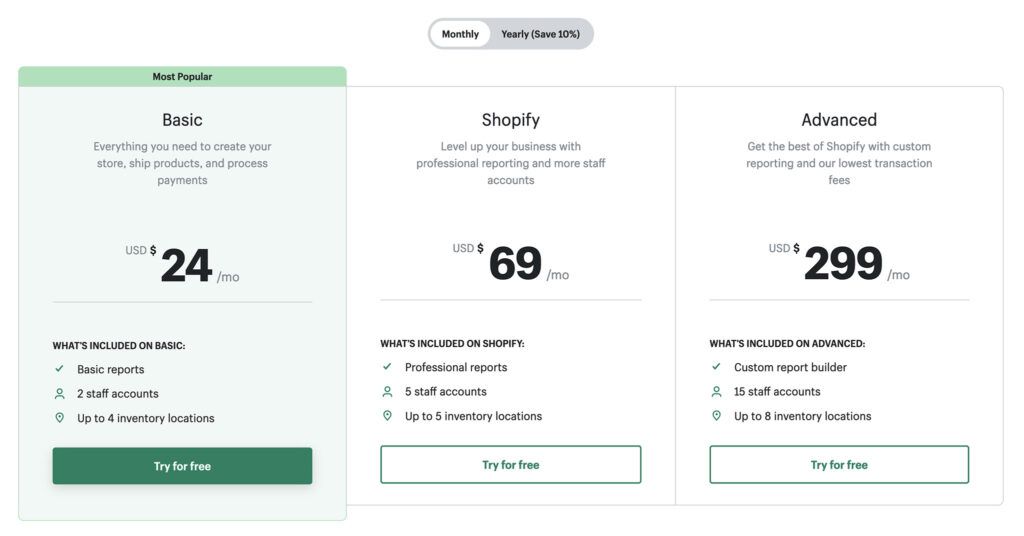 Shopify pricing is one of the easiest to work with, since it opens up options for just about everyone. If you'd like a small store, you don't have to pay much, and if you need a large store, there's a plan with the right features for you.
Starter – Starting at $5 you receive a point of sale, Facebook selling, Shopify Buy button and 2.9% + 30¢ online credit card rates. This plan doesn't include an online store (just the Buy button,) and you don't get a blog.)
Basic Shopify – For $29 you receive everything from the previous plan, 2.9% + 30¢ online credit card rates, Pinterest and Twitter selling and a blog.
Shopify – For $79 you receive everything from the previous plan, 2.6% + 30¢ online credit card rates, gift cards, professional reports and abandoned cart recovery.
Advanced Shopify – For $299 you receive everything from the previous plan, 2.4% + 30¢ online credit card rates, an advanced report builder and real-time carrier shipping.
All plans allow for unlimited products, premium support, fraud analysis, discount codes and unlimited file storage.
Shopify Design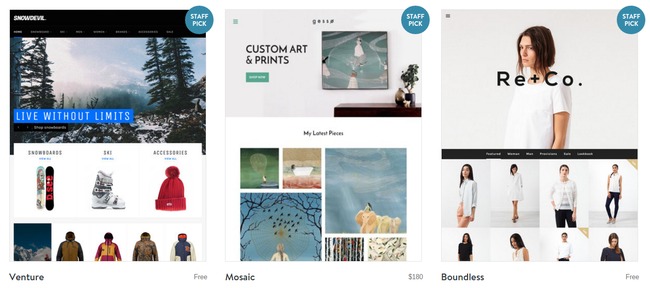 The platform has a wide selection of themes, including over 116 paid solutions that all look great. In addition, the free theme count is at about 21. Although an FTP account is not offered, you can go into your account and modify the CSS and HTML to make your own customizations. Some of themes are too similar, but the sheer amount of themes shows that you should be able to find something for your industry. Also, they are modern and clean, making them some of the best on the market.
Shopify Frontend Features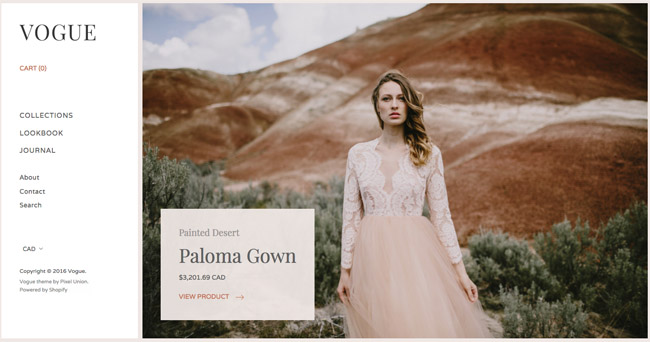 A wonderful checkout system pushes people through your site quickly, and even the Lite plan lets you sell items through the Shopify Buy button. Some of the plans provide selling through Pinterest, Facebook and Twitter, and you can accept gift cards and discount codes. Most of the design is done through the backend, but a few real-time design features are included for dragging elements around.
Shopify Backend Features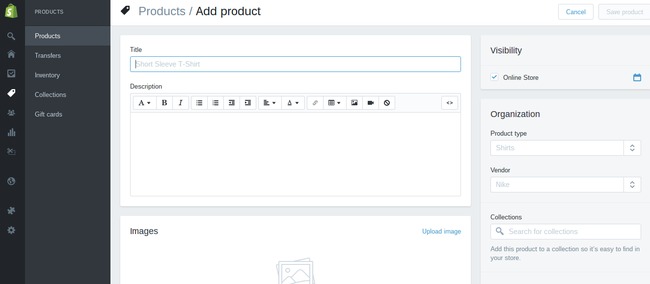 Advanced users have the ability to customize code on the backend, and beginners have tools for customizing colors, module placements and logos. The dashboard looks similar to WordPress and some of the tabs include spots for payments, checkout, gift cards, general settings and notifications. When making a product you have settings for inserting a title and description, along with areas for media, shipping, vendors and product types.
Shopify Marketing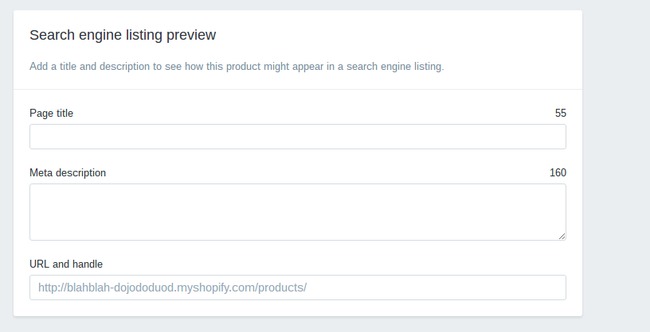 Alt tags, image file names and more are offered when setting up your Shopify SEO. When talking about promotions, newsletters and social media, Shopify lacks the built-in tools for this. However, each of these marketing areas have apps for you to install and make work. You can also sell through places like Amazon, eBay and Google Products with the help of apps.
Shopify Statistics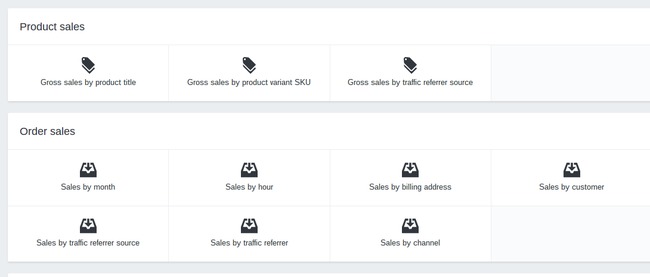 The reports are high quality, helping you predict trends for the future with reports for gross sales based on product title, SKU and traffic referrer. You can also track sales by customer, referrer, channel and more.
Shopify Hosting and Security
Level 1 PCI compliance comes with your Shopify plan, and a hosting plan and domain are included as well. The automatic backups are nice, and it's worth noting that the hosting is provided through the ServerCentral company, which is an enterprise level platform. Another plus is the content delivery network for those times when your traffic spikes.
Shopify Extensibility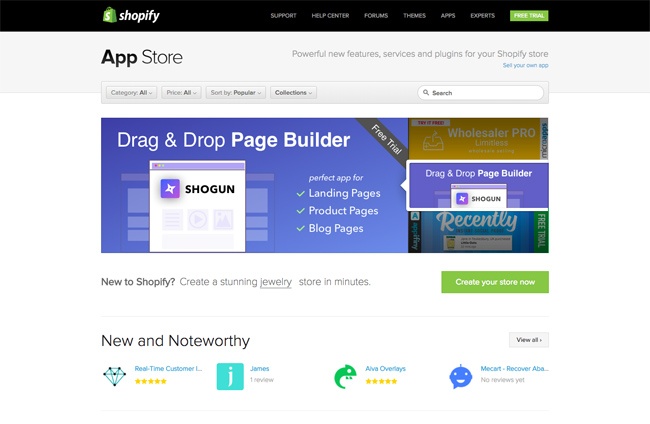 The best part of Shopify is the app store, since hundreds of apps are provided for expanding your store with marketing, shipping and social media tools. In addition, you can filter by collections if you have a particular app in mind. To give you an idea of the types of apps, you can find anything for customer service, accounting, tools and reporting. It doesn't require a download and upload, so it simply installs the app from the dashboard, making it one of the easiest app stores to work with.
Shopify Support
Support comes in the form of live chat, email and phone discussions, all of which are available at any time of the day or week. The forum is a great place to chat with other people who use the platform, and the Ecommerce University area is filled with content that guides you on how to improve the outlook of your store. You'll also find a blog that gets updated on a consistent basis, showing you that Shopify is constantly thinking of ways to help its users.
Conclusion
If you're a beginner just getting started with building an ecommerce store, Shopify is a viable platform for you. It doesn't require any coding, but if you're more experienced and would like to make your own CSS/HTML changes, that option is there as well. Also, the app store has all the tools you really need to scale up your store and get prepared for the time when more and more people come to your shop. The pricing is on point, and if you ever realize that you need to upgrade, you have the chance to do so at anytime. Shopify leads the way in terms of ease of use, and the template designs are great, so consider this when looking for a platform for your next shop.