Campaign Monitor started as a side project in 2004. The founders took a break from designing people's websites and made Campaign Monitor, which took off. And now here we are many years later. Campaign Monitor has a logo. That logo looks like this:

Campaign Monitor has over 150,000 users, according to their website. That is a lot of users! That many people can't be wrong.
Campaign Monitor Pricing
Here is the pricing for small subscriber lists (up to 500):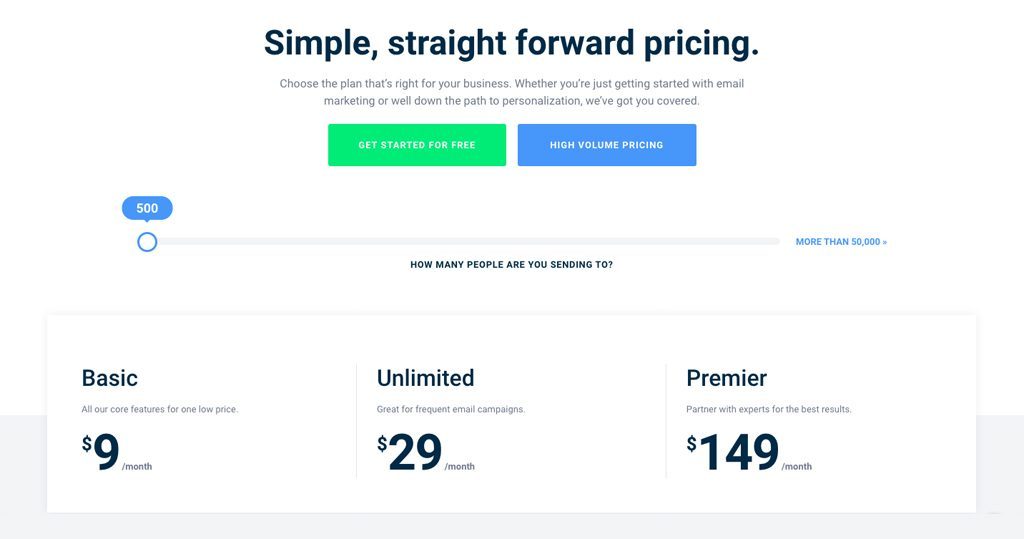 From there, the price goes up a bit.
For a Maximum of 2,500 subscribers:
Basic: $29/month
Send up to 2,500 emails per month
Unlimited: $59/month
Send unlimited emails every month
Premier: $149/month
Send unlimited emails every month, and get other premium customer service features like email design consultants, online training, and a customer success manager.
For a Maximum of 10,000 subscribers:
Basic: $89/month
Send up to 50,000 emails per month to 10,000 people
Unlimited: $149/month
Send unlimited emails every month to 10,000 people
Premier: $249/month
Send unlimited emails every month to 10,000 people, and get other premium customer service features like email design consultants, online training, and a customer success manager.
You'll have to get a custom quote for more than 50,000 subscribers. There are no setup fees, and Campaign Monitor offers a limited free trial to test out their software.
Campaign Monitor Design
Campaign Monitor has 35 templates. That is not that many templates. They do look very nice though. Also the editor is super easy to use. All you have to do is drag and drop stuff and you get a beautiful email.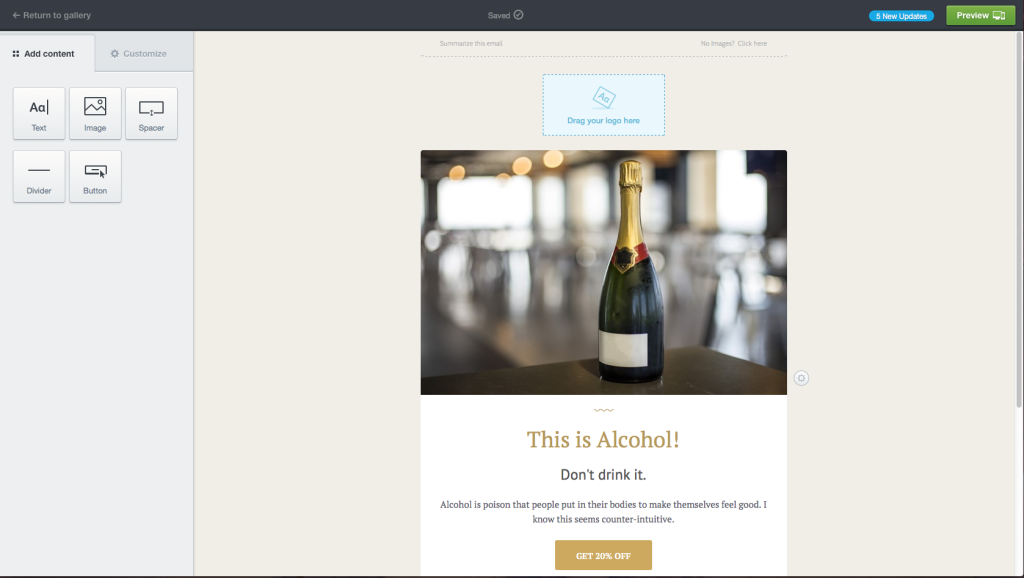 The "Add content" tab at the top is where you find the drag and drop stuff. The "Customize" tab lets you take those elements and make them look how you want. Campaign Monitor's design process is really nice. They manage to make a highly functional editor that also looks clean and unintimidating.
Also, you won't have to worry about how your email will look on other devices. Campaign Monitor offers a preview of how your newsletter will look in all the major email clients. That is a really great feature, and they have it for many more email clients than I expected. There is also a mobile preview, which is a necessity for an email marketing app. A lot of people interact with their email through smartphones, and it is good to see Campaign Monitor acknowledge that fact.
Campaign Monitor Frontend Features
Campaign Monitor is good about giving you all the stuff you're going to need. The aforementioned drag-and-drop editor is excellent, they have nice landing pages, they give you access to autoresponders, and they have spam testing. All of this is available in the basic plan. With the Unlimited plan you'll have access to deliverability experts, and unlimited inbox previews.
This is the preview window.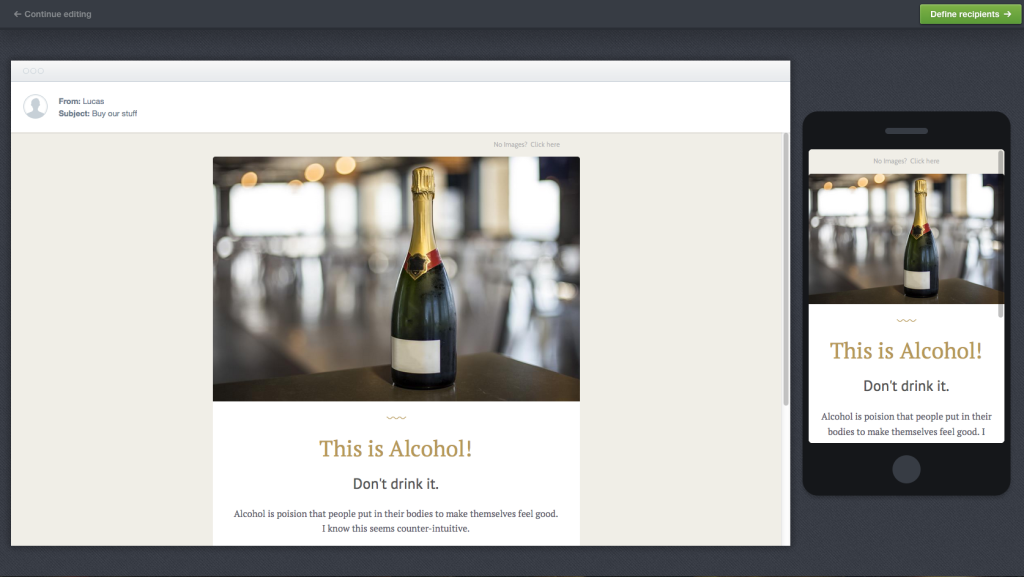 The preview window is really nicely designed. It also is super useful for checking what your emails are going to look like on any device before you send them out.
The Premier plan includes all of the features in the monthly Unlimited and Basic plans plus access to online training, an email design consultant, a customer success manager, and 24h support on weekdays.
Really everything you're likely to need is included in the Basic plan. If you have a need for a deliverability expert, then I suppose the Unlimited plan would be a good bet.
Campaign Monitor has a mobile app for both iOS and Android that lets you look at subscribers and reports from your phone.
Campaign Monitor Backend Features
Campaign Monitor's user interface is straightforward and clutter free.

Very straightforward. So straightforward that there is really nothing to look at.
Lets explore the items on the menu bar.
Overview – Here you'll find your dashboard where you'll see an overview of your recent activity.
Campaigns – In this section reports for every campaign you'll find reports for all of your campaigns.
Automation  The automation tab lets you streamline your workflow by automating common tasks. If you know what a macro is in computing, this is the same idea.
Transactional – Transactional email are treated separately in Constant Contact. The emails are triggered by your site or app when a user performs a certain action, like confirming an order or renewing their membership.
Lists & Subscribers – Under this section you have all the necessary tools for managing your subscribers and lists.
The avatar next to your name gives you access to your account and billing settings, your integrations, and your template library.
Campaign Monitor Reports & Statistics
The reports and statistics are under the campaigns tab after you send out your first email. The overview of my test email is pretty weird. Most emails don't get a 100% open rate, so don't get your hopes up.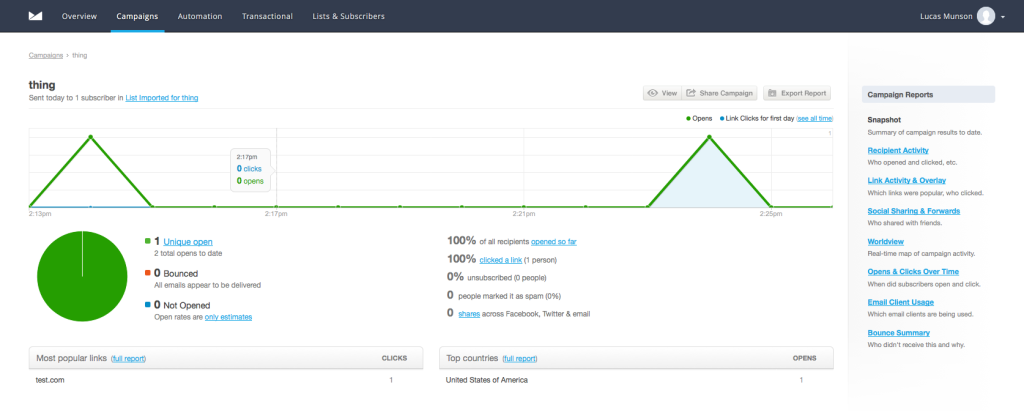 They give you the data in a pretty package, but Campaign Monitor sticks to the basics when it comes to reports. There is an adequate amount of data available to work on your email marketing campaign. They offer data on clicks, opens, which email clients your customers use, social media shares, and opens and clicks over time.
Campaign Monitor Flexability
Campaign Monitor has a few different ways you can import contacts. They let you use the standard CSV, TXT, or XLS files, and you can also manually import contacts. The third option is quite nice. They let you import contacts from your Outlook, Gmail, or Apple contact lists. I very easily imported subscribers by dragging and dropping a CSV file.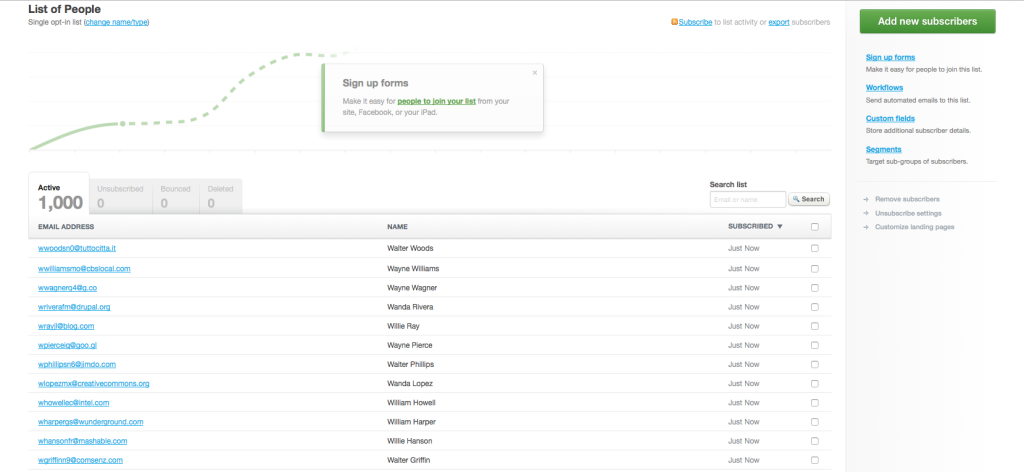 If you're a freelancer, Campaign Monitor can be re-branded to look like your own product. You can also manage multiple clients from a single account. If you are a freelance email marketer or web designer this feature should help you out a lot.
Campaign Monitor allows you to give your clients access to almost everything. This allows for a great deal of flexibility.
You can also switch to pay per campaign billing. This is nice if you have an infrequent email marketing effort, or if you need to take a short email marketing break.
Campaign Monitor Automation
Setting up autoresponders is easy in Campaign Monitor. Emails triggered by your own site or app in response to a subscriber's action are treated separately and called "transactional" emails. This lets you deal with these emails in a different environment from your other emails. Its really helpful to separate these because it de-clutters your workflow substantially.

Campaign Monitor handles automated emails a little differently. They call them "transactional" emails and they are in a separate environment. The separation can actually be pretty nice. It helps to de-clutter your workflow. You can send these "transactional" emails when somebody joins a list, is having a birthday, or any other custom event that is associated with a specific user, such as ordering something from an online store.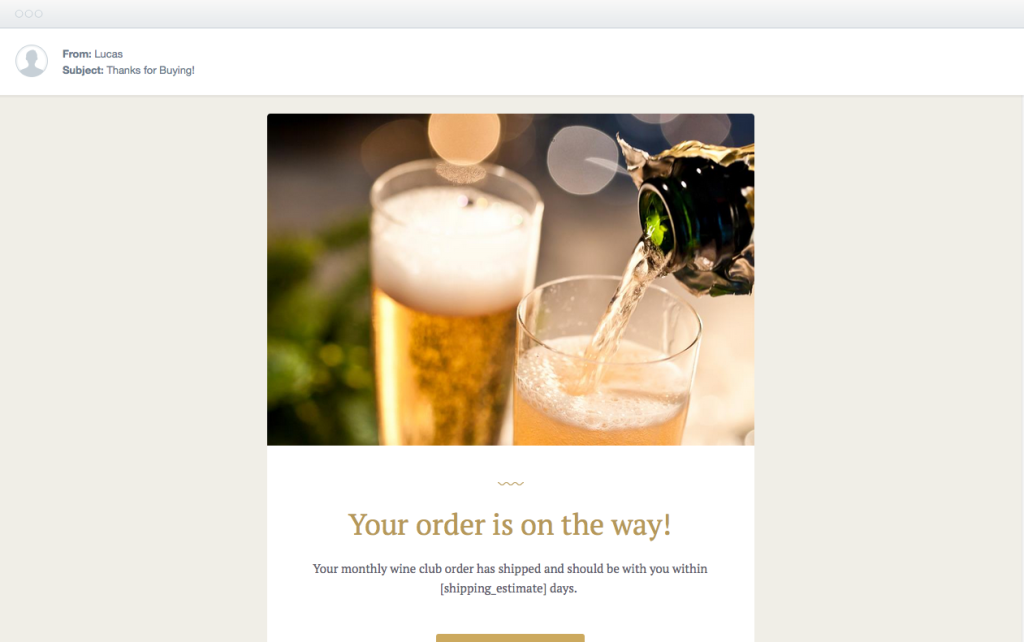 I particularly like that they include a shipping estimate variable in this template.
You can also have Campaign Monitor send out a newsletter automatically based on your recent blog posts. That is pretty nice, but the newsletter can be a bit lacking in personality.
Campaign Monitor Extensibility
Campaign Monitor has over 250 integrations. They seem to focus on survey, customer relationship management, and blogging apps, but there are quite a few other apps included as well.
Campaign Monitor should have enough integrations for you to be getting along with.
Campaign Monitor Support
The Basic and Unlimited plans get a bit short-changed when it comes to support. Only the Premier plan customers have access to 24-hour phone support Monday to Friday.
If you aren't on the premier plan you can only contact support through their support form. Unlimited and Premier users get priority in the support form, so Basic users may have to wait a while.
There are a lot of online resources to help you get started. They have good FAQs.
All in all, Campaign Monitor's support is a bit sluggish and disappointing. If you're looking for support to hold you hand the whole way through the process, you might want to try Constant Contact.
Conclusion
Campaign Monitor looks great. There is no disputing that. The templates are well designed, and easily customizeable. There are only 35 templates, however. That is not very many. Still, the editor should let you create an email that will be well received by your customers. Campaign Monitor's email preview window is really pretty to look at, as well as being very useful. And they're transactional emails work very well for automating certain tasks.
Really the only downside is their customer support. Overall Campaign Monitor is cheap, and should suit most any need.