AWeber is one of the premier email marketing apps around today. They do a lot of emailing, and they're pretty good at it. For a small fee, they are willing to lend you their emailing expertise. It was founded by Tom Kulzer in 1998, and now they have over 120,000 customers. That is no accident. AWeber is very good at what it does.
AWeber Pricing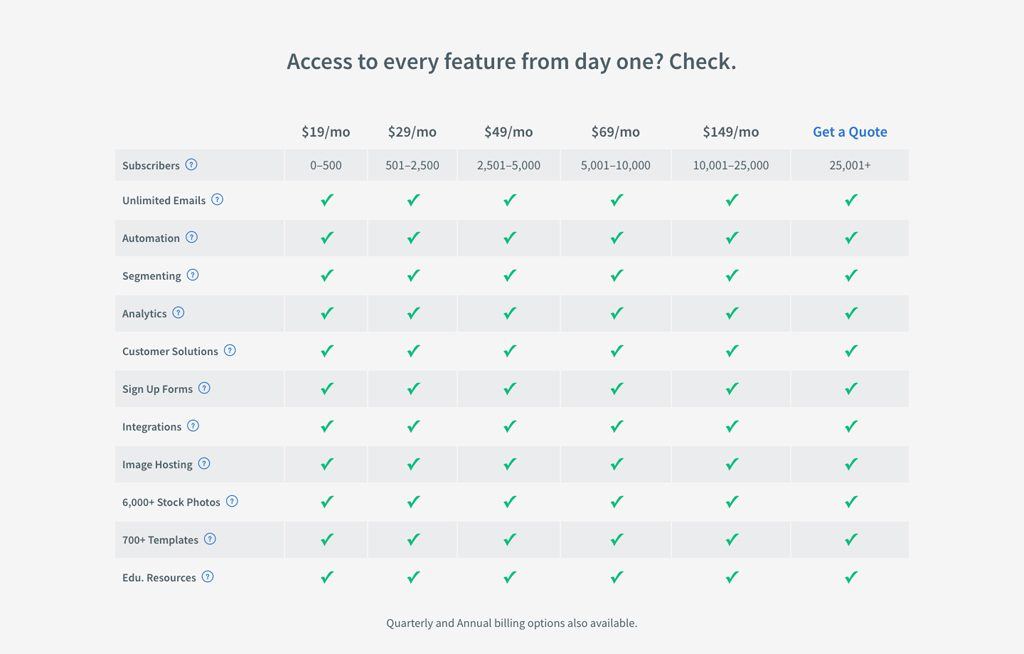 One thing you should know before using AWeber is that your unsubscribers count toward your total subscribers. AWeber calculates a sort of "all-time" subscriber list, and that can cost you. The AWeber team suggests you delete your unsubscriber list to fix that problem, but that can mess up your data and analytics. The policy is buried very deep in their self help section, so most people don't even notice it until it is too late.
All of AWeber's pricing plans include unlimited emails and unlimited image hosting. They've got a 30 day free trial, so you can try it out and see if you like it. They do require you give your payment information to get access to the free trial. If you don't like it you'll have to cancel your account manually.
AWeber Design
AWeber has more than 700 design templates. One of them has a picture of two birds in love.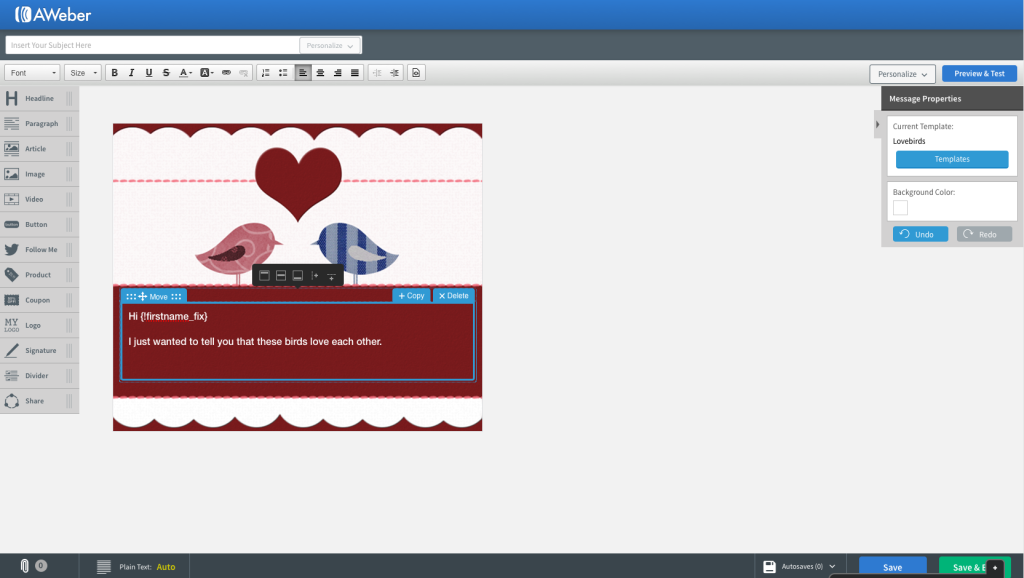 I really like their templates, especially the bird themed ones, but if you don't want to use their templates there are a couple different options to choose from. You can create your own custom HTML template, which will obviously require some coding skills, or you can also contact the AWeber team to modify an existing template or create an entirely new one. They charge $29 for editing an existing template and $299 for creating an entirely new one. The new one may be a bit pricey, but editing an existing one is a pretty good deal.
However, I would stick with the templates. There are so many and they are so easily customizable that it really doesn't make sense to pay AWeber to do something you can easily do yourself. They have a ton of stock images you can use as well, everything from a sick lady to an oil refinery on fire. (Seriously that is one of the stock images)
They have very good design options that offer deep customization.
AWeber Frontend Features
There is a very nice landing page creator in AWeber. This lets your customers fall on an attractive page that can easily convert them into subscribers. The AWeber form templates are easy to navigate and you customers should have no trouble with the form's flow. There is no danger of frustrating a potential subscriber.
This is what one of their forms looks like.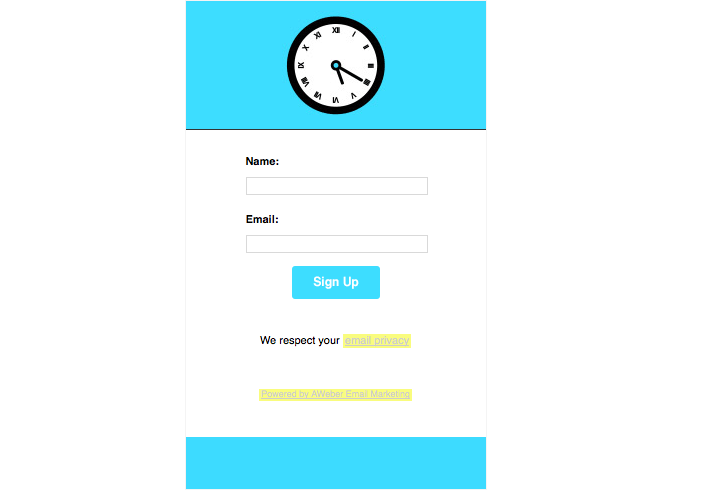 The clock rotates. This causes a sense that time may be running out! This is easily my favorite of their form templates. If you get AWeber, I suggest you use this one.
AWeber also has an iOS and Android app. It lets you view statictics on the go. If you want to create and send emails from your phone, AWeber won't be able to help you. MailChimp will have much more robust mobile options if that is important to you.
AWeber Backend Features
AWeber's interface is very clean and intuitive. Here is what it looks like.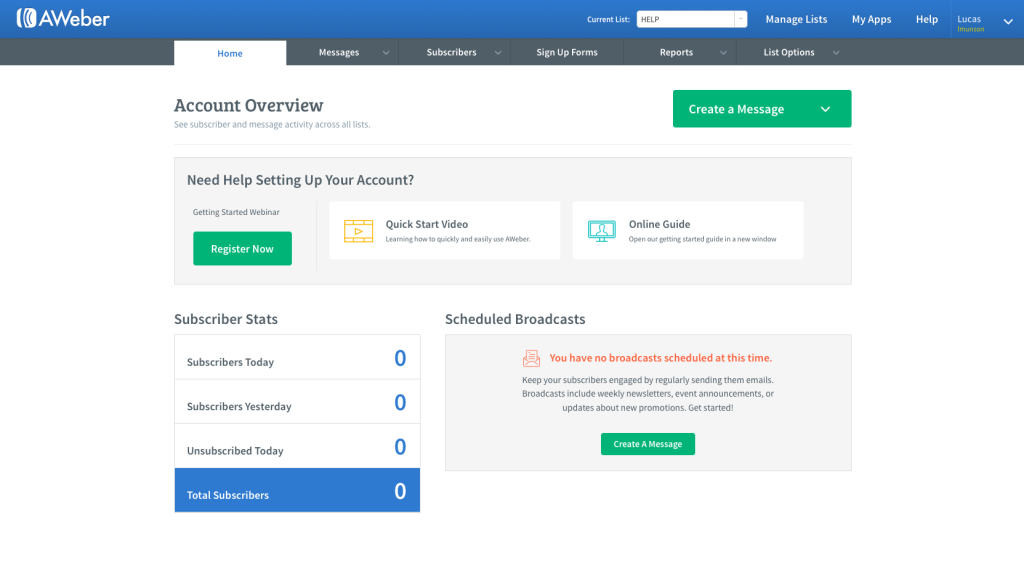 As you can see, AWeber is still asking me if I need help setting up my account. They will ask you this too! The links they provide are surprisingly helpful, although I'm sure most people will skip them.
At the top of Page, the current list you are viewing is displayed. You can toggle to other lists by tapping on the list name. Next you fill find links for Manage Lists, My Apps (where you can add your favorite integrations), and Help and My Account (where you can mange your account information).
Let's check out the main menu:
Home – which gives you access to the dashboard where Subscriber Stats, Scheduled and Recently Sent Broadcasts, and List Stats will be displayed
Messages – This gives you all the tools necessary for creating your newsletters, follow up, or broadcast messages.
Subscribers – manage, add new subscribers, and view you import history here.
Sign Up Forms  – This is where you can edit all of your sign up forms that convert visitors into subscribers.
Reports – Here is where AWeber deals with all of its analytics.

List Options – This lets you access your basic list settings, personalize your list by adding and removing custom fields, and setup automation rules like subscribe or unsubscribe users when they subscribe or unsubscribe to another list.
AWeber's backend is very nice to use. They make it easy and simple to set up all the common tasks associated with email marketing.
AWeber Reports & Statistics
AWeber lets you track your sales through their reports page. They also have a wealth of other basic analytics and reports.
You can see exactly where visitors have clicked so you can more accurately tell what content works and what doesn't for your customers. You can see who has unsubscribed very easily, and you can use that information to streamline your email marketing.
AWeber gives you a wealth of data on clicks, opens, unsubscribes, revenue over time, subscriber growth, stats by location, area code, and market area. These are all very useful for perfecting your email marketing, and it is pretty easy to obsess over them.
AWeber Flexibility
AWeber has two importing options. You can either import your contacts manually, or you can upload them from a file. They accept XLS, XLSX, TSV, CSV and TXT files.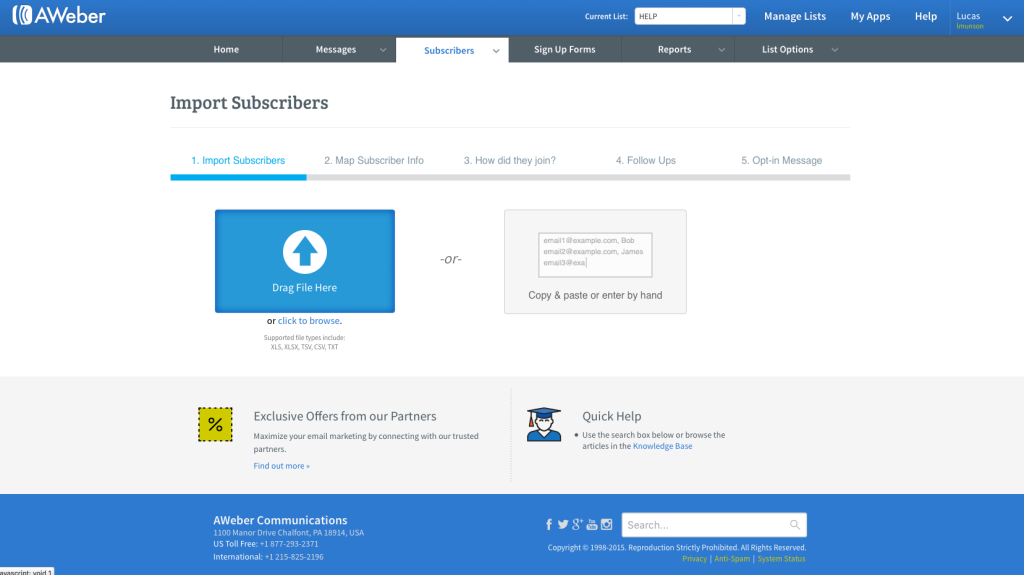 You may cancel your account at any time and the backup data feature allows you to export your list of subscribers as you leave. So, if you need to, you can take it to your next email marketing service.
AWeber Automation
You can set up a series of Autoresponder emails very easily in AWeber. They even give you a helpful video guide.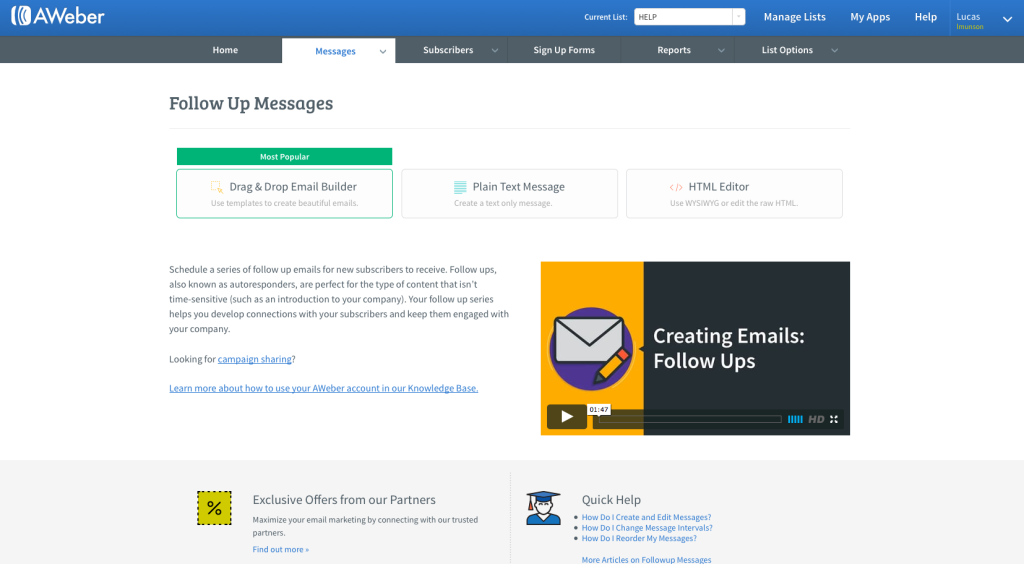 AWeber also taggs each customer with a message number. That tells you who has recieved which followup messages.
If you don't want a subscriber to recieve a specific follow up email you have to set their message number higher than the email number. That is pretty confusing, and I personally find it far too complicated.
AWeber Extensibility
AWeber has more than 120 integrations. You can connect AWeber to social media. They also offer integrations for shopping cart applications and landing pages. They've got integrations for most of the major apps you're likely to use.
The AWeber team does allow you to create your own integrations if you are so inclined.
AWeber Support
AWeber has a good amount of support options. They offer both live chat and email support, which are available 8AM-8PM EasternTime Mon-Fri and 9AM-5PM ET Sat-Sun. The customer support over the livechat and the phone is helpful and responsive.
Aweber has a hunge knowledgebase and an extensive FAQ section. That should help most people get started. They also have video tutorials and live webinars. All of their support articles are searchable, and it is pretty easy to find what you're looking for.
Conclusion
AWeber delivers as a great email marketing tool. They have one of the most fully featured reports sections, a really great editor, and pretty decent customer support. Also, they're pretty reasonably priced. Their platform is genuinely impressive. The editor alone is worth the price. There are hundreds of great templates to choose from, and there is enough customization that you can really make those templates your own. I wish they were a little bit better about importing contacts, but that is a minor quibble.
Overall, AWeber is a great email marketing tool.