This Mailchimp review explores its primary features, the corresponding functionalities, overall pricing plans, plus the type of users the service is built for. Let's dive in.
MaiChimp was founded in 2001 by these guys: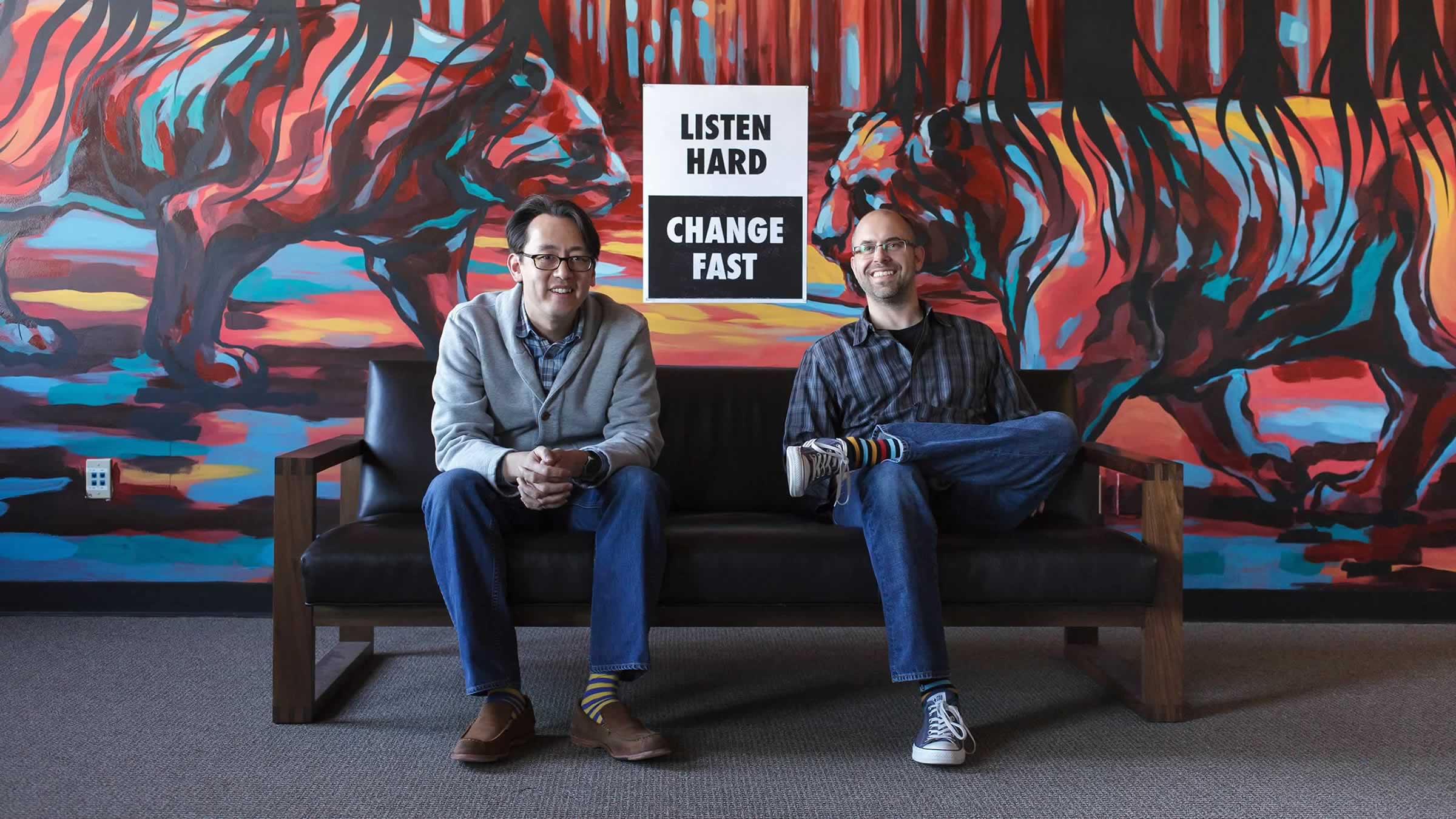 It was originally a side project, and has since moved on to become a huge player in email marketing. They claim they send out more than 600 million emails a day, and I don't doubt them.
Their logo is this monkey.

Alright, let's get started.
Mailchimp Pricing
Mailchimp has a pretty extensive pricing structure. The only good way to find out how much you're going to pay is by visiting their billing calculator, and calculating your plan yourself.
Here is what their billing calculator looks like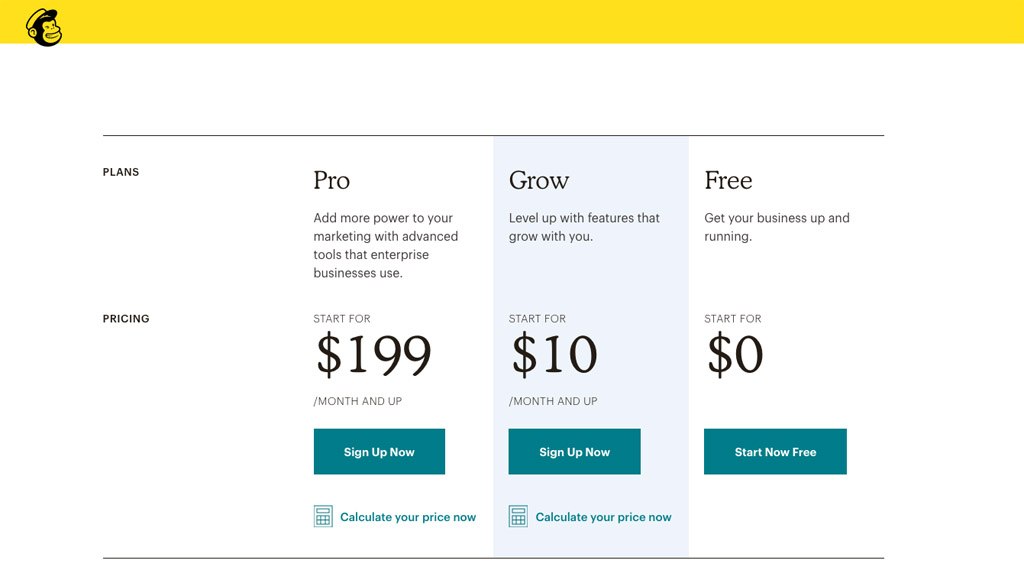 They have lots of plans, but the one that is the most interesting is the Forever Free Plan. As long as you only send 12,000 emails a month to less than 2,000 subscribers, you'll never have to pay for MailChimp. This is really nice for anybody just starting out in email marketing. Keep in mind not all of the features in the paid plans are available in the free plan, but there is definitely enough to get you started.
Mailchimp Design
Okay, this is the important part. How are your emails going to look? Our official WebAppMeister rating is: REALLY GOOD.
Mailchimp has a ton of pretty, pretty templates to choose from, and they are all deeply customizable. You can also make your own emails from scratch using HTML, but there are so many templates you probably won't need to. The design window looks like this: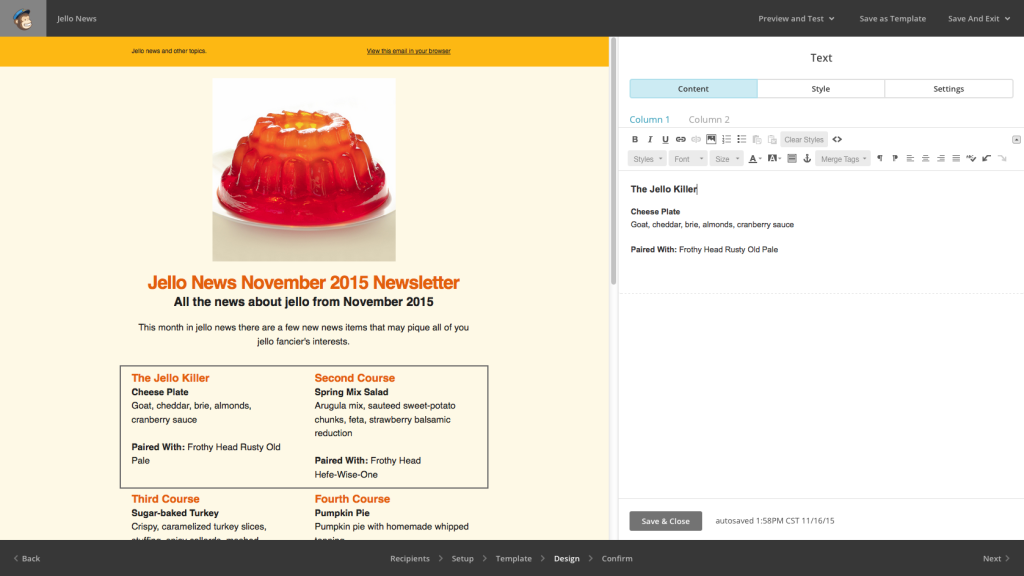 Mailchimp breaks its design into smaller pieces called blocks. The blocks can be edited like you see on the right. It is pretty intuitive, and you can move all of the blocks around to suit your inner graphic designer.
All of their templates also look good on mobile. They have a built in mobile preview (plus I sent some test emails to my phone), and it works pretty well. Mailchimp easily rearranges your design to work on a phone screen.
Mailchimp Frontend Features
Again, all the features won't be available on the free plan, so keep that in mind.
Mailchimp gives you a bunch of cool stuff right out of the box. You can set up a multi-user account, so that other people can get into your email marketing. This is pretty useful if you have a team you work with.
The ability to deliver by time zone is also pretty cool. That way you can be sure your email gets to the user while they're awake. That is usually a plus. People are much more likely to look at your email if they get it during the day rather than in the morning with a bunch of other emails.
MailChimp's mobile apps are very nice as well. That's right I said apps. Mailchimp has seven mobile apps that can do most anything you need from your email marketing platform.
These are the apps:
Mailchimp Mobile – Lets you send campaigns, view reports, and add new subscribers.
Mailchimp Coupon Scanner – This lets you put coupon codes into your emails.
Mailchimp Editor – You can edit emails right from you phone with this app.
Mailchimp Snap – This lets you take a photo, or select an existing photo, and build a simple email around it that you can send out to any of your lists.
Mailchimp VIPs – mark extra-special subscribers as VIPs and receive notifications when they open and click
Mobile Signup Forms – a great app that will help you collect email addresses in person at a storefront or conference.
SMS for Events – This sends text messages to your subscribers during events.
Man, look at all those apps. That is a whole lot of apps. Most other email marketing platforms only have one. These apps can make your smartphone your main platform for email marketing.
This is an example of the editor in Mailchimp Snap. The emails are quite basic, but pretty good for a quick email from your phone.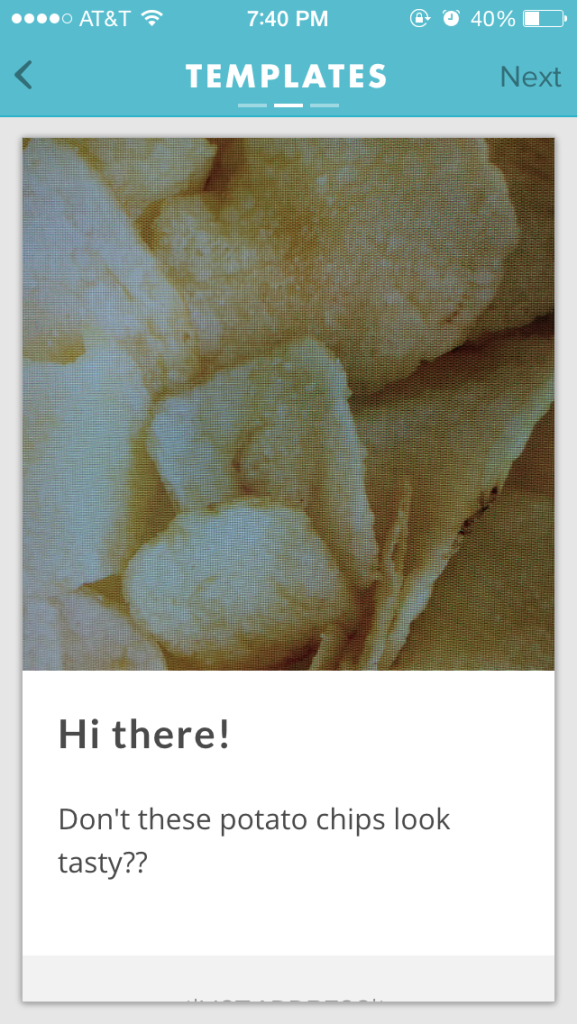 Mailchimp Backend Features
The dashboard itself is very clean and intuitive. Here, I can prove it: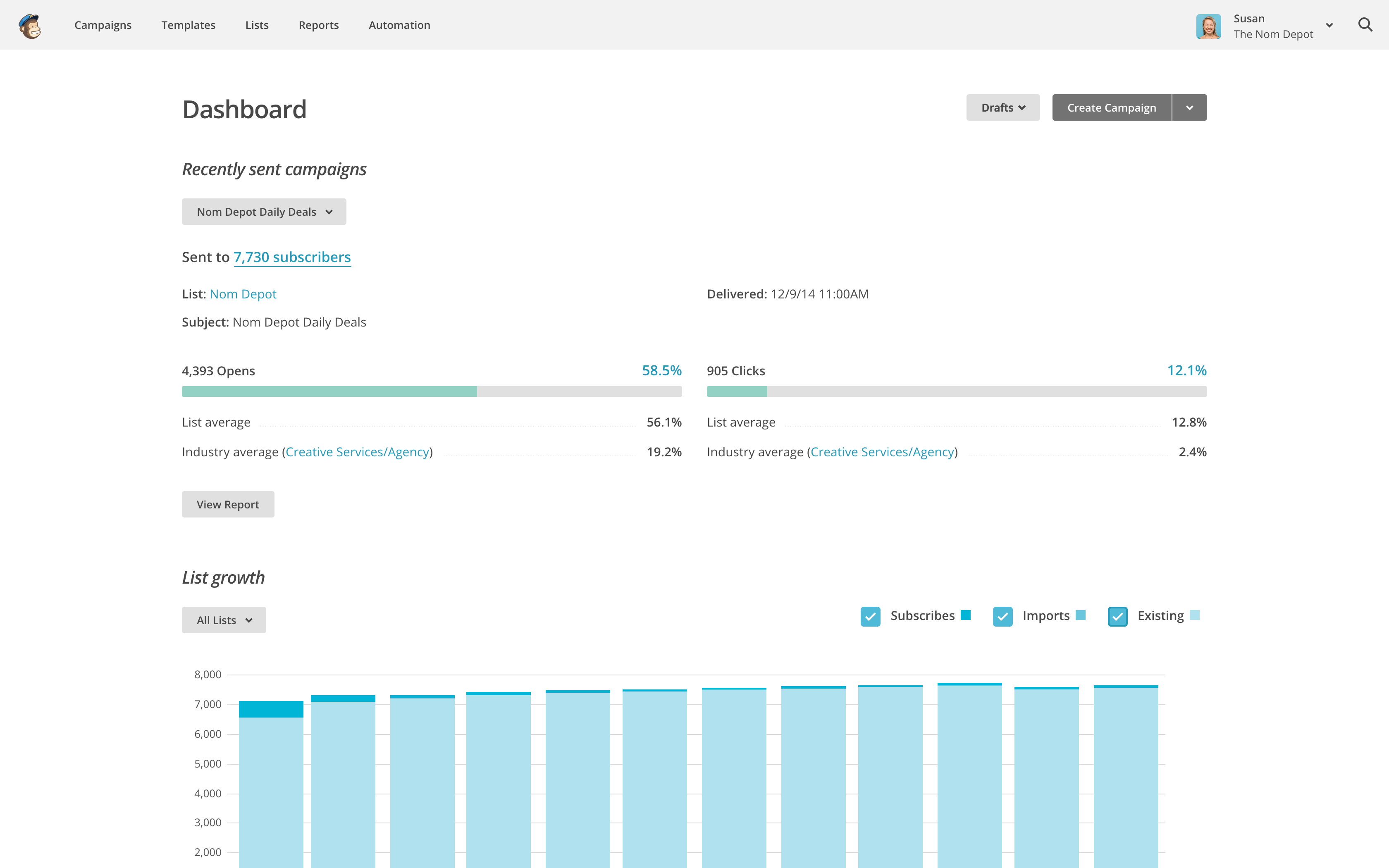 Up at the top you've got a few options for navigating your account.
Campaigns – where you can access your current campaigns.
Templates – the starting point for creating your email designs.
Lists – where you can manage you current subscriber lists or create new ones.
Reports – where you can track how well your campaigns performed, check open and click rates, and look at the fancy interactive graphs.
Automation – This is where you set up all your automated emails. More on this in a little bit.
Mailchimp works hard to make everything pretty easy to use. I managed to send an email to my list pretty quickly after I signed up.
Mailchimp Reports
Mailchimp has a strong reports section, they track data on open and click rates, top links clicked, performance over time, subscriber activity, revenue reports, opens by location, and unsubscribes. Their reports section is as clean and easy to navigate as their dashboard.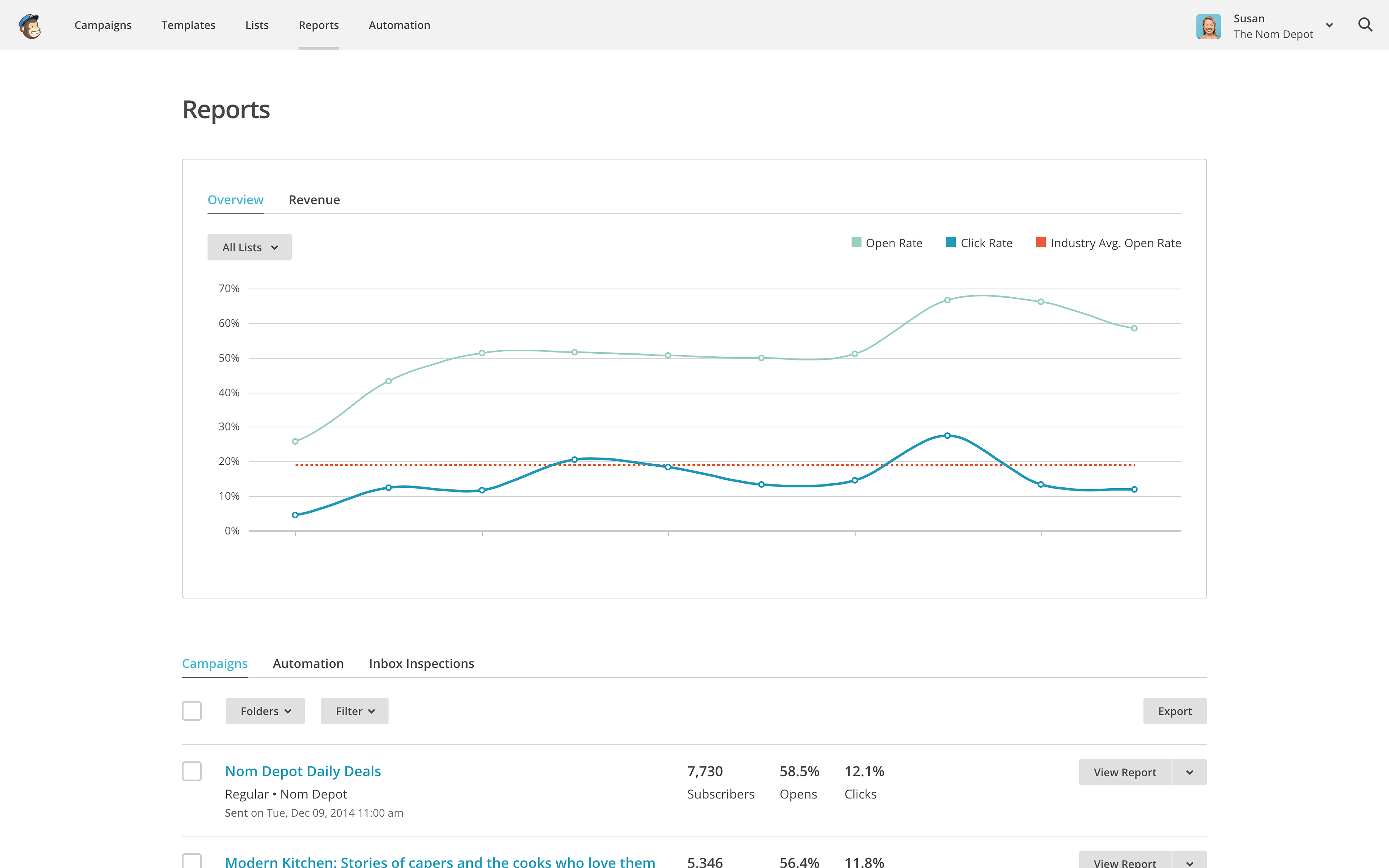 Mailchimp tracks a lot of statistics that you will want at your disposal when streamlining you email marketing campaign. They obviously have open and click rates, but they also have performance over time and revenue reports, as well as opens by location and a wealth of data on unsubscribes. The opens by location are particularly interesting. It shows a map of people who opened your emails. It's pretty cool to see where they end up.
Mailchimp also has the ability to work with Google Analytics to track even more data. This all adds up to a lot of useful stuff.
Mailchimp Flexibility

They give you a lot of different ways to get started, which is very nice. One of the most frustrating parts of setting up email marketing is importing your lists. Mailchimp makes that pretty simple. You can import using a number of different file formats, and you can also import directly from your Google or Apple contacts. They even let you import a list from Constant Contact, on of their main competitors. They have an import from integrated services button.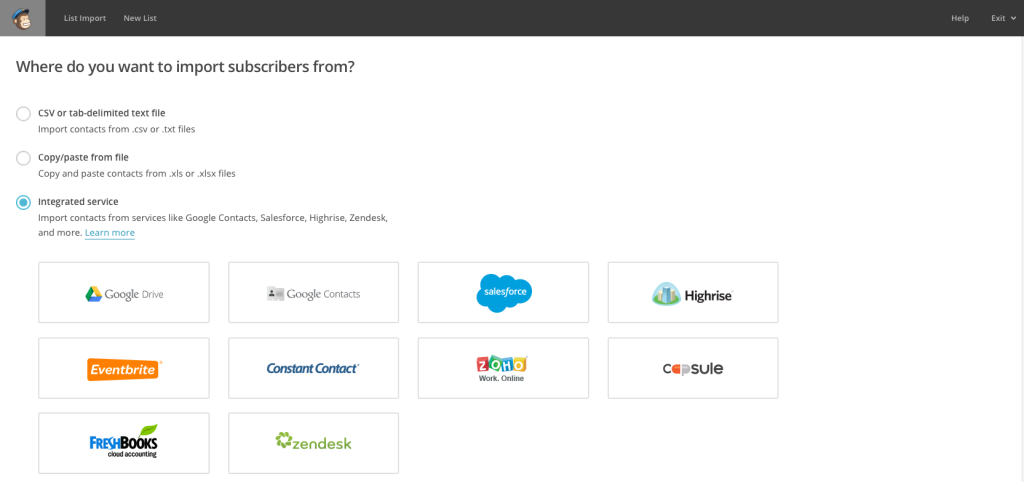 Keep in mind that if you're switching to Mailchimp you will have to reconfirm your lists. This is a pretty big pain in the butt, and it may lose you a few subscribers. The Mailchimp help section also says you'll have to do it from outside MailChimp, which is a mildly time-consuming process.
You can also cancel your service at any time, or you can pause billing if you need to take a break from email marketing for a little while. And if you need to go back to the Forever Free plan after you've become a paid member, you can do that too. There is one caveat; you can only do it once. Beware, for MailChimp's generosity will not last forever.
Mailchimp Automation
Autoresponders can save you a lot of time. Automating simple tasks can streamline your email marketing so you can get back to doing other stuff, like running a business. Mailchimp does a pretty good job with autoresponders. You can send people welcome emails and happy birthday messages, as well as emails based on website activity and behavioral tracking.
Here is one of their happy birthday templates. Don't worry Paul McCartney will let you use this template for free!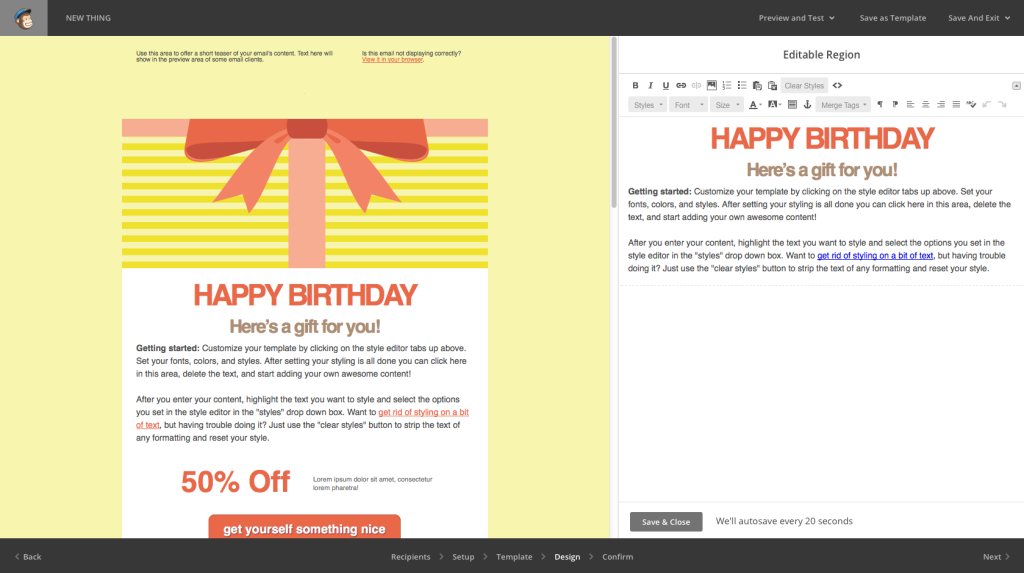 The behavioral tracking is particularly useful. It lets you automate suggestions of new products that can really help you convert more visitors into customers, or bring back return customers.
Sadly, this is one of the features only available in paid plans. If you are using the Forever Free plan you won't get access to automation.
Mailchimp Extensibility
Mailchimp has a huge number of integrations. It is very likely that your favorite apps work with Mailchimp just fine. They have a directory for their more than 800 integrations, so you can use their search feature to check and see if your favorite apps are included.
Type any apps your interested into the search bar. It is in the middle of this picture.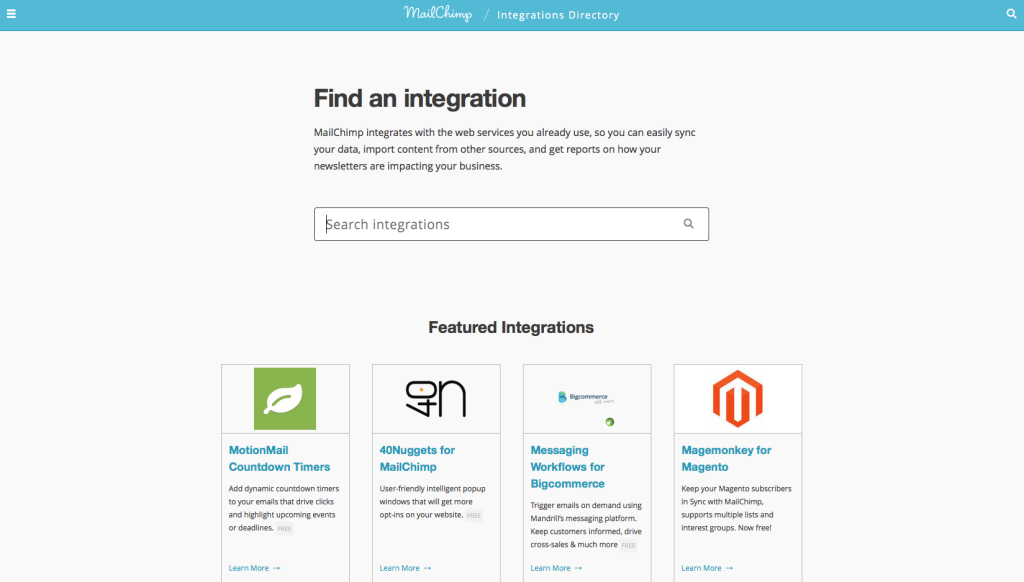 Mailchimp offers an enormous number of integrations and add-ons.
Mailchimp Support
MailChimp's support is very much what you would expect from a tech startup. It has a live chat that is open Monday – Friday 8am to 6pm Eastern Time, email support, and a wealth of self-help options. Their online knowledge base is pretty extensive and will tell you everything you need to know to get started, but it can be really frustrating if you run into a problem and can't talk to another human.
Also, all of these support options except for the online knowledge base are only available to paying customers. They will interact with you on their twitter or Facebook pages if you're a paying customer or not, so you could ask there if you have a question.
MailChimp's support is pretty lackluster without a phone support line.
Conclusion
Mailchimp is a great email marketing app for beginners or old email marketing pros. It has a lot of great features and a good amount of design options that make it usable for pretty much any kind of email marketing campaign. Simply put, Mailchimp is one of the best email marketing apps out there. They do a great job of keeping their product simple enough for beginners to use, while also making it fully featured enough for email marketing experts.