Squarespace was created in a square space. Specifically, a dorm room at the University of Maryland in 2004. This is the guy that did it.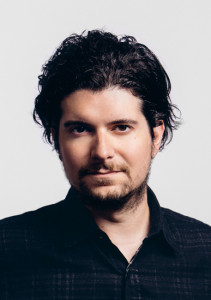 They are now one of the largest website building apps out there. It's also one of the best marketed. Squarespace is seemingly everywhere. They've put a great deal of time and effort into putting their product out there.
The first thing you notice when you visit Squarespace's website is the immaculate design. You step into a world of sharp-edged boxes and even sharper photographs. Squarespace lives up to their name. Most of the spaces on the site are in fact square.
Squarespace Pricing
Squarespace is comparable with other website builders when it comes to pricing. There are other website builders that will allow you to have free sites, (Wix, Weebly) but Squarespace gives you a custom domain with its paid plan. Other services will just give you a subdomain that is pretty useless and still has all their branding. I am actually pretty impressed that Squarespace does not have that option. It makes their business seem like more of a professional solution.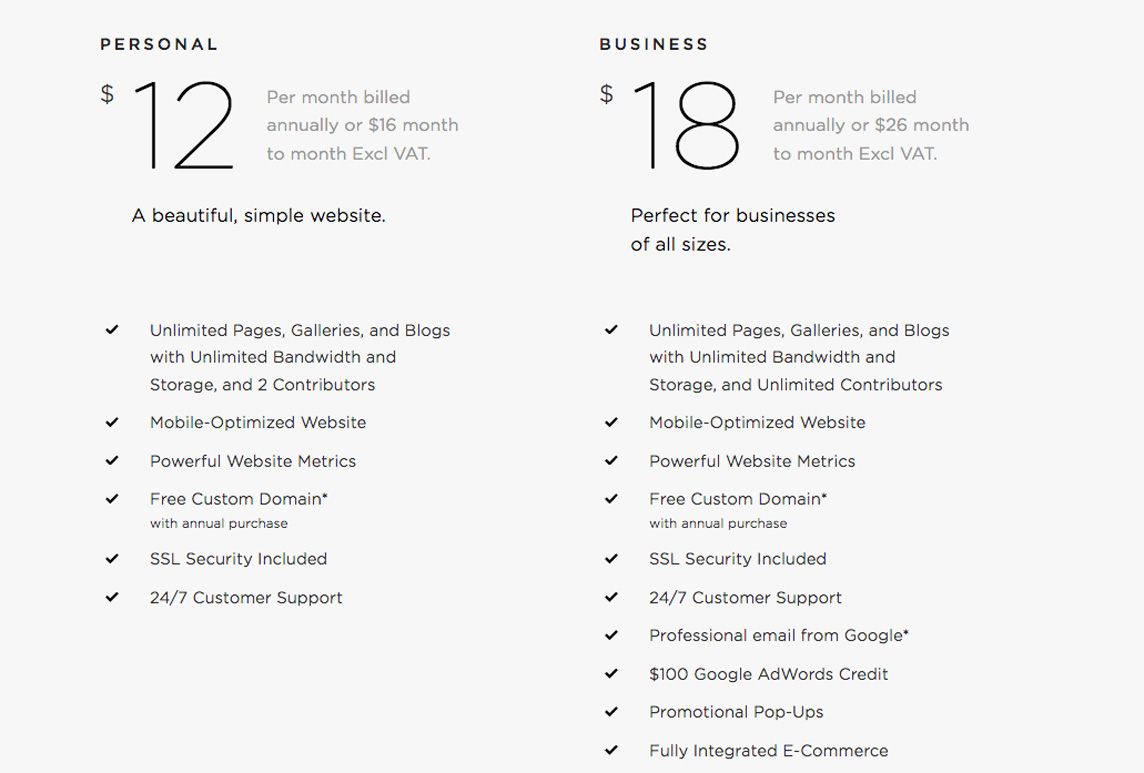 Keep in mind that the $12/month is only if you are billed annually. It will be $18/month for month to month pricing. The same is true for the Business plan as well.
Eight dollars a month is still pretty steep. Believe me, it'll add up. Squarespace's platform is very nice though, so I understand charging a bit more.
Squarespace Design
Squarespace's templates are very well polished. The design is immaculate, and they are all fully featured websites pretty much right out of the box. If you plan to slick closely to one of the templates you could have a website up very quickly. Squarespace's templates are beautiful. However, the templates can be slightly frustrating to rebuild in your own image. (though not nearly as frusterating as other website builders. I'm looking at you, IM Creator)
Squarespace's editor feels somehow underdesigned. It is going for minimalism, but it ends up in some muddy territory past minimalism that makes editing slightly confusing.
Here is one of the templates you can use. On the left you can see the design options.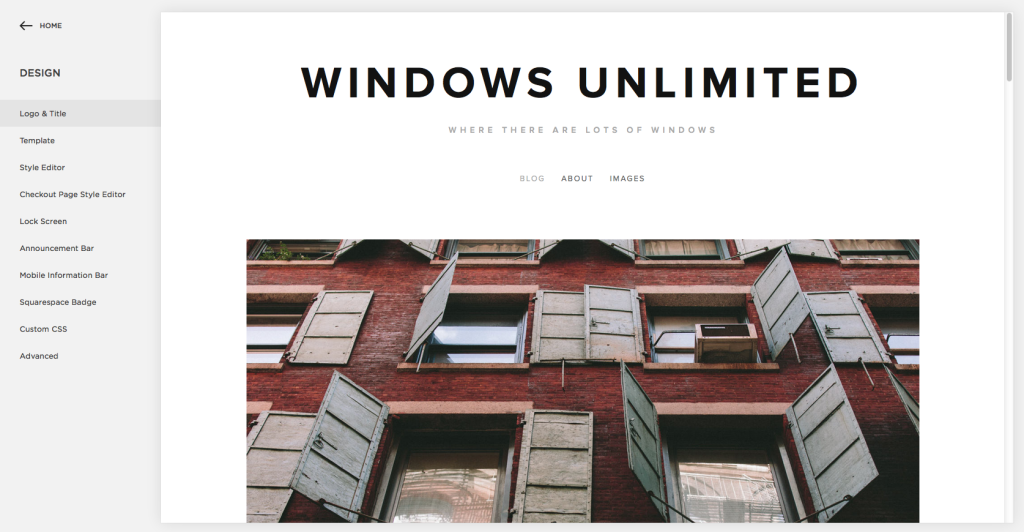 The design options are kind of tough to get your head around initially, but you can make some deep changes. How much or little your website looks like the template is up to you. I just wish the editor was a little more intuitive to use. The minimalism can sometimes be a detriment.
However, that is a small complaint. Overall, the templates look great and the editor works well.
Squarespace Frontend Features
Predictably, the sites look really good. They are really easy to navigate, and for the most part they seem professionally done.
Be careful with these. Squarespace templates are pretty easy to spot because there are so few. A lot of people who are building a website for the first time stick very close to the templates. If you do that you run the risk of your website looking similar to a lot of others. That could be a turn-off for a potential customer or client. Here is one of the boiler-plate templates. You can see how it could look similar to other sites, especially in the same field. Photographers, I'm looking at you.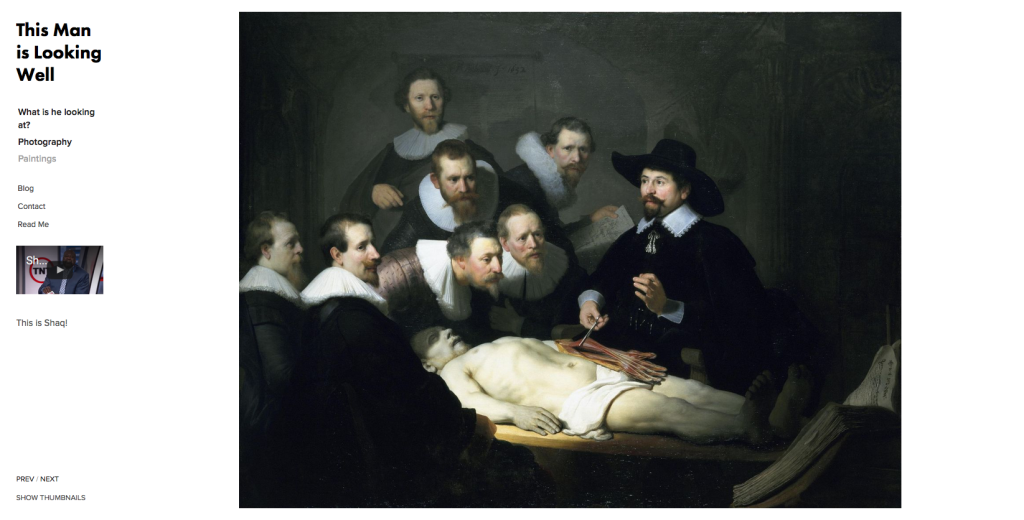 You can put most anything you'd want to on your Squarespace site. They have the pretty standard list of features. Above is an embedded video of Shaq. It is very tiny in the corner. They have a blogging widget as well that you can use. Of course it won't have the same kind of deep functionality as a blogging platform like WordPress, but it will do the trick if you just need a standard blog to post updates or promotions.
Squarespace Backend Features
The Squarespace user interface is pretty good, but it can feel a bit too minimal sometimes. There are some of the pages witch seem underdesigned in the same unfortunate way as the editor. That is probably because the Squarespace backend looks exactly the same as the editing window. The backend is pretty seamlessly integrated into the editor so it all feels like a cohesive whole. This is what you're greeted with when you sign on to Squarespace. You'll notice the similarity to the editor above. Squarespace focuses on getting you into the design process as quickly as possible.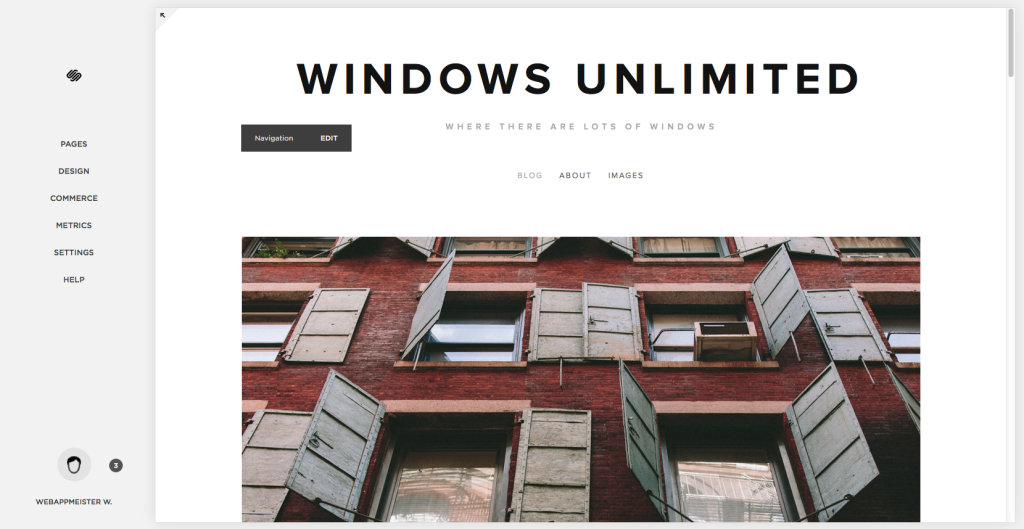 Pretty much anywhere you navigate in the Squarespace backend you'll see a preview of your website looming at you.
They have a pretty good feature set. You can set up your own store, though Squarespace doesn't support PayPal. That is a bit of a bummer. PayPal may be less than ideal as an online payment option, but it is still the standard.
Hosting & Security
Hosting in included in both of these plans. You can have your own custom domain and Squarespace takes care of hosting your site and registering your domain. There is no free hosting, but that is probably for the better. Sites like "myfirstsite.squarespace.com" don't exactly scream professionalism, or even a basic understanding of how the internet works.
It is worth noting that Squarespace only provides free domains with their annual plans. If you are on a month to month plan you'll have to pay extra for a custom domain.
Squarespace offers SSL encryption only on the checkout page for eCommerce sites. Otherwise you will be stuck with an unencrypted website. That is still better than other website builders who don't even have the option for SSL. For example, Wix does not offer SSL at all.
Also, since Squarespace develops all of their apps in-house, they don't have to worry about careless or malicious third-party developers. The closed ecosystem in which Squarespace exists really helps to make their platform more secure.
Reports & Statistics
Squarespace has a pretty good reports section. It is under the heading Metrics, and they have a lot of different categories that give you good data on your website traffic. It is nice to see website statistics displayed directly on Squarespace's website without the need for third party integrations. It is also pretty nice to look at, as expected. Here is what the overview looks like. Hopefully you'll have more page views than I do.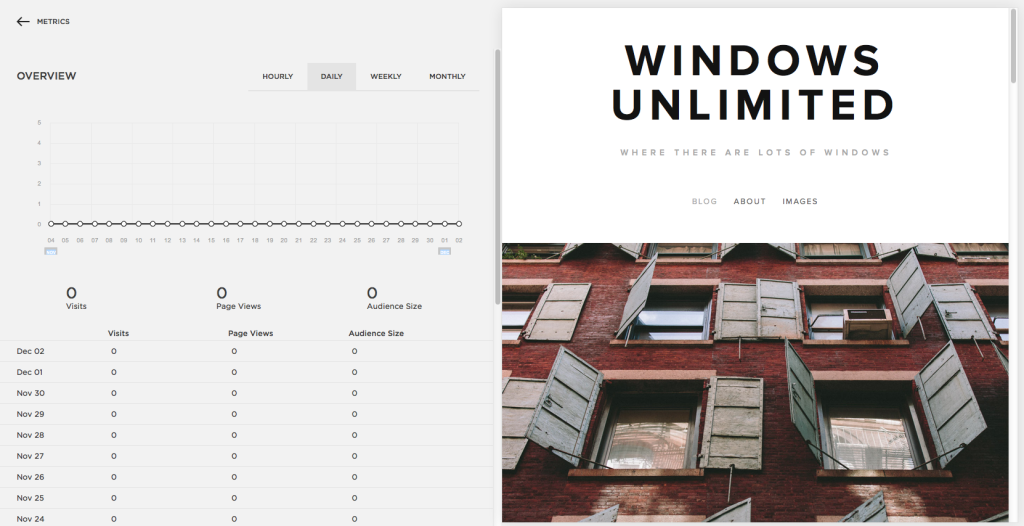 You can also look at your mobile usage, RSS subscribers, and most popular pages. The statistics provided are easy to understand even for first time website makers.
Extensibility
Squarespace only develops their own plugins. This means they have pretty limited access to add-ons and extensions, but because they make their own integrations they can keep their entire platform more secure. Squarespace lacks in integraions, but they make up for it in a secure ecosystem. One major bummer is that they don't integrate with PayPal, so if you need to use it you will have to look for unsupported third party integrations.
Support
Squarespace has an extensive knowledgebase with lots of how to videos, FAQs, and forums. They offer live chat Monday – Friday 3am – 8pm EST, and they also have email support tickets you can submit.
Sadly, Squarespace doesn't offer phone support. Sometimes all of those online resources can only get you so far. The live chat is a nice edition though.
Conclusion
I'll admit, I was a little wary of Squarespace. I thought it would be all flash and no substance. The minimalism struck me as too much, and their marketing campaign is very aggressive and somewhat grating. That said, they impressed me. I was wrong. It is a lot of flash and also a pretty good helping of substance. The website is very usable, especially compared to some of the other website builders out there.
Squarespace is a great tool if you want a website that looks professionally designed and is easy to manage. They do a great job with their templates, and their editor has a steep learning curve, but ends up having the ability for pretty deep customization. They aren't too expensive considering their nice features and interface, but they are on the more expensive side of website builders. If you're not that tech savvy, Squarespace may be right for you. They do most stuff for you, and the free domain (with annual billing) is a very nice addition. They could use some more supported integrations, but they have most of the basics down, and what you give up in integrations you make up for in a sleek design environment and greater security.
Squarespace works well as a one stop shop for creating your website. First timers should seriously consider shelling out for Squarespace.