Now that we are in the age of social media, more and more business owners prefer to get their products online than create a brick and mortar shop. An online store not only provides more visibility their brand, but it also gives them more opportunity to capture a much wider audience.
One of the challenges you have to face when you have an online business is to find the right e-commerce platform that will help bring your business to the next level. Fortunately, you have several options on your hands.
So we're giving you the Top 5 e-commerce solutions available on the market along with their pros and cons to give you a balanced overview of each of them.
Shopify – More Ways to Sell Than Ever Before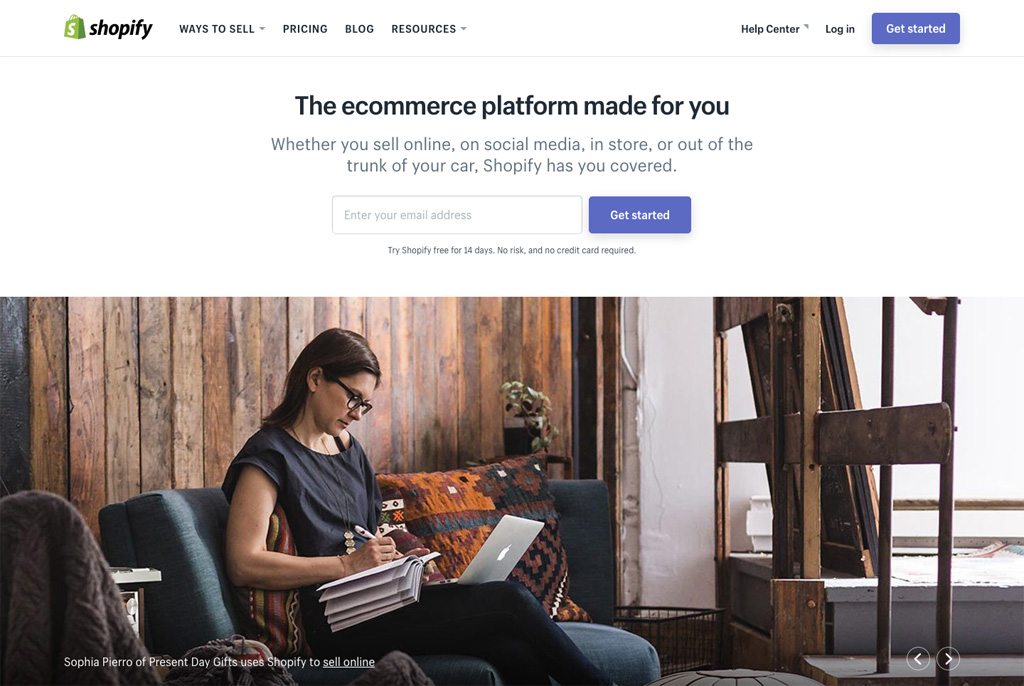 Shopify is one of the most popular e-commerce solutions for online businesses. It caters to a broad range of industries from arts and photography to electronics and technology. It offers 12 free templates that come in two or three variations giving you more opportunity to customize if you are creating multiple websites but are not willing to go premium.
One noteworthy feature of this platform is the POS or point-of-sales applications which allows you to sell both online and in physical locations provided you have an iPad. This kit includes a bar code scanner, a card reader, receipt printer, and cash drawer. The feature allows you to sell anywhere while automatically syncing your inventory and stocks.
Shopify offers four different packages priced at $9, $29, $79, and $299. The most basic does not provide you with an online store but allows you to sell on Facebook.      
Shopify Main Features:
Content management functionality

Supports

over 50 payment gateways

Secure shopping cart

Mailchimp integration

Allows you to sell on Facebook, Twitter, and Pinterest

Abandoned cart functionality which reminds people about their abandoned carts through email    

Real-time carrier shipping
Pros:
Its point-of-sale feature makes it stand out of the competition

It has a lot of third-party integration which allows you to extend its functionality

It has a 24/7 customer service support through email, live chat, and phone
Cons
It charges transaction fees when you use third-party gateways

Cheaper plans are charged up to 2% transaction fees. This is only removed when you upgrade to their unlimited plan.

You cannot go beyond their three product attributes – size, material, and color
Wix – It All Starts With a Stunning Website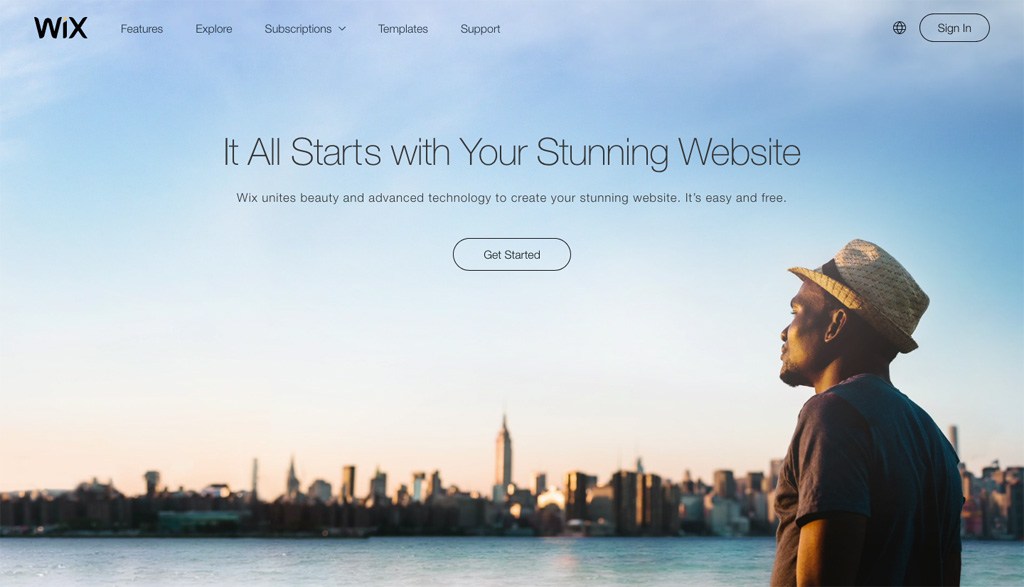 Wix boasts of more than 500 different website templates and a wide range of interactive tools. Wix works well for restaurant sites, artist portfolios, and small businesses whose goal is to engage their users and encourage them to go through various pages.
Wix supports its users with a wide range of financial management site analytics, traffic generation, and communication tools. The site also provides video tutorials for its users so they can fully utilize all the features and tools of the website.
Wix is free but gives you limited access to most of its essential features. So if you want to go premium, Wix pricing starts at $4.08/month for the most basic plan while the most expensive is at $16.17/month.
Wix Main Features:
Optimized for mobile use

Drag and drop builder

Free hosting

More than 40 galleries and beautiful stock images

Accepts payments with no commission

Worldwide shipping and tax

Site analytics and SEO wizard
Pros
Free web hosting

and account option lets you create beautiful websites. It also comes with video tutorials to help you with the setup

It has tons of templates to choose from no matter what the purpose of your website is.

Its Web App Market easily integrates with a number of popular web services, allowing you to utilize live support, reservation tools, newsletters, and many more
Cons
Too much freedom and too many choices can become confusing giving you difficulty what to choose.

You cannot view site stats unless you pay and add Google Analytics

It only shows two product attributes – size and color
WooCommerce – Giving You Complete Control to Sell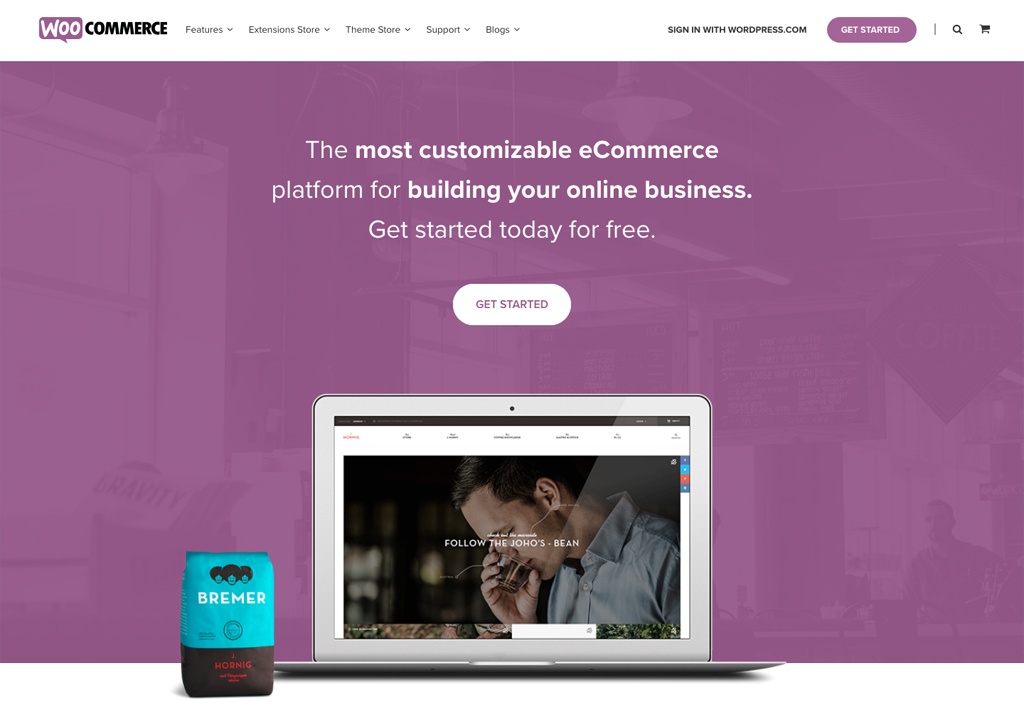 WooCommerce is a free WordPress shopping cart plugin which you can integrate to any WordPress theme. WooCommerce is absolutely free to download and install immediately without any monthly fees. It is fully customizable with tons of extensions, themes, and plugins, each of which has different capabilities and options.
WooCommerce is ideal for those who already have an existing WordPress website and wants their e-commerce business up and running within a short period of time. It is also for those who are planning to create a website using WordPress.
WooCommerce Main Features:
Pre-installed payment gateways which include cash on delivery, direct bank transfer, credit card payments, and cheque payment.

Built-in geo-location support and automatic taxes

Offers different product variables and inventory management

Shipping calculations and multiple shipping methods

One-click refund which offers pain-free refunds to customers
Pros
It has more than

300 free and paid extensions

to choose from giving you a vast options

It has built-in coupons, up-selling, cross-selling, and sales pricing functionality

It is 100% free to download and install
Cons
Since it is a WordPress plugin, it is limited to the WordPress platform

It does not have a drag and drop builder so you have to do everything manually which means you have to learn unless you are already familiar with WordPress

You have to pay for hosting, which is an additional expense on your part.
BigCommerce – eCommerce Platform for Growing Sales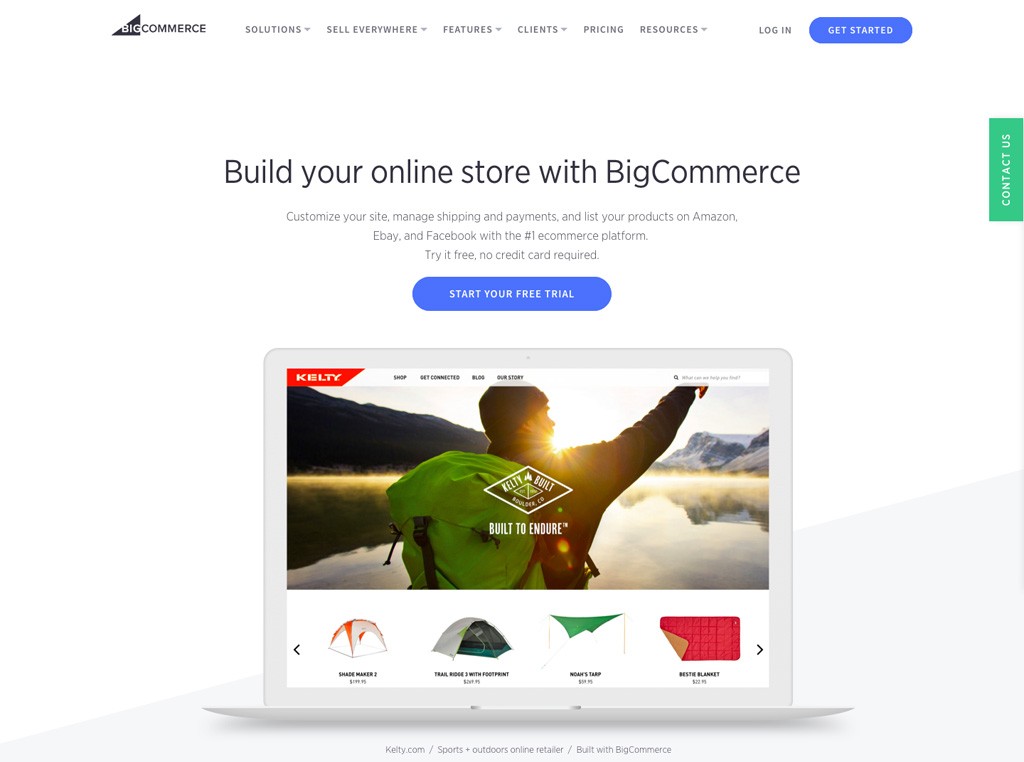 As its name suggests, BigCommerce is ideal for big companies because of its viable and powerful interface which allows you to handle your online store efficiently and effectively.
Two core BigCommerce features that are worth mentioning are its form fields and app store. The platform has made its form fields relatively pain-free, while the app store has expanded its core functionality.
In terms of pricing, BigCommerce is on the expensive side with its standard plan at $29.95. Their Plus and Pro plans are priced at $79.95 and $199.95 respectively.
BigCommerce Main Features:
Mobile and SEO friendly

Built-in marketing tools, such as Google Shopping integration

Multi-level security and DDOS defense

Cloud platform enables you to maximize your ROI

Integration with a big range of marketing, accounting, and inventory management systems

Allows hookup of your own domain name
Pros
It has a helpful customer service available by email, live chat, and phone

It has very straightforward templates saving you all the complexities and confusion

It comes with free hosting and tons of free and premium themes
Cons
It is expensive

The user interface looks disorganized and unpolished
Magento – Reach New Heights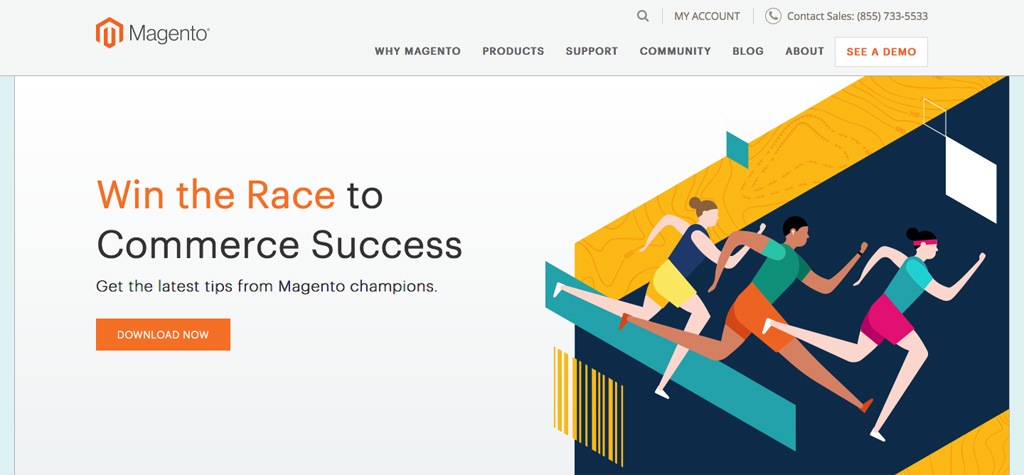 Magento is an open source digital commerce platform which is ideal for medium to large sized businesses. Magento is considered as one of those platforms with an extensive array of features that will help you build your store.
Since it is an open-source software platform, you can use it as it is or make a few tweaks to customize it according to your business needs. It is dynamic as well because of the Magento community, where you can also get a lot of support and find new plugins and extensions.
Magento Main Features:
Fully responsive with an integrated mobile HTML5 – works well with iPhone, iPad, and Android

Private sales features which restrict catalog access to some customers

Easily imports, exports, and manages inventory

Easy order management

SEO optimized with a number of tools to boost traffic to your website

Catalog browsing and management
Pros
It has a

well-organized categories

and information necessary for building your website'

It is continually evolving so you can expect a lot more development made by the community. This also gives you endless resources and options for a more dynamic website.
Cons
It is not the best option for those who have basic or limited tech knowledge

You need to invest more if you want to customize the software and fully utilize its features

Magento has a free option but if you decided to go premium, it is expensive with plans reaching up to $18,000/year
The Verdict
Sorting through these different e-commerce platforms and their features, it seems that Wix and Shopify go head-to-head. Both are cheap and have a free trial version. Although the Wix E-commerce plan sounds like a big winner, Shopify has been around longer than Wix and has been dedicated to helping online stores.
And although Wix's yearly pricing looks cheaper than Shopify's, the downside is that you're limited to one platform for a year without any possibility of upgrading or downgrading. If you look at the monthly plan, Wix has a $19.90 plan but you cannot start your online store unless you opt for a much higher plan. Shopify, on the other hand, let's you set up an online store for as low as $14 a month.