Constant Contact was founded in 1995 as "Roving Software" in Brookline, Massachusetts. Now they are one of the biggest players in email marketing. Also, sometime between 1995 and 2015 they changed their name.

Alright, so if you're here you must be looking for the hot new email marketing app. Lots of people use Constant Contact. Why is that? Lets find out.
Constant Contact Pricing
Constant Contact is has a couple different pricing plans. They have their Eamil plan and their Email Plus plan. The only difference is that the Email Plus plan has access to more advanced features. They'll give you surveys, registration forms, coupons, etc.
Here is a comparison of the basic features of the two plans.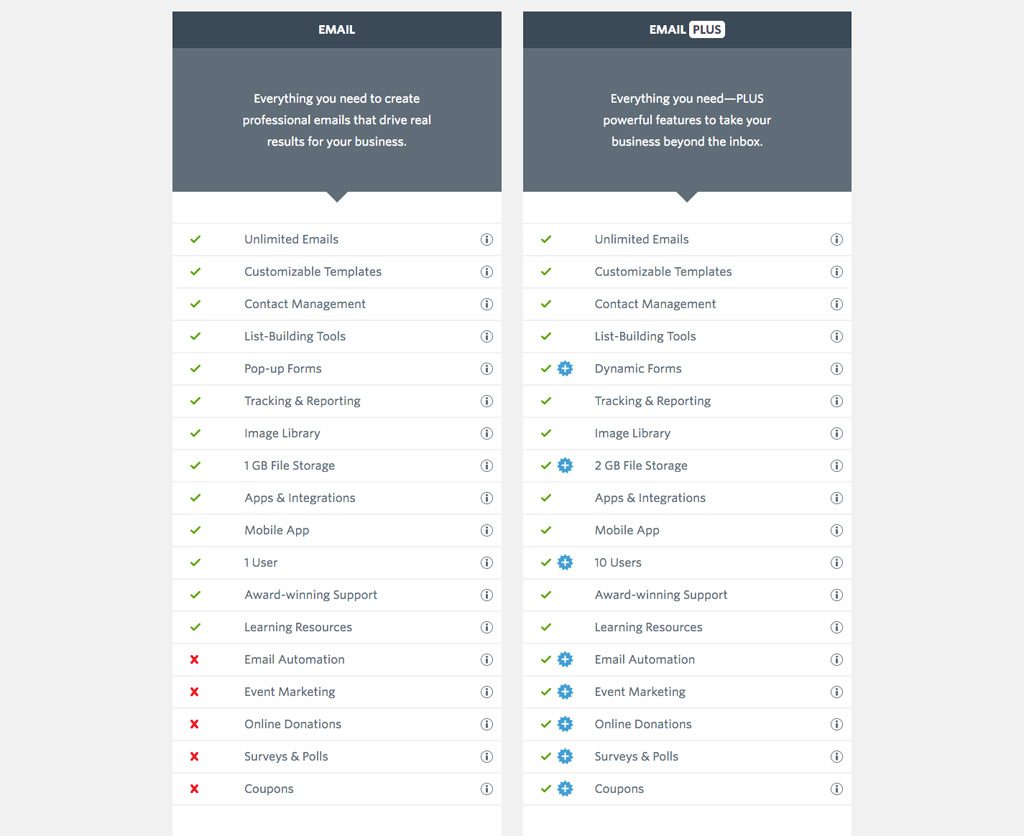 And here is a breakdown of the pricing structure for all of the plans.

E-mail Plan:
$20/month
for 0-500 subscribers,
$45/month
for 501-2,500 subscribers,
$65/month
for 2,501-5,000 subscribers,
$95/month
for 5,001-10,000 subscribers,
Custom quotation for more than 50,000 subscribers.
Email Plus Plan (includes more advanced features like surveys, registration forms, coupons, and more):
$45/month
for 0-500 subscribers,
$70/month
for 501-2,500 subscribers,
$95/month
for 2,501-5,000 subscribers,
$125/month
5,001-10,000 subscribers.
See full pricing below.
If you've got more than 50,000 subscribers you'll need to get a quote from Constant Contact.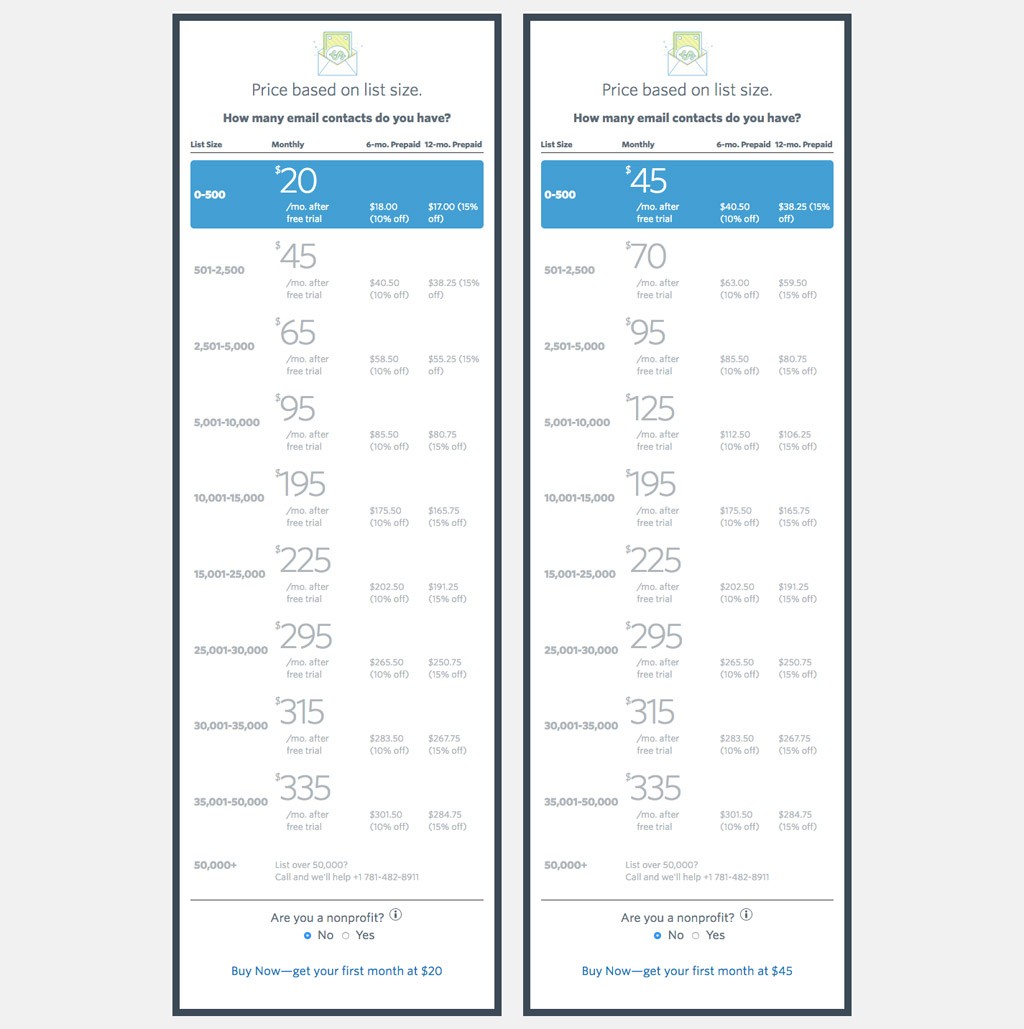 Alright, so that is how much it's going to cost you, but how does it work? I'm glad you asked.
Constant Contact Design
Constant Contact has a pretty nice interface for editing their emails, but some of the templates can look a little bit dated. That said, some careful editing will get you pretty far. Their editor looks like this: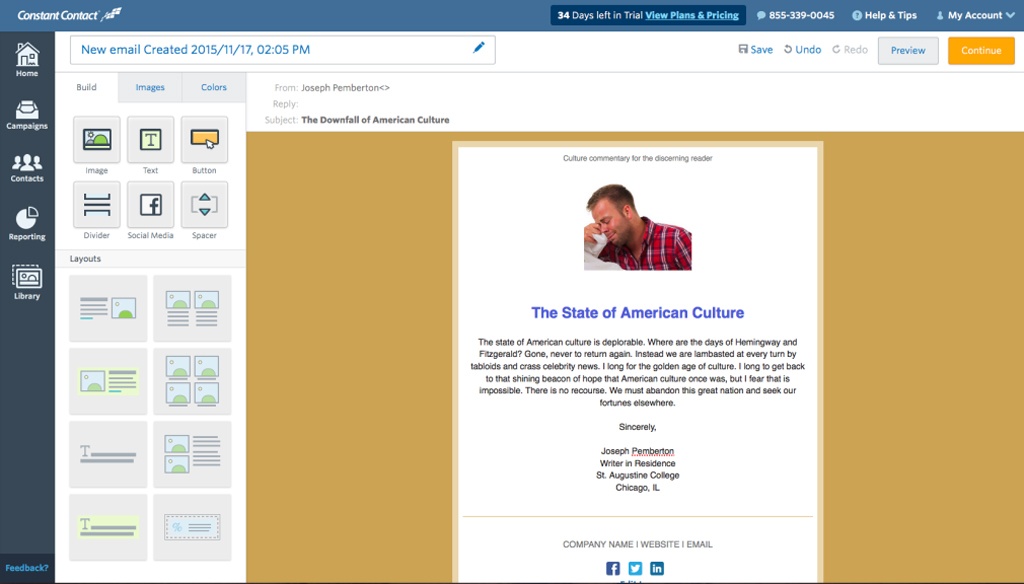 The "Build" tab lets you drag and drop a number of different design options right into the editor. The drag and drop editor is very nice and it makes up for a bit of the archaic design of the templates.
If you want to ensure that your email will render well on mobile devices you'll have to look for mobile-friendly templates. The downside is that you don't have a mobile preview, so you have to be careful when you design your template.
Sadly, Constant Contact's testing options are not quite up to snuff. They don't have a mobile preview, so you'll have to test how the emails render on your own phone. That is a bit of a pain. They also don't have a preview for any of the major email clients. That is an even bigger pain. Constant Contact will have you wasting a lot of time testing out your emails to make sure they look good across multiple platforms. If you want to test your emails more thoroughly, you may want to consider other options like MailChimp or GetResponse.
Constant Contact Frontend Features
Constant Contact has a pretty basic feature list. They offer subscriber profiles, social media support, multiple user account, and list growth tools and list segmentation. You can share URLs with your customers that ask them to sign up. You can customize the colors for the sign up form, and it will look something like this.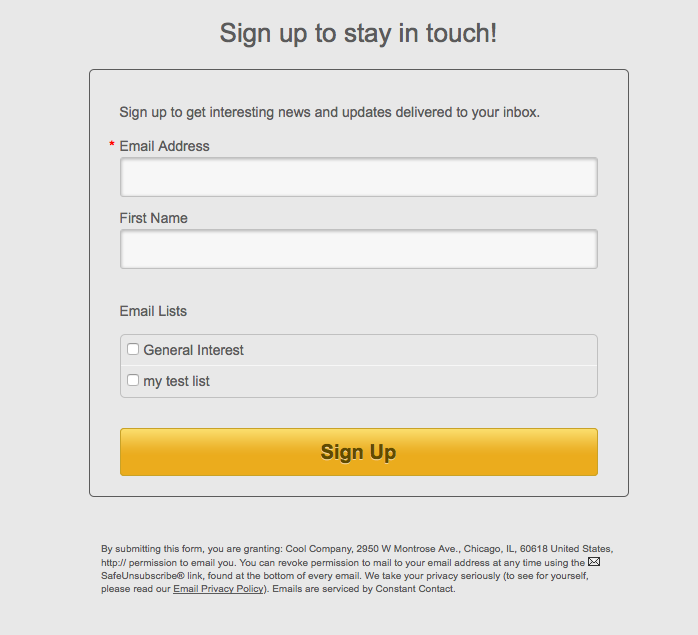 It is sadly lacking in other features. A/B split testing and trigger-based automation aren't available in Constant Contact. For that kind of stuff you'll have to use a different email marketing service like MailChimp. A/B testing is a particularly glaring omission. It can be really helpful in creating a successful email marketing campaign.
Constant Contact's iOS and Android apps are pretty extensive, however. They let you make and sent emails on the fly. They also have a pretty good analytics section. This is pretty weird for a program that doesn't offer mobile preview.
Constant Contact Backend Features
Constant Contact's interface has a rather dated feel, like you've just stepped back into a previous age of computing. Luckily, there's no anthropomorphic paperclip asking you inane questions. Their icons are also a bit busy.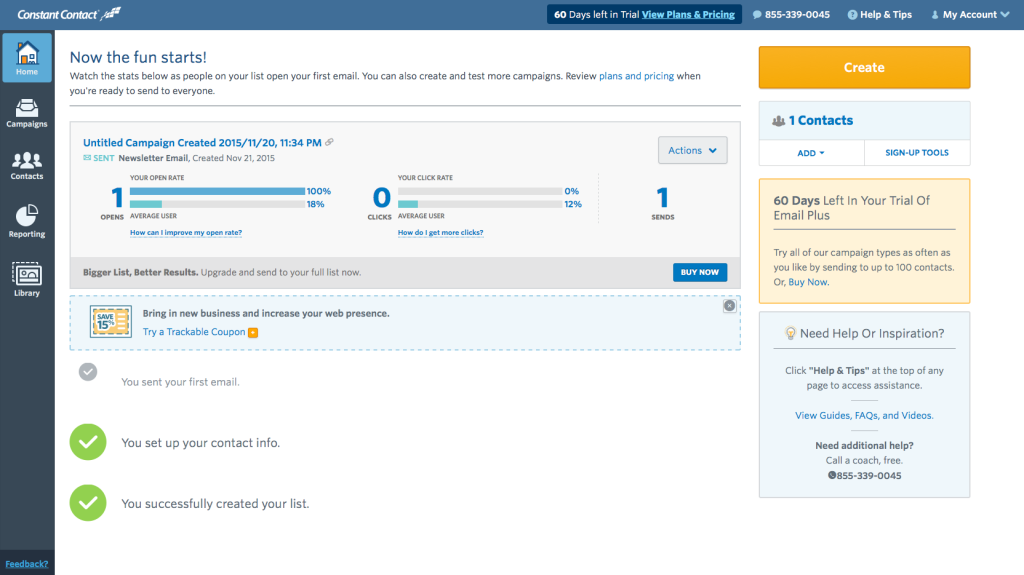 However, the interface is pretty usable.
Home – This is where you go when sending your first email. Once you get started these options will be replaced by a dashboard with your recent campaign activity, list growth, and other recent events.
Campaigns – You'll find all the necessary tools for customizing email templates and managing a campaign here.
Contacts – This lets you manage your subscriber lists and your lone sign-up form.
Reporting – This has real-time reporting on all your campaigns.
Library – Here you can manage you stored files and access the image library, where you can find a huge collection of stock photos, both free and paid.
Constant Contact Reports & Statistics
Under the bubbly cartoonish pie chart section of Constant Contact's website you'll find reports. They stick to the basics when it comes to analytics. You can track opens, clicks, spam reports, unsubscribes, bounces, and contact growth by source. The statistics page is pretty bland.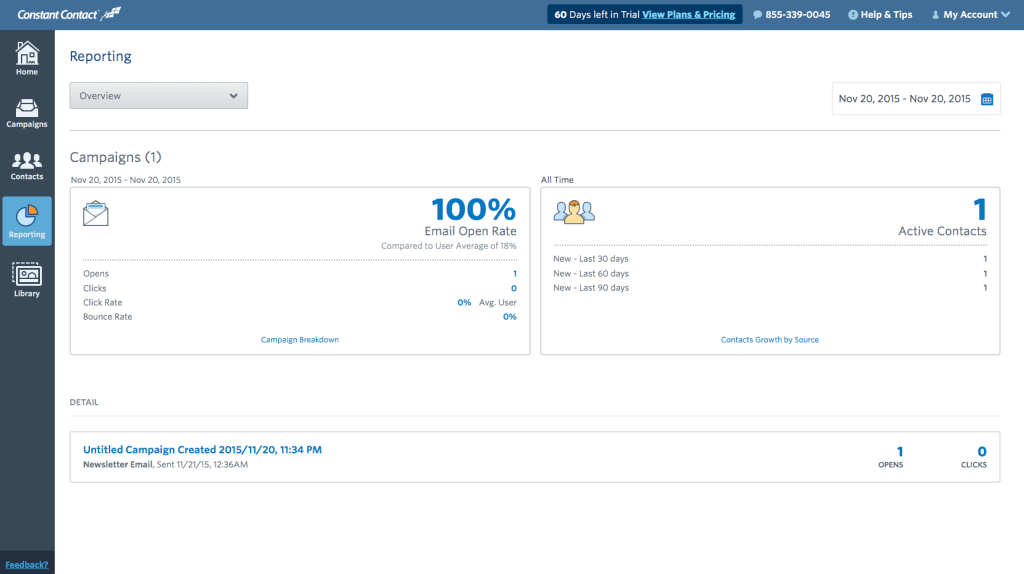 Some other stuff is not included. They don't have location tracking or A/B testing. That is disappointing. A/B testing is really useful for streamlining an email marketing campaign. It would be nice to see it included in Constant Contact.
Constant Contact also has data for total opens and unique opens, so you can see how many repeat views you get. They also have a list of individual subscribers who clicked on a link in case you want to market to them directly. You can also see growth by source, so you can tell what exactly is working in your email marketing campaign and where your new subscribers are coming from.
They also have a pretty cool feature in their industry average comparison. You can see how you're doing compared to a bunch of other industries. This is useful to see where you stand, but I can also see getting pretty obsessed with beating the average.
Constant Contact Flexibility
Constant Contact is pretty good about getting you started. They offer a lot of ways to import pre-existing lists. You can import by text file, or through spreadsheets. They also let you import lists from different email platforms and from apps like Salesforce. You also won't have to ask your subscribers to reconfirm their subscription. Constant Contact works right out of the box.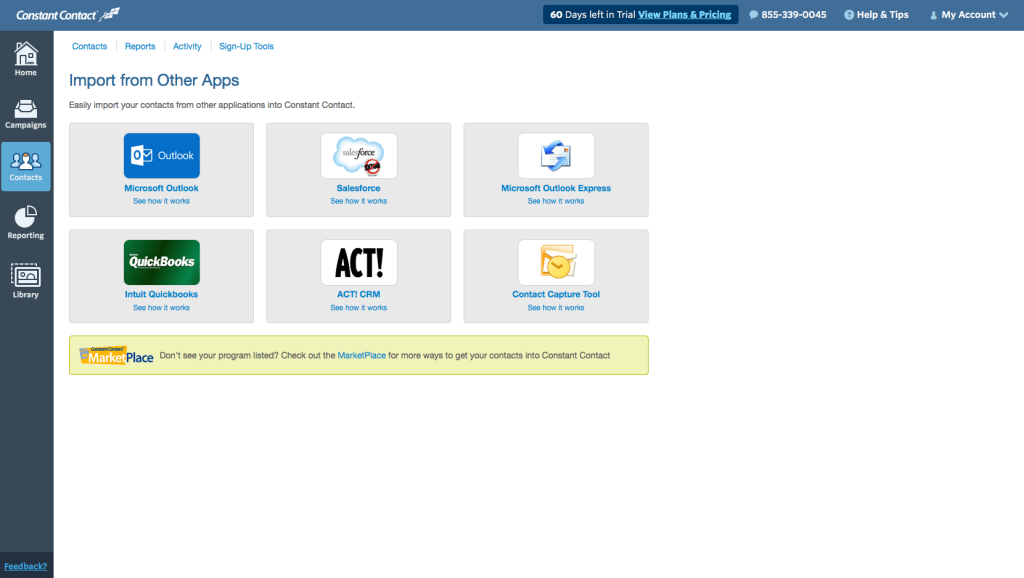 There is a 60 day free trial, but if you decide to buy Constant Contact you should be warned that it can be pretty hard to cancel your subscription. You have to call a billing specialist directly. There is no easy button to click to cancel your account.
Constant Contact also only allows you to store up to 2GB of files online before they charge you for more storage. That can be bad depending on the number of photos you use in your emails. Most people use quite a lot of photos. Be careful here.
Constant Contact Automation
Constant Contact's relatively simple automation feature lets you set up email series for similar customers and send targeted messages. You can also send automated emails to customers that make a purchase or sign up for your mailing lists.
There is a one day delay between adding your contacts to you autoresponder list and sending out an email. That is pretty frustrating. Also, autoresponder emails are their own separate thing. You can't take autoresponder emails and make them regular emails. That could frustrate you down the line. Constant Contact's autoresponder feature seems tacked-on.
Constant Contact Extensibility
Constant Contact offers over 200 apps and integrations. You can develop your own integrations if you have the coding chops. This is a pretty good number of integrations. It is pretty likely you'll find most apps that are already in your workflow. There is no need to reinvent the wheel.
Some of the most popular integrations are Google Analytics, WordPress, PayPal and social media-specific apps, including the Constant Contact Facebook app.
Constant Contact Support
Constant Contact is known for their support. They even have three Stevie awards for customer service. They offer phone, chat, and email support and have a dedicated Twitter account for customer service @CTCTHelp.
They also have phone support for different time zones.
USA & Canada: Monday – Thursday 7am – 11pm EST, Friday 7am – 9pm EST,  Saturday – Sunday 10am-8pm EST;
UK: Monday – Friday 9am – 4am GMT, Saturday – Sunday 3pm – 1am GMT;
International: Monday – Thursday 7am – 11pm ET, Friday 7am – 9pm ET, Saturday – Sunday 10am – 8pm ET
Online Chat is available Monday-Friday, 7am-9pm EST.
They also have a wealth of self-help options. They have live and recorded webinars. You'll receive invites to their live webinars in your email whenever they are holding them. They also have a pretty extensive knowledge base that is simple to navigate.
Constant Contact offers in-person classes and seminars for an additional fee ($199+).
Their customer support is really responsive and helpful. It is one of the company's best features.
Conclusion
Constant Contact's dated design and unimpressive features are big downsides. Their support is great, but it is not quite enough to offset the more lackluster parts of their app. The reports section is a particularly disappointing. They don't have nearly enough statistics for you to make meaningful decisions based on the data they give you. The lack of A/B split testing is a major oversight. Constant Contact seems to be stuck in another age, perhaps one with talking paper clips.
Unless you need a lot of customer support, you can give Constant Contact a miss.