Confused about Shopify pricing?
Shopify is one of the most popular eCommerce platforms around.
Designed to make the process of selling online as simple as possible, Shopify evolved to become the go-to solution for small and large businesses alike. The company offers a host of amazing services, all the way from dropshipping solutions through apps, to selling services online.
What's more, you can do a lot more than just sell with Shopify too. Regardless of the plan that you choose, there are plenty of apps for email marketing, accounting, and other extras too. Of course, great service does come at a price.
Shopify has a host of different pricing packages to choose from, and the amount you pay for your Shopify plan will depend heavily on the business you're running, and what you need for your online store.
One thing to keep in mind is that while many of the Shopify pricing plans are quite reasonable, you can end up paying quite a bit for your eCommerce platform if you're not careful. Keeping an eye on the amount you spend for your Shopify store is crucial if you want to keep your credit card rates low.
Shopify Pricing: The Breakdown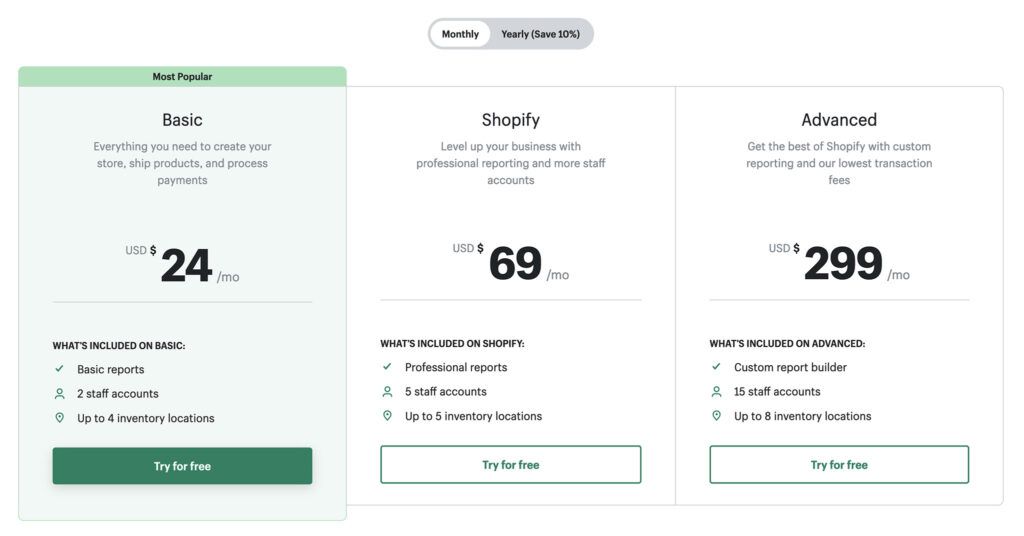 One excellent thing about creating your store with Shopify, is that you can start exploring the service without paying a penny. The free trial makes it simple to discover everything from Shopify POS to checkout features, without breaking the bank.
We'd always recommend trying out the free trial of an eCommerce service before you start spending your money if possible.
Another thing to note is that it can be confusing to see what all the pricing options are for Shopify at first glance. There are two extra plans that aren't highlighted as much as the primary three. These are Shopify Plus, and Shopify Starter. We'll come back to those in this article.
So, let's start by covering just the very essentials of Shopify pricing.
Here's how much each Shopify plan costs:
Shopify Plus is the enterprise version of the Advanced Shopify plan, which starts at a price of around $2000 per month, with a small transaction fee of 2.15% unless you're using Shopify Payments.
Shopify Pricing: From Hosting to Domains

Though the Shopify pricing that you see above can seem a little high for some plans, it's worth noting that Shopify is attempting to support every kind of business big and small. If you're running an enterprise company, then it's going to require a lot more work, which is why you pay extra for the Shopify Plus plan.
The good news is that Shopify comes with everything you need to run your website. All you need to do is just the package that's suitable for your business. There are a couple of added extras that you may need to consider too, such as Domains.
Shopify does offer domains for about $9 per year – which isn't bad. However you can find very cheap prices from options like GoDaddy too.
Shopify also allows users to add further subdomains, enable or disable the auto-renew payments available through the website, and more.
Shopify also includes secure and unlimited hosting on all of the payment options, except for the Shopify Starter feature. You can also use the Shopify Buy Button to add eCommerce to the existing websites that you already have with other companies. What's more, there are absolutely no bandwidth fees, so you can get unlimited bandwidth for free.
If you're not sure whether you're going to want to stick with Shopify forever, then it might be helpful to choose the monthly payment option over annual pricing. This way, you won't get stuck in a cycle of yearly costs if you find a better eCommerce alternative. On the other hand, switching to annual payments, may save you a bit of money.
If you do choose to cancel your plan at any time, then you can do so without being charged any fees. However, your yearly payment won't be reimbursed.
With that information out of the way, let's take a closer look at Shopify pricing more closely.
Shopify Pricing Plans: The Essential Information
There are various differences between the Shopify pricing plans, from the presence of gift cards and staff accounts, to abandoned cart recovery. However, we're going to start by looking more closely at the exact prices that you pay.
For instance:
Basic Shopify Plan: This costs $29 per month and is the cheapest option around. It comes with everything you need to start an online business, including 2 accounts for staff, 24/7 support, unlimited products, sales channels, and an online store with blog. You also get discount codes, an SSL certificate, manual order creation, and even abandoned cart recovery.
Shopify Plan: The Shopify standard plan is a little more expensive at $79 per month, and it comes with everything you would get from a Basic Shopify plan, including professional reports, gift cards, and 5 accounts for staff members.
Advanced Shopify Plan: Costing around $299 per month, this is one of the most expensive option around. The plan comes with up to 15 staff accounts, and all the features in the Shopify plan, and you also get access to an advanced report builder.
The central plans from Shopify also come with different terms for Shopify Payments.
For instance, your credit card rates are:
Basic Shopify: online: 2.2% plus 30 cents, offline: 2.7%
Shopify: online: 2.6% plus 30 cents, offline: 2.4%
Advanced Shopify: online: 2.4% plus 30 cents, offline: 2.4%
Additionally, there are other fees to consider from payment providers that aren't Shopify Payments. For instance, you pay 2% for Shopify Basic, 2% for Shopify, and 0.5% for Advanced. The Basic package also has a few extras to consider, such as access to the POS app, and third-party POS tools. Alternatively, Shopify and Advanced Shopify plans come with register shifts, hardware support, staff POS and more.
Let's dive into every Shopify plan in detail.
The Shopify Starter Plan
One of the things that seems to stand out most about Shopify as an ecommerce platform, is that it makes it easy for anyone to get started, with a domain name, and things like the Shopify Starter plan.
With Shopify Starter, comes with everything you need to sell products and digital items through PayPal, credit cards, and more. If you do sell digital products and your sales reach a certain level, the Shopify Starter plan even includes technology that allows you to calculate your tax rates more rapidly. Once you download the "Digital Downloads" app, you can automatically apply the correct tax rates to your content.
The Shopify Starter plan can also work out well for a lot of people who set a website on another platform like Squarespace and Wix and want to sell digital goods without starting from scratch.
Available for around $5 per month, Shopify Starter provides the tools you need for everything from accepting credit card payments, to using Facebook sales pages, and more.What's more, if you want to just add a few basic buttons to your site, Shopify Starter can help there too.
The Shopify Starter solution also comes with a Facebook messenger app, included with Shopify Starter to help you chat with customers through Facebook Messenger. This is ideal for those who want to offer great customer support through social media.
The Basic Shopify Plan 
The Basic Shopify plan takes things up a notch, giving you a discount code engine to help capture more customers, fraud analysis tools to protect yourself, and more. You can even upload an unlimited number of products to your store with this plan too. The primary step up is the fact that you've gained a fully functional website and a blog through Shopify too. This means that all of your orders and products are managed more completely through Shopify.
There are other perks to using the Basic Shopify plan too, such as SSL certificates for free, shipping labels, manual order creation, unlimited file storage and exceptional customer support.
Although this package isn't the most amazing option, we've ever seen for an eCommerce site, it's a good one if you're just getting started and you don't want to pay a fortune in Shopify costs. You can use Basic Shopify to create a dedicated store for your online business, and you can access sales through a WordPress blog too. Whatever you choose to do, the basic plan will provide you with everything you need.
Basic Shopify comes with the option to sell an unlimited number of items, which is ideal if you're planning on growing your business over time. There's also no limit on the number of files that you can keep online. Just keep in mind that the basic plan comes with some pretty hefty transaction fees.
Features:
Multiple sales channels
2 staff accounts
Ability to use discount codes
Abandoned cart recovery feature
Free SSL certificate
Up to 64% savings on shipping
Pricing:
Monthly costs: $29.00
External transaction fees: 2%
In-person credit card: 2.9%
Online AMEX: 3.9% plus 30 cents
Online credit card fees: 2.9% plus 30 cents
Who Should Use Basic: Basic Shopify is ideal if you're looking for a highly functional and reliable online store without spending a lot of money. You won't need to over-pay for extra features like in the full Shopify plan, but you can do more than you could with the Lite plan.
The Shopify Plan
This is by far the most popular choice among Shopify plans. The Shopify plan is available for $79 per month with a 2.6% plus 30 cent transaction fee. That's quite a lot more expensive than what you would pay for the Shopify Basic plan. However, you do get a lot more functionality.
This plan comes with all the tools that Shopify has to offer, including gift cards, personalized and advanced reports, and so much more. The reports are particularly useful if you want to get an overview at which items are selling best, what kind of income you're generating and more.
The abandoned cart tool is another excellent feature here. With abandoned cart solutions, you can see the people who were interested enough to add an item to your cart, but then might have left the product there. The coolest part about this tool is that it sends out automated emails according to your needs. For instance, if your user abandons a cart in your store, you can choose to send that user a reminder message or promo code within 6 hours.
The abandoned cart feature is one of the most exciting parts of the Shopify standard plan, helping you to regain the customers that you would otherwise lose. You also get a bunch of additional features with the full plan, such as:
5 accounts for staff members
Multiple sales channels
Free SSL certificate
Ability to use discount codes
Abandoned cart recovery
Generation for professional reports
Up to 72% saving on shipping rates
Professional reports
Pricing:
Monthly fee: $79
External transaction: 1%
In-person credit card: 2.5%
Online credit card: 2.6% plus 30 cents
Online AMEX credit: 3.6% plus 30 cents
Who Should Use Shopify: The Shopify standard plan is excellent for anyone who wants to scale their business quickly, with access to useful Shopify apps and low shipping rates. You can ensure that you have access to all the functionality that you need to enhance your point of sale. Additionally, the transaction fees drop due to the volume when you're using external payment gateways too.
The Advanced Shopify Plan
Now we come to the Advanced plan from Shopify – ideal for the rapidly growing eCommerce business. This plan comes with a much higher monthly fee for your eCommerce store, starting at $299 per month, with a 30 cent plus 2.4% transaction fee. This gives you all the features you got with the previous plans, along with an advanced report builder, and solutions to help you calculate your shipping rates.
To ensure that your business can grow as large as it needs to, you'll have access to unlimited products, and your transaction percentage fee is slightly lower with external payment gateways.
The good thing about the Advanced plan from Shopify is that you get everything you need in unlimited amounts upfront. This ensures that your storage capabilities are never ending. You can upload as many products as you like, as well as all the images and videos that you choose to bring in the traffic that's suitable for you. There's also abandoned cart recovery with the advanced package, which means that you can keep revenue coming in a lot easier.
The Advance plan from Shopify is one of the most expensive on the market, but it does come with a few extra features that are definitely worth checking out. You also get a shipping rate calculator which means that you don't have to estimate how much it's going to cost to ship your items to a customer with your shipping discount. Instead, you get that information in real-time through third-party Shopify apps.
Features:
15 staff accounts
Ability to use discount codes
Multiple sales channels
Free SSL certificates
Abandoned cart recovery
Gift cards
Shipping discounts
Professional report generation
Advanced report builder
Real-time calculation for shipping
Pricing:
Monthly fee: $299
External transaction: 0.5%
In-person credit card: 2.4%
Online credit card: 2.4% plus 30 cents
Online AMEX: 3.4% plus 30 cents
Remember that Advanced Shopify also gives you the best shipping discount around, and access to a dashboard for up to 15 users, which is a nice extra touch.
Who Should Use Advanced Shopify: Advanced Shopify is the plan that serves companies that would prefer to have their shipping handled by third parties. This is also ideal for high-revenue companies that require more advanced reports, allowing for projecting and testing. You also save more money with the decreased fees too.
The Shopify Plus Plan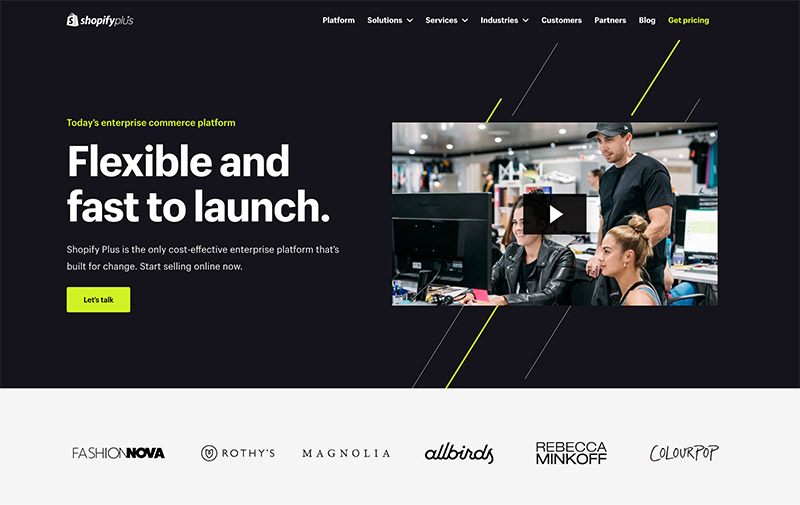 Now we come to the most expensive Shopify pricing plan of all. Compared to all the different plans from Shopify, this is the one that's going to set you back the most, but it's also the one with the most features and functionality to explore. Shopify plus is the enterprise-grade system where you need additional resources to focus on things like design and marketing, rather than order management.
Shopify is fully hosted, with no transaction fees to worry about. Additionally, the massive 200 TB of storage means that you can store all the crucial information that you need too. On the downside, you don't get to see the pricing upfront with this solution. Unlike the small business tools from Shopify, this plan is designed for enterprises with a high monthly revenue. You'll need to contact the Shopify team and they'll provide you with a custom quote. However, you shouldn't expect to spend less than $2000 per month.
Shopify Plus is specifically intended for large companies that are making hundreds of thousands in profits every month. Although the other plans have features that can help you to grow your store, Shopify Plus is a lot more flexible, suiting the needs of the most complicated businesses.
The biggest perk of Shopify Plus is the fact that it comes with dedicated VIP support. That basically means that if you ever encounter an issue with your store, you'll get priority assistance from the Shopify Team. Your experts will also work with you hand-in-hand to get your store up and running in the best possible way.
If you have your own developers in place, you can also gain more unrestricted access to the solution that keeps Shopify running too. This delivers a variety of great opportunities for custom scripting and API technology. The price of Shopify plus also varies according to your company needs. Usually, you'll have to pay around $2,000 per month, but you might need to pay a lot more if your sales are higher and you need more advanced services.
There's a point where if you're earning a certain amount of cash, you'll need to pay 25% of your monthly revenue instead of a set fixed rate.
Who Should Use Shopify Plus: Huge companies are suitable for Shopify Plus. This isn't the service intended for small companies. You need Shopify Plus if you have a large team and a lot of sales to make each month. You can also opt for this plan if you feel as though you're going to need a lot of VIP support at a professional level.
Shopify Pricing: The Difference Between Payment Types
One thing to keep in mind is that when you visit the Shopify pricing page to look for transaction rates and additional costs, the prices that you're given assume that you're going to pay for what you want on a monthly basis. The good thing about this strategy for store owners, is that if you want to downgrade or change what your plan offers, you're free to move at a time that suits you.
You can also simply cancel your Shopify fees and move to a different provider if you want to. However, with the monthly pricing plan, you are paying a little more than you would for other solutions. If you decide instead to go for the one or two year plans, you can save up to 10% or 20%.
This means that you're going to say a lot more, making annual and biannual payments more appealing to business owners that know they want to stick with Shopify for the long-term.
Shopify Pricing Credit Card and Transaction Rates
Another important point to note if you're looking at the Advanced Shopify plan, or anything else, is that you need to examine the additional fees that come outside of your monthly payments. We're not just talking USPS rates and other postage costs here. If you're using the Shopify Payments processor, then you won't need to worry about processing fees.
However, a lot of people prefer to use an option like PayPal, which means that they end up paying an extra amount per transaction. Not only that, but Shopify will also charge you according to your turnover.
Transaction fees and fees for credit card payments are one of the most stressful parts of building your online store. In an ideal world, store owners would have the freedom to take a high volume of sales and ramp up their income without having to pay extra.
Unfortunately, it's not just Shopify that charges you to have a valuable position on Google. All checkout tools and all the ecommerce platforms that you can access online today will charge you a basic fee for credit card payments and transactions. The amount you actually pay for your transactions usually depends on what your plan offers. This means that for:
Basic Shopify: You'll play a transaction fee of around $2.9% plus 30 cents, on top of your $29 per month payment for the software itself.
Shopify: This annual plan comes with a 2.6% transaction fee plus 30 cents for every payment. You also pay the $79 per month Shopify fee on top of that.
Advanced Shopify: Although the monthly Shopify charges for the advanced packages are the highest around, the transaction rates are a lot lower. Your transaction fees will usually be around 2.4% plus 30 cents for each transaction.
The more you pay for Shopify and the point of sale solution, the less you're going to need to pay for your transactions. This means that if you're worried about paying for everything from credit card sales to shipping rates when you're selling a lot of products through your store, you might need to upgrade to Advanced Shopify for the payment processing costs.
It's also worth noting that the Shopify Advanced plan comes with extra great features too, such as customization options that allow you to enhance your sales channels, high volume sales support, and social media integrations too.
Other Costs to Consider with Shopify
There are a few other costs to consider with Shopify beyond credit card processing and fees for delivering your items through external services like Amazon. One of the biggest things you'll need to think about is whether you want to add any premium plugin tools to your store through the app store. The app store comes with a bunch of great features, including Stripe checkout solutions, and dropshipping services.
While a lot of the apps available with the Shopify store are fee, some of them come with payments included. For instance, the S Loyalty plan comes with a price of up to $119 per month if you want to get loyalty systems for your customers.
Shopify apps are one of the most intriguing ways to beef up the functionality of your store. We're not exaggerating when we say that there are literally thousands of apps to choose from, both paid and free, and they're pretty straightforward to integrate too. You can even use these apps to change the way that you run your store.
For instance, one of the ways that many ecommerce store owners attempt to keep costs low, is by using a dropshipping app included for their Shopify store. There are several options available, and they all allow you to send your products to your customers through a third-party supplier, rather than paying for warehousing and storage requirements.
You don't have to choose any paid apps for your service when you're just getting started as a business owner, and you can still build a very solid website that doesn't require any payments in most cases. However, you may stumble onto paid apps that are too ideal to pass by in some cases.
For instance, if you need some help keeping track of your taxes and transactions, then you can integrate your store with accounting apps. There are also services that allow you to ramp up the productivity of your store, or improve your chances of building stronger connections with customers. Salesforce is a popular app add-on for a lot of Shopify users.
Other possible costs besides the Shopify app store costs might include paying for your new domain name with Shopify. As we mentioned above, just like many other online store solutions, including BigCommerce, there is an option to buy your domain name and keep it registered through Shopify. You can spend a small amount each year on your Shopify domain name, which usually starts at around $9.
There's also the option to use Shopify for your email hosting. There's no internal option here, but you can set email forwarding up for your Shopify domain using a third-party hosting service. You may need to pay for that hosting service as part of your complete package however, which means that you have yet another expense to budget for.
Is There Any Way to Avoid Transaction Fees?
While the fees for Shopify transactions aren't as bad when you consider the payment processing features that you get from your Shopify packages in return, it's worth noting that many business leaders still hate having to pay any transaction fees at all.
Ultimately, however, transaction fees are often a necessary problem for store owners to face. Whenever a customer buys a product from the point of sale that you use with Shopify, your transaction fee is charged. This fee will differ depending on the plan you have, and how you're processing the payment.
Although it seems unfair for Shopify to charge you anything for using their service, it's worth noting that the backend solution that you get from Shopify does need to work to process that payment. For instance, it takes bandwidth and effort to handle things like checkout processes and file storage. When you're charged a transaction fee, you're really paying to keep Shopify's entire system up and running smoothly, so that you and your customers can take advantage of it.
Although you might think that the monthly plan that you choose for your Shopify store should be enough to cover all expenses – including transaction costs, it's important to remember that what you're really paying for is the software and sales tools. Your monthly fee covers support for an unlimited selection of products. If you still think that it's unfair for you to have to pay transaction fees at all, you'll need to consider the fact that many other companies charge these fees too.
For example, while BigCommerce doesn't charge you a fee every time you make a sale, it will automatically upgrade you to higher plans when you make more than a certain number of sales. This means that no matter what you do, you'll be forced to pay more for your services as your business grows. Shopify doesn't follow the same strategy there.
On the other hand, Volusion puts a limit on the amount of bandwidth that any business owner can access on a monthly basis. This means that you're restricted on the number of people that should be able to visit your store and make a purchase. There's no similar limit on bandwidth for Shopify, which means that although you're paying transaction fees, you're free to interact with as many potential customers as possible.
Wix is another business that doesn't necessarily charge transaction fees up front. However, when you want to sell products through the Wix service, you will need to upgrade the plan that you use. This means that you're paying extra for your service, which helps to cover some of the costs of the transactions.
The only real way to stop Shopify transaction fees completely is to switch your payment processing strategy over to Shopify's own solution. When you choose to use Shopify payments, then Shopify can remove the fees that you pay for transactions.
With Shopify Payments, you can process the costs of paying for services and products from your clients and collect money in your bank account. If you use this solution, Shopify will take all the credit card fees from you, which means that the transaction fees are often waived.
Shopify payments saves you a lot of money if you use it in the right circumstances. Additionally, the credit card rates that come with this service are typically a lot lower than the rates that you'll pay for a similar solution like PayPal. This means that you can keep costs as low as possible.
Who Should Use Shopify Payments?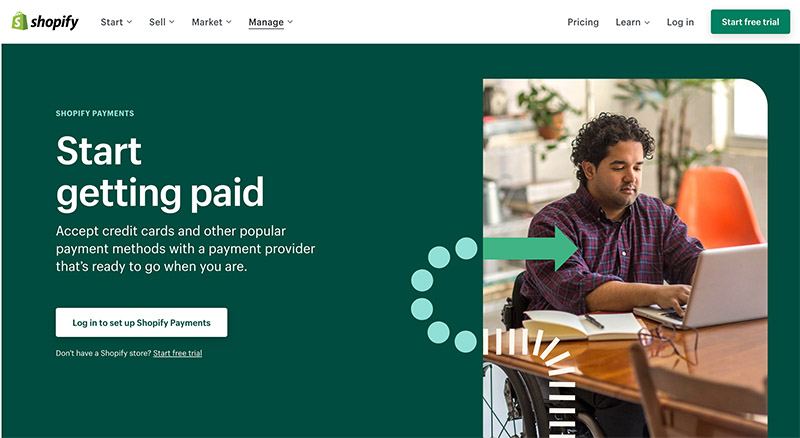 If you're sick and tired of paying for extra transaction fees from Shopify and you want a reliable way out, then Shopify payments could be the perfect solution. Already, Shopify makes it much easier to transform your business and move beyond selling your products just on eBay or Amazon alone. There are tons of apps to expand the functionality of your store, and plenty of great features.
Shopify payments gives you a fantastic way to grow your company rapidly and keep costs low by avoiding annoying transaction fees. While you might not get the same functionality that you would get from PayPal and Stripe, you can still offer your customers all the simplicity that they need to enjoy their purchasing experience online.
According to Shopify, around 85% of all the people that have their own Shopify account today also use Shopify payments.
Another Option: Buying a Pre-Made Store
One final expense that we're going to cover before we put an end to this Shopify Pricing review, is what it might cost to buy your own Shopify store that's already been made for you. Within the new Exchange marketplace, it's possible to buy a Shopify store that's already been built by a professional to give you everything you need.
The great thing about Shopify stores that are pre-built is that these tools take a lot of the work out of setting your store up, and assuming that the store you buy is profitable already, you can quickly develop a lot of income without any work.
To ensure that you're not paying for a lemon, the Shopify team only places stores available for purchase on the Exchange Marketplace when they've been vetted. This means that an expert evaluates the profitability and potential of the store. Before the stores are listed, there's an escrow method used to keep the payment in place until both the seller and buyer are happy with moving ahead with the transaction.
Of course, because there are so many different kinds of Shopify store available to purchase, it's difficult to know for certain how much you would actually pay for this store before you log on and start searching for a solution. That means that you're going to need to do some research on your own.
What we do know is that the variety of a Shopify store solution means that you can spend anything from a couple of hundred dollars on your store, up to a few million instead.
Shopify Pricing: Final Thoughts
Shopify is easily one of the most popular and successful eCommerce platforms on the market today. It offers companies the opportunity to build profitable environments for online and offline selling. Whether you want your own POS, or you need something that will allow you to sell services through the web, Shopify has you covered.
The flexibility of Shopify shows through not just in its amazing app store, but also in the wide range of Shopify pricing options available to get you started. You can choose exactly how much you want to spend for your store, based on how big you are and the features that you need. What's more, there are tons of ways to expand your strategy with things like Shopify Payments and premium apps.
The important thing to remember about Shopify pricing is that you have a big part to play in deciding how much you spend. While it is possible to start a Shopify store for a relatively cheap starting cost, it's also easy to start spending thousands of dollars per month too.