Wufoo is one of the most popular and powerful online form builders with almost 10 years of experience in the field, founded in 2006 by Chris Campbell, Kevin Hale and Ryan Campbell. Their aim was to reduce the form building time from "what used to take days (if not weeks) by trained professionals into something that could be done by anyone in minutes". Since then the company is on constant development. In 2011 was acquired by SurveyMonkey, a market leader in web-based survey solutions.
Plans from Free to Unlimited make Wufoo a very competitive products for both beginner and advanced users.
Wufoo Pricing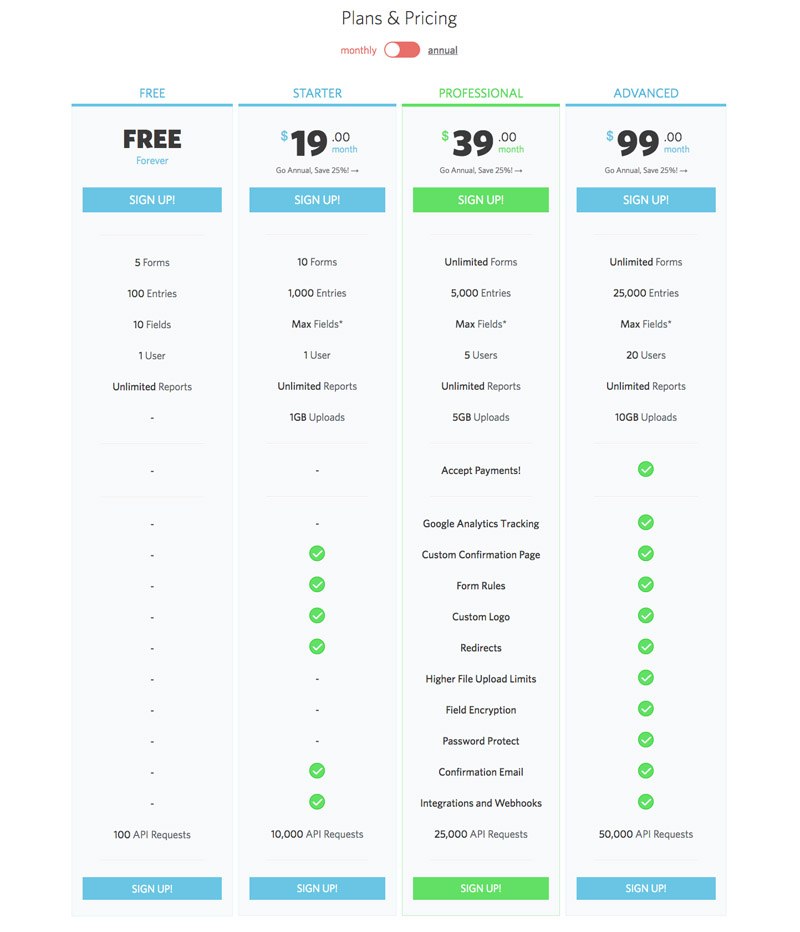 Free Plan: FREE
With the free plan you get to create 3 forms but you are limited by the number of fields (3 maximum) and entries (100 entries) with only 3 reports. All these features are available for 1 user.
Starter Plan $19/month
This plan will increase the number of forms (10 maximum), entries (500), fields (100) and reports. It will also add 250MB of file storage and other useful features like redirects or form rules for creating more advanced forms.
Preffessional Plan: $39/month
Starting with this plan you'll get unlimited forms and reports, 3000 entries and 1GB of file storage, maximum fields (around 100) and field encryption. All this available for 5 users.
Advanced Plan: $99/month
This plan will only quintuple the number of entries and triple the file storage for up to 20 team members.
Ultimate Plan: $249/month
With the Ultimate Plan, you have an unlimited number of forms, unlimited reports, 100,000 entries a month, integrated payments, and 10GB of storage available for 60 people in your organization.
If you go annual Wufoo offers 25% off for all plans. Before you buy, a Form Builder Demo is available, and you'll get to try out the full Wufoo form editor without creating an account.
Wufoo Design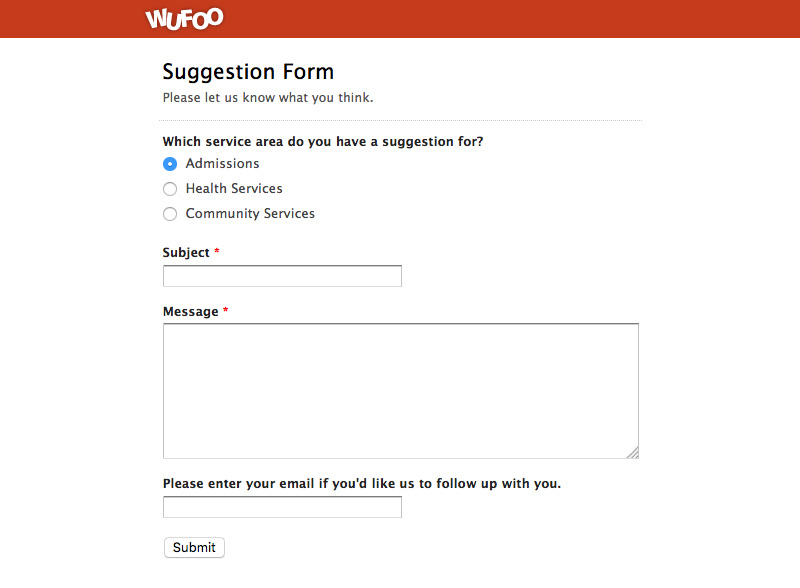 If you need a form or survey, Wufoo has already created more than 300 templates and themes, arranged on categories like Surveys, Invitations, Registrations, Led Generation, Online Orders or Tracking and tons of subcategories. If you don't find what you are looking for you may create it from scratch using a drag and drop editor and some CSS skills.
The templates design is pretty basic and feel a bit dated but they get the job done well. With some basic HTML and CSS they can get a bit better.
Wufoo Features
Wufoo has all of the features that you would expect from a form builder. Starting with the Bona Fide Plan you'll have access to all the features the builder has to offer.
Conditional logic is one of its strongest, it allows you to show or hide fields, jump to different pages, and setup up to 50 form rules.
Other features include the form analytics, smart captcha, payment features, coupon codes, user management and advanced analytics. You may also accept and store files uploaded by users.
Wufoo Backend Features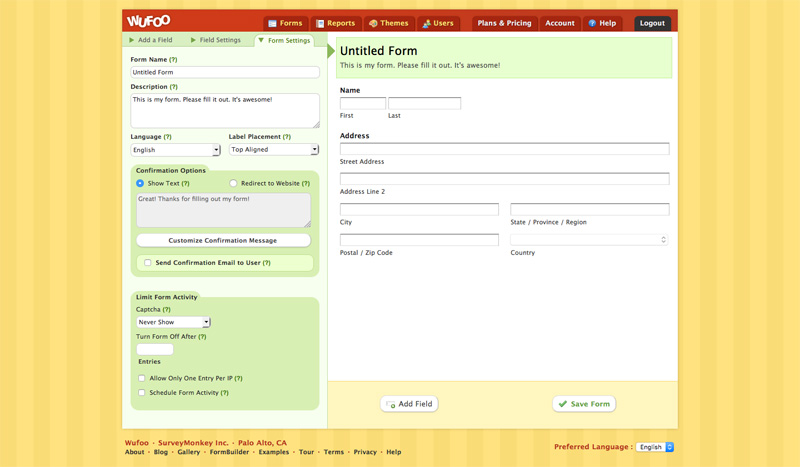 Wufoo's backend items are very well organized. From the main menu you can access your forms, reports, themes and manage your account's existing users.
For every form you can view the entries, edit the fields, access the analytics dashboard, create conditional logic rules, get the share link or embed code.
Everything is very straightforward and easy to use.
Wufoo Extensibility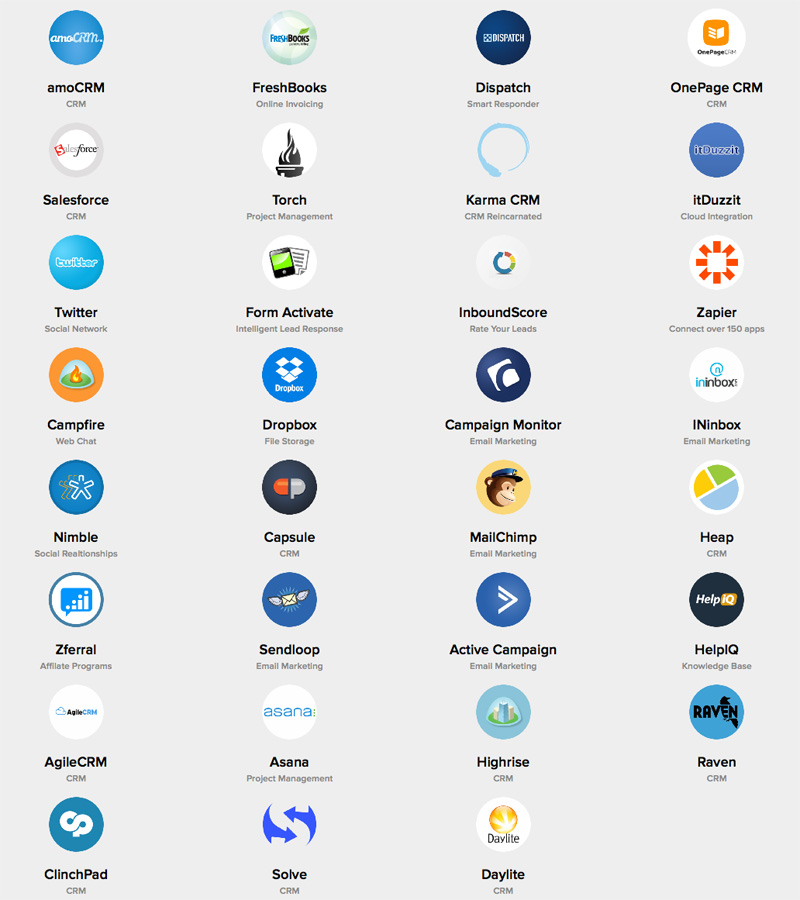 Wufoo is integrated with most popular payment processors so you can accept online payments with ease if you are using Stripe, PayPal, Braintree, Authorize.Net, Chargify, USA ePay or FreshBooks.
You can easily get instant updates about the data being collected from your users right into more than 30 intehrations which include: Active Campaign, MailChimp, Asana, Zapier, Campifire, Salesforce or Torch.
Other integrations:
Facebook
Wix
Suarespace
WorPress
Drupal
Joomla
Wufoo Flexibility
Wufoo's Code Manager provides a number of copy-and-paste code snippets to help you embed your form into your web site, blog post, email newsletter or Facebook page.
If you want to use your own database, you can use Wufoo just to design your forms, then download the HTML and CSS code.
From your Account Manager, you can upgrade or downgrade at any time according  to your needs.
All the entries collected via Wufoo's forms can be exported to Excel, CSV and Tab Delimited formats.
Wufoo Statistics
With the Report Builder you can choose to display the data from your entries as graphs, charts, numbers, text, or data grids.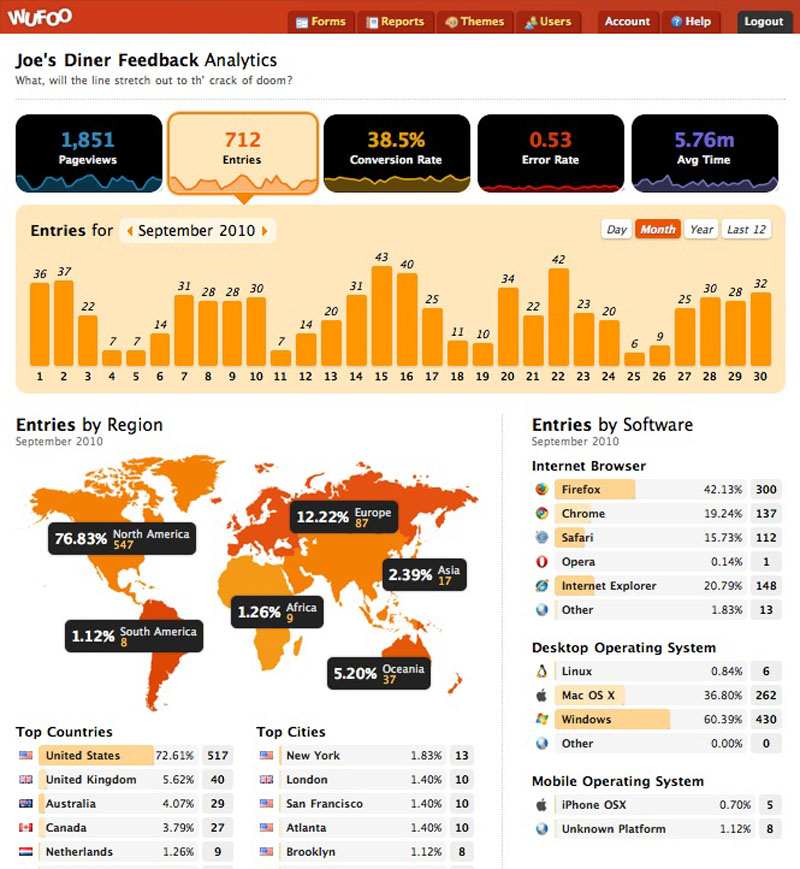 The analytics tool will track views, submissions, and conversion rates.
Using the Form Analytics feature you will also be able to track pageviews, error rates or submission times. All the data is displayed in a separate dashboard.
Wufoo Support
In the help center you'll find an extensive knowledge base and very good documentation. If your questions are not covered by the documentation you may contact customer support via email.
Conclusion
Wufoo's monthly plans range from FREE to $199.95/month and the prices are based on the number of users that you can manage, the number of forms you might need and the number of entries you can have submitted per month. The features are great, and you shouldn't have any problems understanding the backend.