Picreel is one of the major players in the exit-intent popup world. Their app has been around for quite a while. They are located in Barcelona. They were founded "10 years after of being in the sales in the internet world and providing assistance to web owners in getting more clients." I'm not entirely sure what that means, but it sounds like they have a lot of experience. Luckily, the about us page is really the only part of Picreel's site that is hard to understand. Their documentation is completely free of sentences like that.
Picreel Pricing
Picreel is one of the more reasonably priced popup applications available on the internet. Their intro rate is quite competitive, comparable with other popup sites. They get a bit more expensive at the higher end.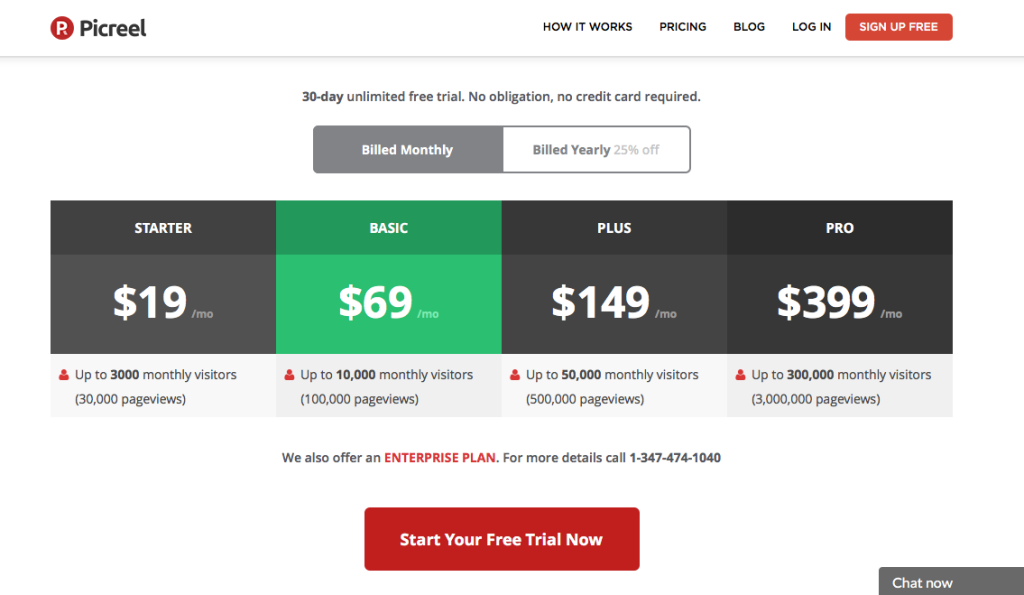 They offer yearly pricing at a %25 discount as well. That knocks off a few more of your precious dollars. Picreel has a free trial, as you can see on the bottom of the screen. That should give you a good idea if they will meet your needs.
Picreel Design
Picreel offers a goodly amount of templates to choose from when designing your optin. They also have a very easy process for creating your own custom options, if you are so inclined. There are two different ways to accomplish this. You can create a custom template from designs you've made in a image manipulation program like Photoshop, or you can code yourself an optin from scratch. Picreel makes both of these pretty easy if you have the necessary know-how.
Their editing environment is nice and simple. They offer most of the basic editorial decisions that you have in other popup apps, as well as the option to edit the HTML or CSS directly. This is what the editor looks like: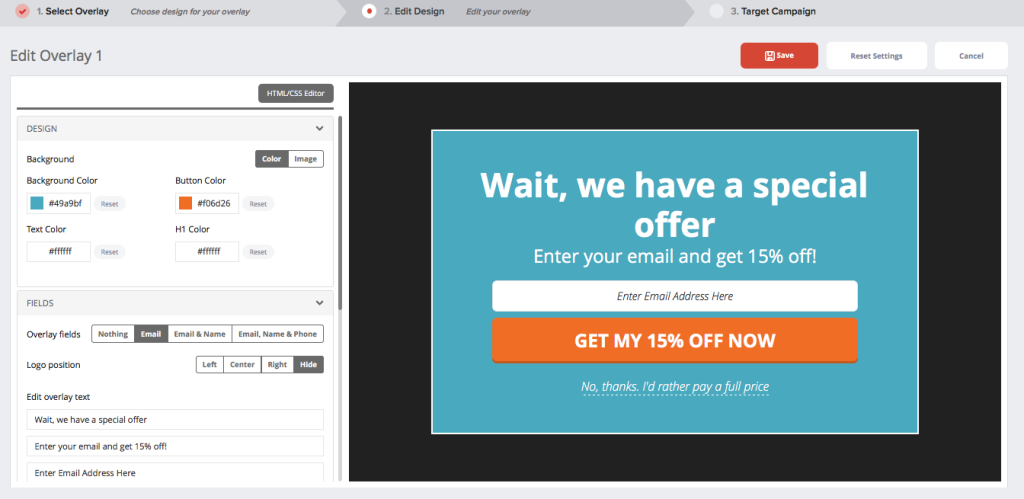 Pretty nice, huh? All of the basic editing features are on the left, and the changes to the popup are made in real time. You don't have to keep reloading the page to see the work you've done.
Picreel Frontend Features
Picreel's exit intent works very well. Try as I might, I could not fool it even once. The popups have a good feel and flow. Your visitors will be able to enter their information with ease. The popups have big easy ways to opt in. If you're a visitor interested in a special offer, you won't have a problem figuring out what to do.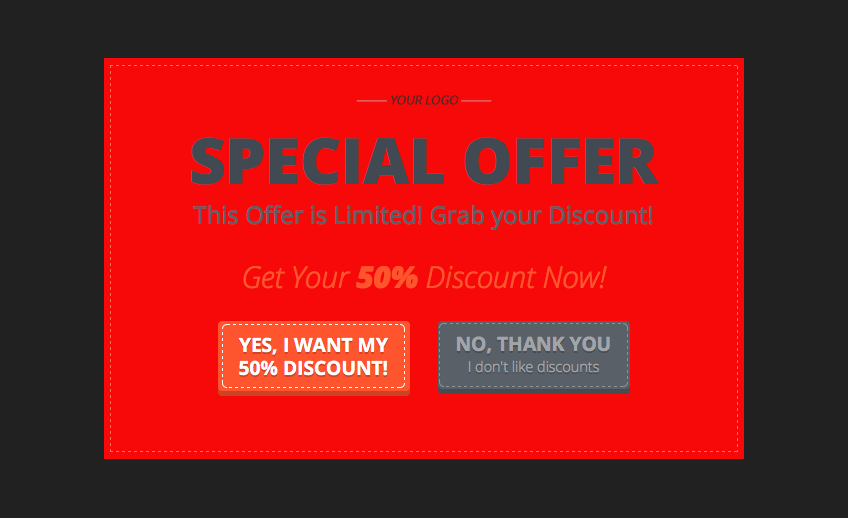 Picreel also offers targeted popups based on where a visitor is in your website. This is really good for tailoring specific offers to your customers. That can really boost your sales in an eCommerce environment. You can add custom coupons that will give abandoning visitors discounts on products they've just viewed.
Picreel Backend Features
The interface is pretty streamlined. It doesn't take long to get anywhere, and any language issues that might exist on their website certainly do not exist in the program itself. It does have an annoying habit of not navigating to the correct section sometimes. Every once in a while when you try to click on the "Statistics" page it will take you to the "Leads" page instead. This is more of a minor annoyance than anything else, but it still gives me pause. What other bugs might lurk beneath the surface. We may never know. Here is what the interface looks like.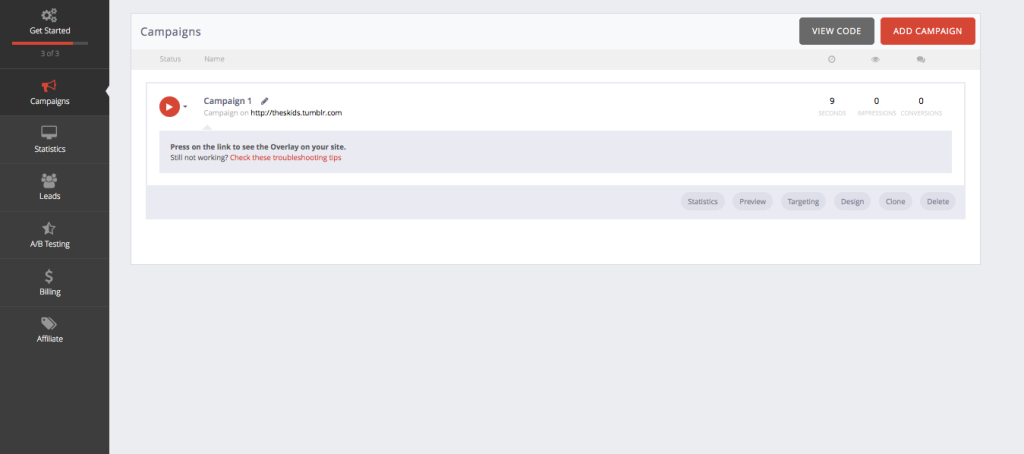 Despite any potential bugs, the interface is nice to use. Everything is laid out for your to access easily, and having A/B testing so readily available and not buried in the statistics page is really nice.
Picreel Reports and Statistics
The stats page is pretty. The smooth lines and large colorful boxes put me at my ease.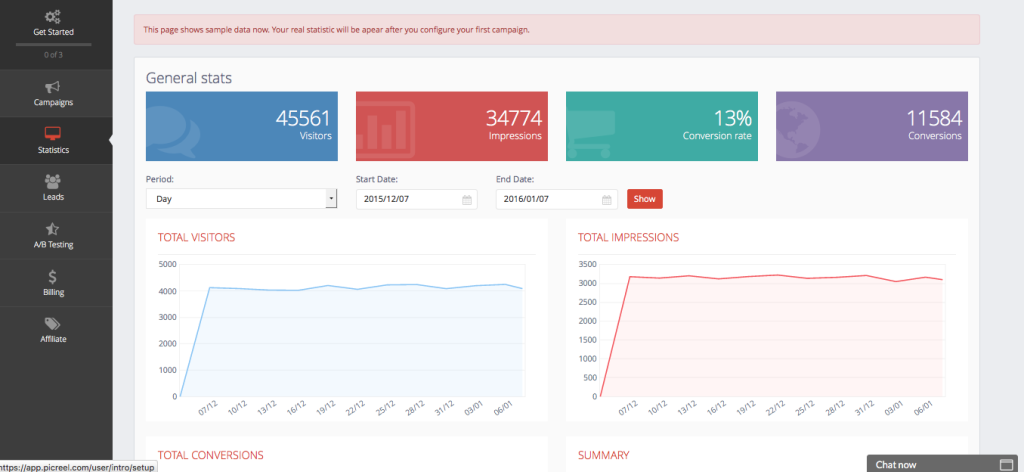 If you are as much a fan of smooth lines and brightly colored boxes as I am, then Picreel will put you at your ease too.
Picreel Flexibility
Picreel has varying degrees of flexibility, depending on your skill level. For the basic user, it does not offer much beyond email capture and other rudimentary popup applications. But if you know either how to code, or how to design things in a image manipulation program then you are in luck. Picreel makes it easy to create your own custom popups if you have the necessary skills. This is a breath of fresh air compared to other applications that restrict your ability to make your own popups and try to make you buy custom popups from them.
Picreel Extensibility
Apps that work with Picreel
ActiveCampaign
Any CRM
Aweber
Campaign Monitor
ConstantContact
GetResponse
Highrise
HubSpot
Infusionsoft
MailChimp
Ontraport
Vertical Response
WordPress plugin
iContact
Picreel integrates will all of the major email marketing apps. You can also get all of your collected emails in a CSV file, which you can then import into other programs. That is super handy if you use an email marketing app that is not supported by Picreel. You can still get all of your leads into the app easily.
Picreel also works with CRM platforms like Webhooks, Highrise, Zapier, and Hubspot. If you are a big CRM buff then Picreel may be the right choice.
Picreel Support
Picreel has quite good documentation and self-help sections. You shouldn't have any trouble getting your optin up and running using just those, but if they fail you Picreel also has phone and email support.
Their support is very responsive. They will respond to any emails right away. One gets the impression that they wait at their keyboards, fingers poised, night and day until they are called.
Picreel Conclusion
Picreel is a really good option for anyone who wants to get into the world of popups for not very much money. They offer exit-intent at a reasonable price, and the have excellent templates, albeit with not as many design options as one would hope. Their website is intuitive and well designed, with a few hiccups that seem purely cosmetic.
Overall, they do a decent job at creating a one stop shop for all your popup needs. There are only a few problems with their app that are largely cosmetic. Picreel is a good choice.