Gravity Forms is a WordPress plugin that makes it easy to create powerful forms inside of your WordPress Admin pages. So if  you are using WordPress to for your site or blog, Gravity will integrate directly into your WordPress admin panel. All the licenses are available for one year and include the plugin and full support and updates.  If you don't renew your subscription Gravity will still work but you won't get any updates or access to support. Prices are very competitive, considering the tool is loaded with lots of features and the Personal License is $39/year (that's less than $4/month!).
If your website is not built on WordPress you should consider other form builders we have reviewed.
Gravity Forms Pricing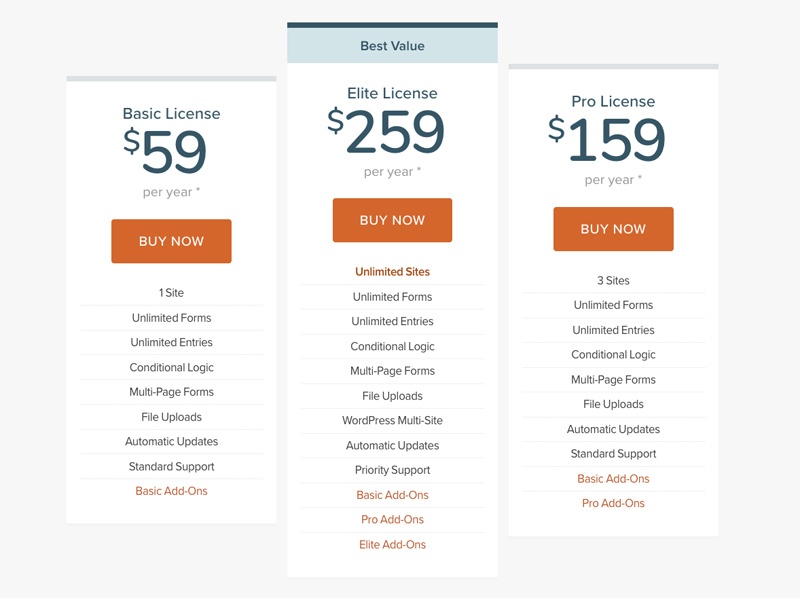 There is no free trial, but a demo is available if you wish to get a feel of the Gravity Forms administration before you buy.
Basic License: $59/year
Use unlimited forms with unlimited entries for only one site. Features like autoresponders, Export Entries, Spam Protection are available but there basic add-ons included.
Pro License: $159/year
At this price point basic and pro add-ons can be added and you can use the license on up to 3 websites.
Elite License: $259/year
You get everything with this license, including priority ticket support and access to advanced add-ons.
Gravity Forms Design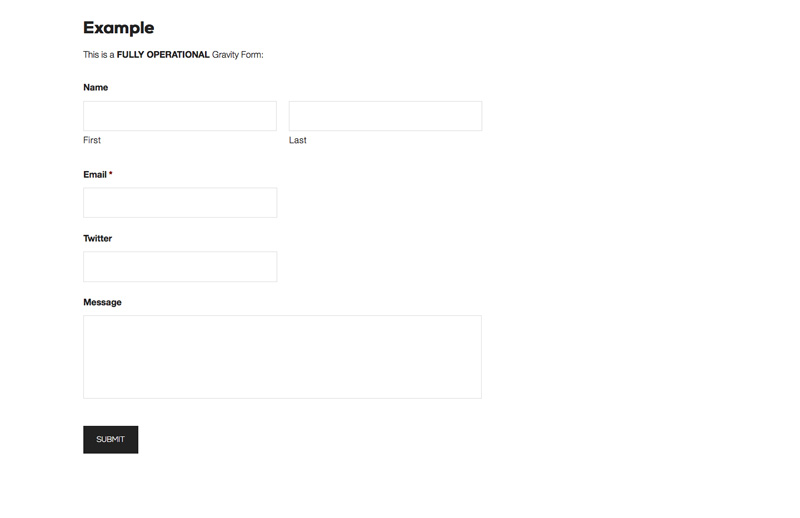 Gravity Forms—like a number of other WordPress form plugins—lets you make forms inside of your WordPress Admin pages and it comes styled to work out of the box with just about any theme.
If you want to tweak the way your form looks you can use the Gravity Forms CSS classes under the advanced field settings to do so. Nevertheless this will require some coding skills so if you don't want to get your hands dirty try the demo forms first and see if they match with your WP theme.
Gravity Forms Features
With Gravity you can make multi-page forms, schedule forms and restrict number of entries, create WordPress posts from entries, save forms and finish filling them out later.
Lots of add-ons are available if you need to integrate payment platforms and other web apps with the builder.
Conditional logic is is a pretty powerful feature, it allows you to show and hide form fields/questions based on how users respond to previous questions.
Gravity Forms also allows you to create WordPress posts from user entries or quickly build surveys and reader polls with open-ended text fields, drop down menus, checkboxes, numerical fields, and multiple-choice questions.
Gravity Forms Backend Features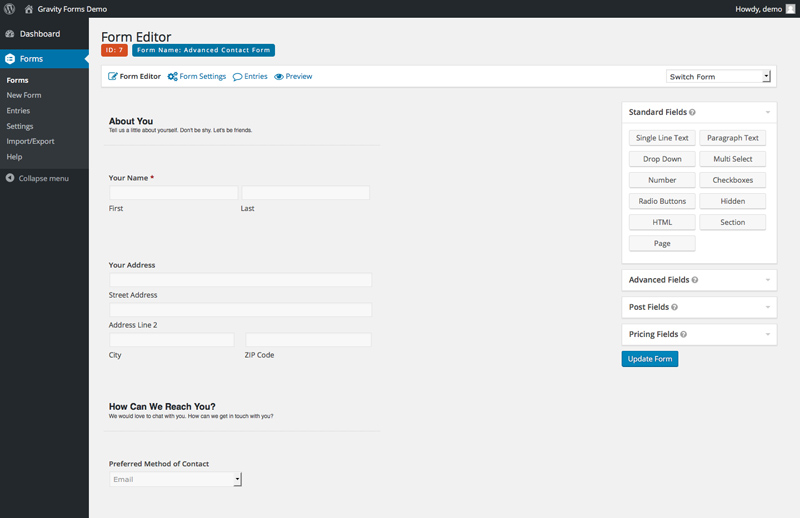 Gravity Forms is a WordPress plugin, so your backend will be integrated into WordPress.
After you install the plugin you will find a new Forms section in the the WP admin menu where you'll be able to add new forms, edit your forms, and see their results.
A drag and drop editor is available and you can easily create, edit and sharing your forms .
Gravity Forms Extensibility
Gravity Forms has over 100 extensions and add-ons, giving you tons of third party options. The business license gives you access to integrations (basic add-ons) with all the major email marketing services like (Campaign Monitor, MailChimp, AWeber, etc.). With the Developer license you'll have access to the advanced add-ons.
The downside is that the add-ons are only available with the Business or Developer license so if you are running only one website it might be a little expensive.
Gravity Forms Flexibility
If you want to expand the uses for the plugin with add-ons you'll need at least a Business license at $99 or a Developer license (for access to all add-ons) at $199.
You can get a full refund within the first 30 days of your purchase.
WordPress developers can customize Gravity Forms functionality using the Gravity Forms API.
Gravity Forms Statistics
Gravity Forms doesn't currently have reporting capabilities or other add-ons for use as an advanced survey.
Gravity Forms Support
Gravity forms has good documentation. If you encounter problems there are customer service forums on the support page and a FAQ section that you can check before submitting a support ticket. You can also reach them on Facebook and Twitter, for quick support questions, they usually respond within a few hours.
Conclusion
If you need a form builder for your WorPress site, Gravity Forms will integrate perfectly into your backend. They have excellent form templates good documentation to help you customize your forms. There are a lot of features available and unlimited forms and entries starting with the Personal license.
The lack of statistics is a bit disappointing but for $39/year for the starting plan, is the best bang for your buck when it comes to other features and add-ons available.