Typeform aims to make forms fun and engaging, so users will be happy to fill them out and increase your conversion rates. Founded in 2012, Typeform takes a different approach to forms, making them keyboard friendly so users won't have to use the mouse, and displaying questions one at a time.
Typeform Pricing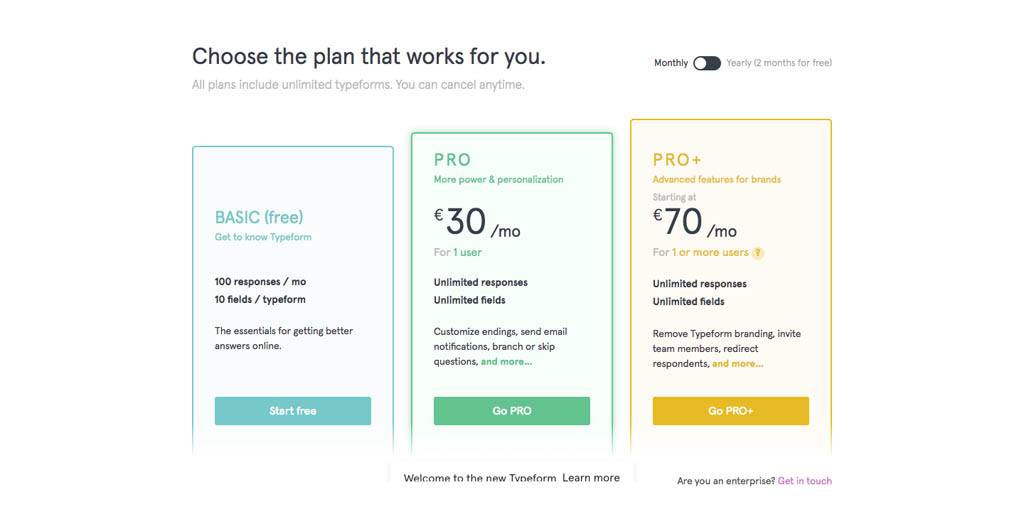 Basic: FREE
The free plan offers a ton of great features  like  mobile-ready forms, access to the emplate gallery, split-device metrics, SSL encryption, reporting and much more.  All these features will be available for 100 forms per month with up to 10 fields per form. There are some features that you could miss out like conditional logic.
Pro: $30/month
The pro plan has a really good value for the money, it will remove the Typeform branding and it includes all CORE features plus conditional logic, email respondent notifications, customizable thank you screen hidden fields and up to 2GB of storage. For both the Basic and PRO plan, Typeform branding will appear on the footer of your form. This can be removed once you upgrade to the PRO+ plan.
PRO+:  from $70

This one is aimed at companies & teams. It includes all PRO features plus Priority support, user invites and File upload up to 4GB per user.
You will get two months free when you pay for the whole year.
Typeform Design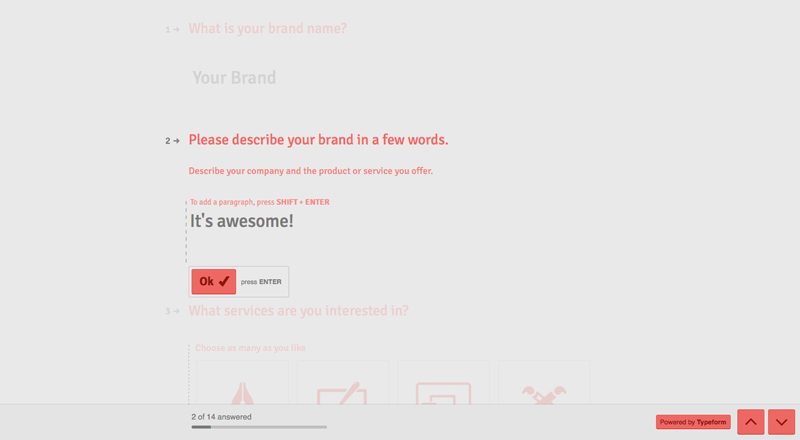 Typeform has an unique form interface that only shows one question at a time. They recently had a design refresh and everything looks awesome. The tool allows you to include images and videos in your forms and uses fonts much larger than the average form builder. Images can be used as buttons for interactive forms.
The whole platform is designed in a drag-and-drop format, so learning how to use it will be extremely easy.
If you're looking for a new way of presenting forms then Typeform is a great option to consider. To help you understand better why Typeform is different you can check some examples here.
Typeform Features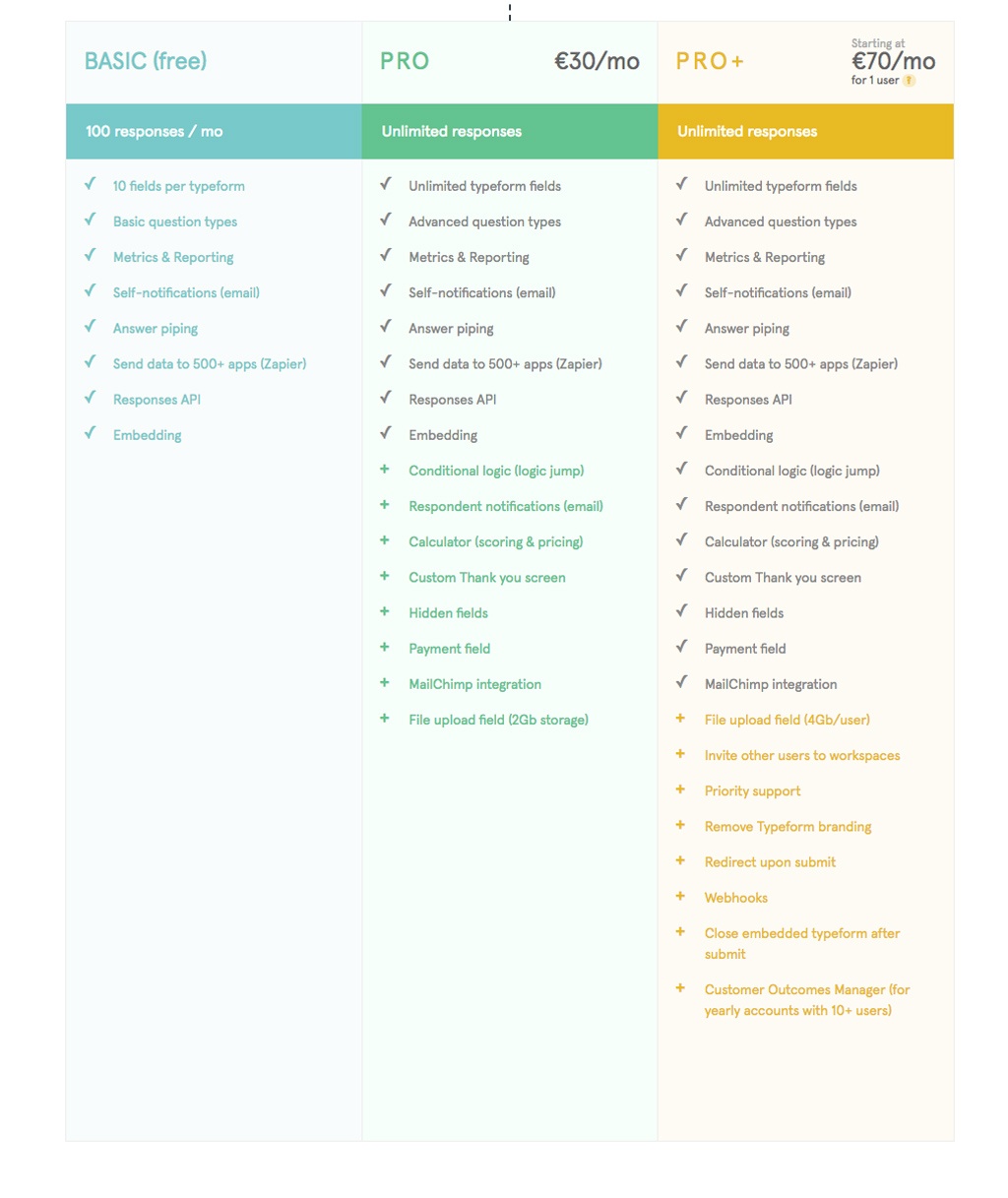 Pro forms support logic jumps, payments, and more
Mobile and keyboard shortcut friendly. This means that the forms will be accompanied by letters, which you can tap on your keyboard to quickly fill out the form from your computer without ever touching your mouse.
You'll see one question at a time, with large answer and text fields so users can easily tap it on a mobile device.
They are reporting higher completion rates than other services.
Typeform Backend Features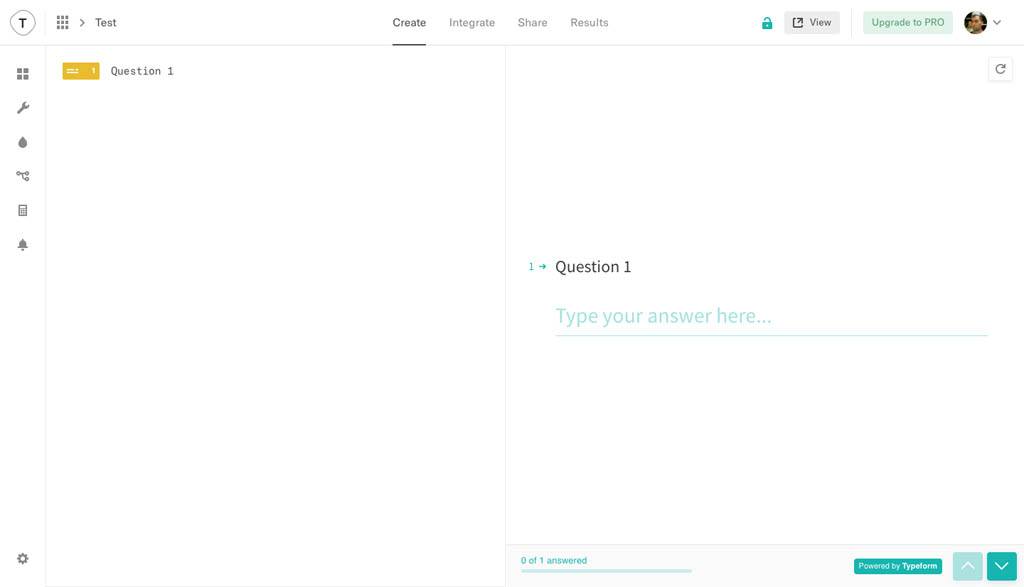 Creating a form using the Typeform online platform is easy and quick.
Once you have created your form, editing and rearranging the fields is hassle free and doesn't consume massive amounts of your time.
The dashboard has three menu sections: Build, Design, Configure, Distribute, Analyze.
Under the Build section you can drag and drop your fields (logic jumps are also available here and hidden fields). The Design section allows you to change color schemes, fonts or opt for a whole different theme. Under Configure your general form settings, add or remove integrations, setup respondent notifications and configure the progress widget. After your form is completed youcan go to the Diustribute section to grab the URL or embed code. Next is the Analize section where all the reports and metrcis are available.
Typeform Extensibility
Their integration with Zapier helps you push data you collect on Typeform to over 500 services like Google Sheets (aave new Typeform entries to a Google Sheets spreadsheet), MailChimp (for creating MailChimp subscribers from your entries), Trello, Dropbox and many more.
Typeform Flexibility
Typeform does not limit how many questions you can ask per form.
Typeform does not refund for contracts cancelled before the contracted period ends so be careful when committing to a full year plan.
Typeform Statistics
There is no built in analytics feature for statistics but you can easily add your Google Analytics tracking code to any of your form, in order to track and collect data about users who submit your forms. In the Analize section from your dashboard, some metrics (completion rate, unique visits or responses) will be available for every device (desktop, tablet and smartphone).
Typeform Support
Typeforms's help and support team is reliable. They are available via email from Monday through Friday, 8AM-11PM (CET). If you send an email between these hours it is very likely that you'l get a quick to respond to our questions.
The Help Center covers topics for both beginners and advanced users, from creating a form all the way through distributing your forms, analyzing results or using the API.
Conclusion
Typeform is for everyone who want their forms stand out from the crowd. They have a free plan for smaller startups, the themes are great, and creating the forms is just as intuitive as filling them out. The pro plan has a really good value for the money, with lots of features to choose from.