Freshdesk is a SaaS based customer support software aiming to help businesses of all sizes. With its 5 pricing plans, this customer support software is excellent for fast growing companies.

Freshdesk Pricing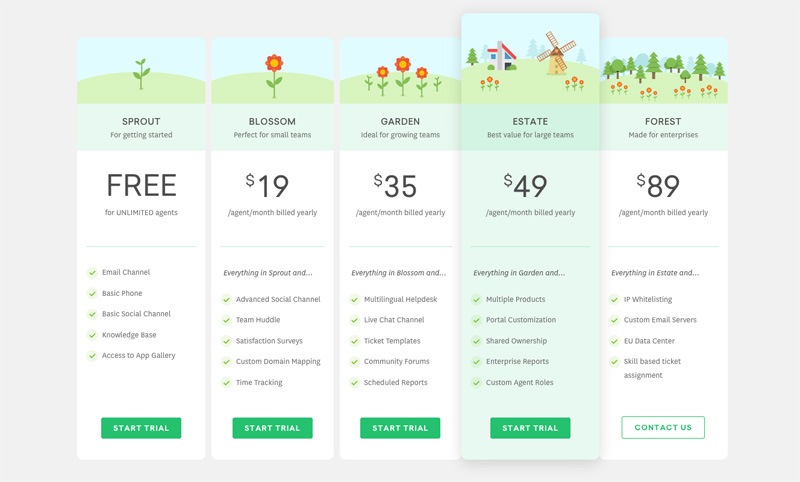 Freshdesk offers 5 princing plans:
Freshdesk offers 5 princing plans:
Sprout:
$0/agent/month, for unlimited agents
Main features include:
Email Support Channel
Standard Phone Channel
Knowledge Base
Access To App Gallery
Blossom:
$19/agent/mo when billed annually
or
$25/agent/mo when billed month-to-month
Main features include:
All Sprout features
Advanced Social Channel
Team Huddle
Satisfaction Surveys
Custom Domain Mapping
Time Tracking
Garden:
$35/agent/mo when billed annually
or
$44/agent/mo when billed month-to-month
Main features include:
All Blossom features
Multilingual Helpdesk
Live Chat Channel
Ticket Templates
Community Forums
Scheduled Report
Estate:
$49/agent/mo when billed annually
or
$59/agent/mo when billed month-to-month
Main features include:
Multiple Products
Portal Customization
Shared Ownership
Enterprise Reports
Custom Agent Roles
Forest:
$89/agent/mo when billed annually
or
$99/agent/mo when billed month-to-month
Main features include:
All Estate Features
IP Whitelisting
Custom Email Servers
EU Data Center
Skill based ticket assignment
24 x 7 email support and 24 x 5 phone support included with all plans.
When you sign up, you get access to all the features in the Freshdesk Estate Plan for a 21-day free trial. No credit card is required and there are no cancellation fees. If you cancel, you'll be billed for the current month. You can upgrade, downgrade or cancel at any time.
Freshdesk Design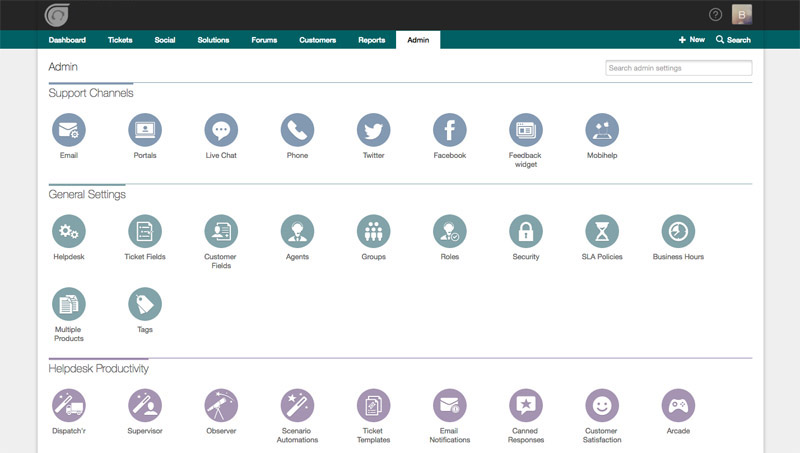 Freshdesk's design looks a bit dated but the interface is quite simple.
Your portal can be customized to reflect your brand. You can put up your logo and favicon and paint your self service portal in your brand colors.
Freshdesk Features
Freshdesk lets you create a knowledge base section for your users, and this is one of the most important features of a help desk software.
Some of the most important features: Help desk Ticketing, Multi-Channel Customer Support, Time Tracking, Built in Knowledge Base, Help desk Automation, Integrated Forums, Multi-product Customer, Support, Reports & Insights, Integrated Game Mechanics, Mobile Friendly App. For the full list of features available you should check out the Freshdesk homepage.
Freshdesk Backend Features
One you login as an agent and setup your account you'll find the following tabs:
Dashboard: by default it will show the standings for the current month and for all agents.
Tickets: once you have configured your mailbox, all your emails are converted to tickets and you can view them under the tickets tab. Here you'll also find tickets from other channels like Facebook, Twitter or phone.
Social: here you can reply to your brand mentions from your social media accounts.
Solutions: here you can create and edit your articles for your knowledge base.
Forums: here you can setup community forums to give a platform for customers to talk about your product/brand.
Whenever a ticket is created, the requester is automatically added as a contact in your help desk. You can see these contacts in the Customers tab.

Reports: here you'll find an overview of all the important metrics.
Admin: under the admin tab you can add or remove agents, configure support channels and configure automation tasks.
Freshdesk Reports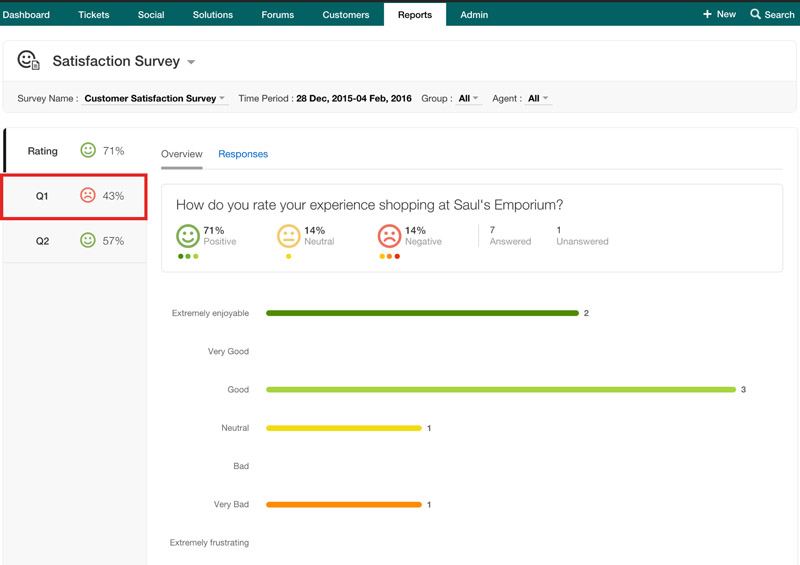 Freshdesk has a strong reports section which gives you an overview of all the important metrics. You can export your data to a CSV whenever you want to create custom reports, free of cost. You also have access to a range of filters that make it easier for you to decide which parameters to export.
Freshdesk Flexibility
Freshdesk also offers a builtin chat option (paid separately) and a mobile app (iOS and Android) that allows you to reply to tickets, add notes and perform bulk actions on tickets while on the go. A mobile-ready web-based version is also available and can be used to access your help desk from any device.
You can even add a support app to your Facebook page, where your customers can raise support tickets.
Freshdesk Extensibility
There are around 100 integrations available for Freshdesk, including apps like Zappier, Twitter, Shopify, Salesforce and Gmail. If your favorite service doesn't have an app yet you may create your own using the new Freshdesk SDK.
Freshdesk Support
A discussion forum and a huge knowledge base are available where you can explore ho-to's and help you getting started with Freshdesk.
In case you need to contact their support team you may open a support ticket via email or a web form. Telephone numbers are available from Monday to Friday  for 4 different time zones.
They also offer a cool support glossary where you'll find the definitions of every term you need to know in a help desk.
Conclusion
If you're looking for premium features like LiveChat, the service tends to get a bit more expensive, but you have a 30- day free trial before you commit to a paid plan. There are a lot of features available, plenty of useful integrations and a great reports section.