The Magento Community Edition serves as an opensource solution for those who would like to scale their websites fast. It's a system with a steep learning curve, but you receive just about all the customization settings you'll need. In fact, some of the biggest companies in the world use Magento since they can simply hire a developer to manage the whole ordeal.
However, if you have some technical knowledge and would like an affordable ecommerce website, the Magento Commnuity software is worth a try. What are some of the benefits and downsides of Magento? Keep reading to find out.
Magento Community Edition Pricing
Magento doesn't require any money out of your pocket. That's the glory of an opensource software, since you can simply go to the website and download it for free. However, a more advanced Enterprise Edition is offered, and you need to contact the company in order to receive a custom quote.
However, as with most ecommerce systems, there are going to be some costs. First, a hosting account is required. You need to go out and find a hosting provider and pay anywhere from $3 to $25 per month. This pricing can increase past that depending on the amount of traffic you have. A domain name is also needed, which generally runs at about $10 per year. Other things like CDNs and email newsletter systems may require payments.
Keep in mind that many business owners pay for themes or website designers when working with Magento. If you go with a designer, this could cost you several thousand dollars, or even a salaried employee.
Magento Community Edition Design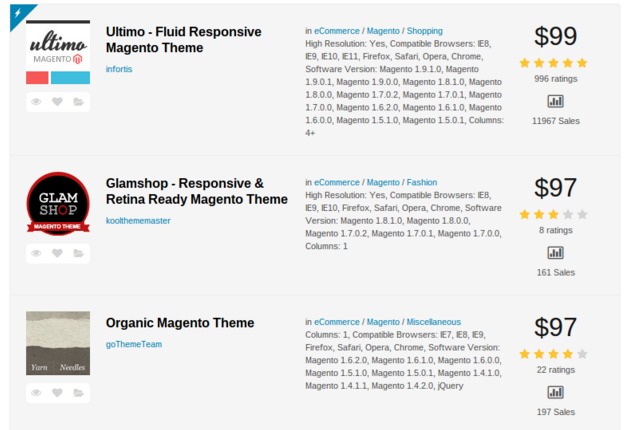 The themes are sold all over the internet, including places such as Theme Forest. Expect to pay anywhere from $50 to $100 for a quality theme, but keep in mind that since there are so many Magento themes, it's wise to keep an eye out for reviews and ratings, since many of them are not vetted for quality. The Magento Theme Marketplace offers around 120 themes, and this is a viable place to look for quality, since many of them look modern and beautiful.
The best part is that you can connect with an FTP client, meaning that more advanced users can customize whatever they want and make a powerful ecommerce website.
Magento Community Edition Frontend Features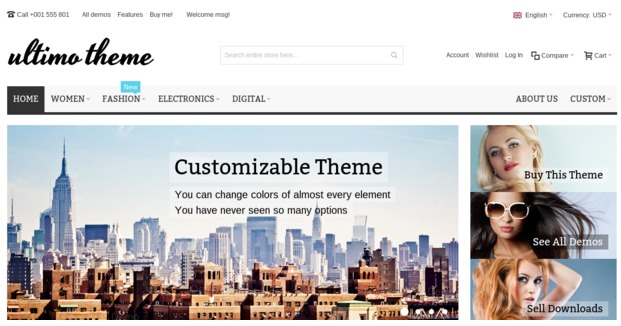 The frontend offers a wide range of features, which works nicely since you don't have to go searching for a ton of plugins to make your site work properly. For example, it's completely responsive for viewing on mobile devices such as tablets and phones. In addition, the zoomable images, re-orders and product reviews come in handy.
The coupon codes make it easy for collecting discounts from customers, and the beautiful frontend is one of the best in the business. Customers can save their shopping carts and see upsells and wishlists. The order status module is one of the highlights, since it works similar to the Amazon order status area, where all the order information is there for the customer to access at anytime.
Magento Community Edition Backend Features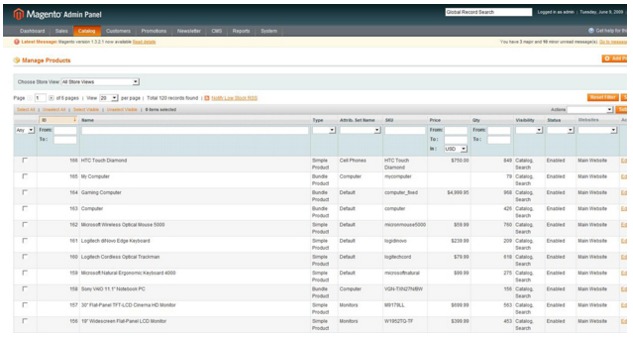 The backend is much stronger than most competitors on the market. That's why so many large companies go with Magento. However, this means that it's intimidating for first-time users. It generally requires you to at least have some sort of technical or development knowledge in order to make an ecommerce site that functions properly.
Several tabs are located at the top of the dashboard, and you can locate your orders and customers with a few clicks of the button. Manage your payment processors, and sell as many products as you'd like. The system even has support for digital products if you'd like to sell items like eBooks or music.
Magento Community Edition Marketing
Marketing is fairly decent, since you gain access to the Google Shopping API, which is wonderful for selling through Google. However, this requires some technical knowledge, so we recommend going with a plugin when looking to sell items on other platforms like eBay, Amazon and Google.
Built-in promotions are one of the highlights of marketing, since you receive tools for product bundling, promotional codes, coupons and upselling. If you need anything else, feel free to locate a plugin.
An email subscription management solution is provided with Magento, but many folks only use this for collecting and looking at the email lists. In terms of making emails and sending them out, your best bet is to work with a system like MailChimp.
Finally, social media is not built-in, so a plugin is your only option here.
Magento Community Edition Statistics
Are you interested in viewing what types of keywords people are using to find your website on Google? You're in luck, because loads of reports and statistics come along with Magento. For example, some of the reports have information for product reviews, abandoned carts and most viewed items. There's also a quick view module on the dashboard for immediately understanding the health of your site without having to download a full report.
Magento Community Edition Hosting and Security
You need to go out and find your own hosting and domain name. PCI Certification and SSL security support is offered, but most of this relies on the hosting provider you go with. You may also need to get a CDN depending on how much traffic your site receives. Oh yea, and you need to go get your own domain name.
Magento Community Edition Extensibility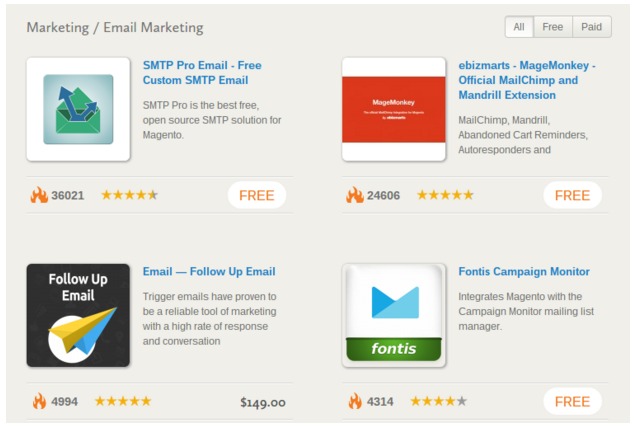 An extension store is offered, but many of them are not that reliable. That said, it's filled with solutions that you can filter through, many of which are managed quite well. For example, you can locate extensions for email newsletters, social media and accounting. The process requires a download and upload to your website, which doesn't take much time.
Magento Community Edition Support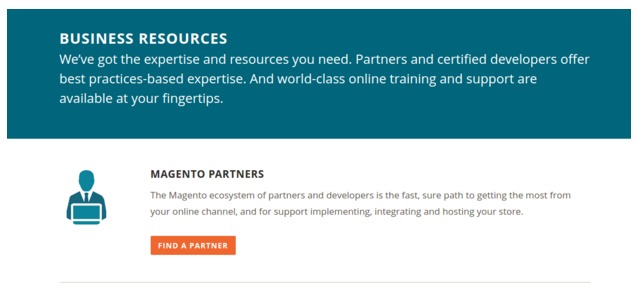 Support forums are available for users, but don't expect anything in terms of personalized phone, chat or email support. That's how opensource tools work, so you must either find blogs or resources on the internet, or figure out problems yourself.
Conclusion
Magento is generally for the big companies out there, but since it's free you can always learn how to use it if you have a lot of time on your hands. In terms of customization, this gives you everything you need. In fact, it's the most scalable platform out there. However, it's generally necessary to have some technical knowledge, or you must hire someone who does. Also, remember that the support is left up to how much you want to complete your own research.