Intercom is a customer communication platform with a suite of integrated products for every team—including sales, marketing, product, and support.
Intercom Pricing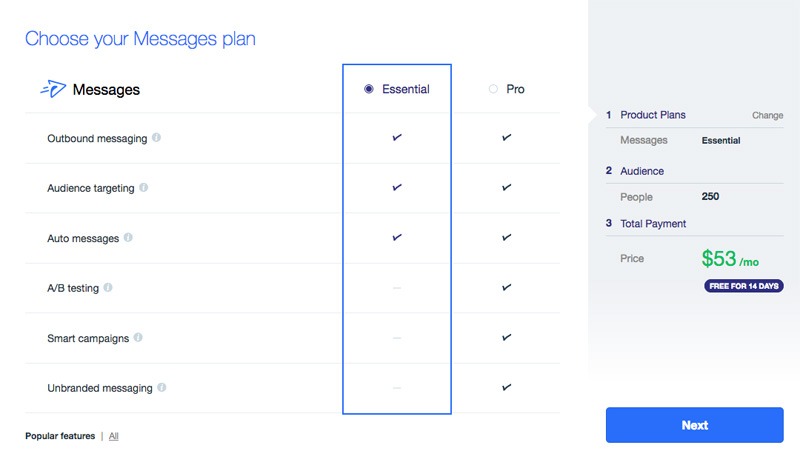 The help desk product is now called Messages. Pricing for Intercom Mesages is based on the total number of people you track and communicate with, not the number of agent seats your support team has. Be careful, pricing will automatically adjust as your business grows and you track more people.
There are two base plans:
Essential:
Pricing ranging from:
$53/mo for 250 people
to
$503/mo for 50.000 people
Pro:
Pricing ranging from:
$85/mo for 250 people
to
$810/mo for 50.000 people
Features included:
assign messages using rules
integrate with GitHub, Salesforce, & more
unbranded Intercom Messenger and emails
There's a 14-day free trial that starts directly with the plan and number of people that you need. A credit card is required to start your trial. You will have a chance to confirm your subscription before starting. After your free trial ends, Intercom's products start at $53/mo, but if you cancel during the first 14 days you won't be charged.
The Intercom Platform shows you who your customers are and what they do in your web or mobile app, for free.
There are two more products besides Messages: Inbox (Intercom product for Live Chat and arketing automation) and Articles (Intercom product for creating a knowledgebase). You can get the complete set starting from $155/mo.
Intercom Design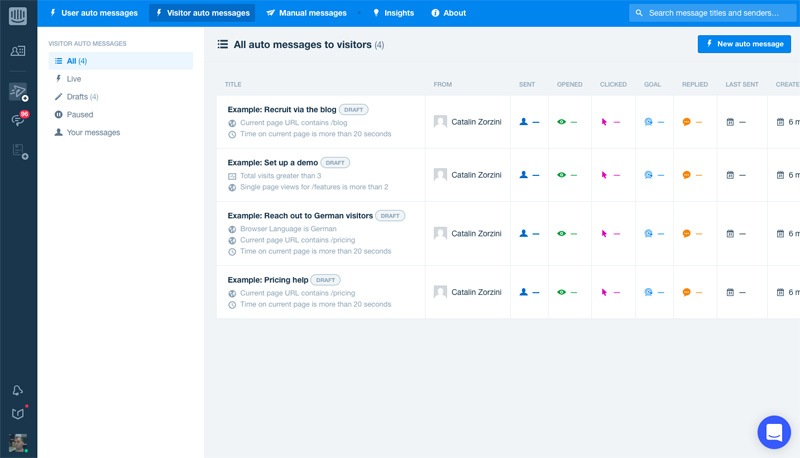 The design of the interface is fresh and clean and the user dashboard offers a lot of information. Once you login you'll notice that the interface is pretty intuitive and easy to use.
The communication features are also really good. One of the weakest points of intercom is that the design is not responsive, therefore accessing the service from mobile devices needs some improvement.
Intercom Features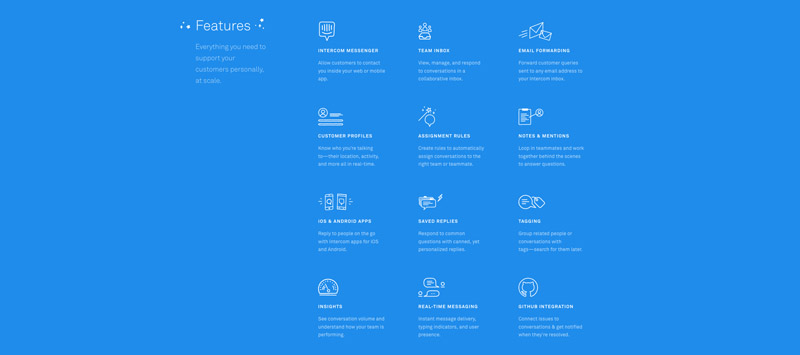 Some of the key features include:
Intercom Messenger that will allow customers to contact you inside your web or mobile app.
Customer profiles allows you to save customer location, activity, and more, all in real-time.
Assignment Rules is a great feature that allows you to create rules to automatically assign conversations to the right team or teammate.
With Saved replies you'll be able to respond to  questions with canned, yet personalized replies.
Tagging allows you to group related people or conversations with tags—search for them later.
Typing indicators, read receipts, stickers and emojis make conversations simple and engaging.
Intercom Backend Features
The backend is very well optimized and has a clean and modern interface.
Intercom Reports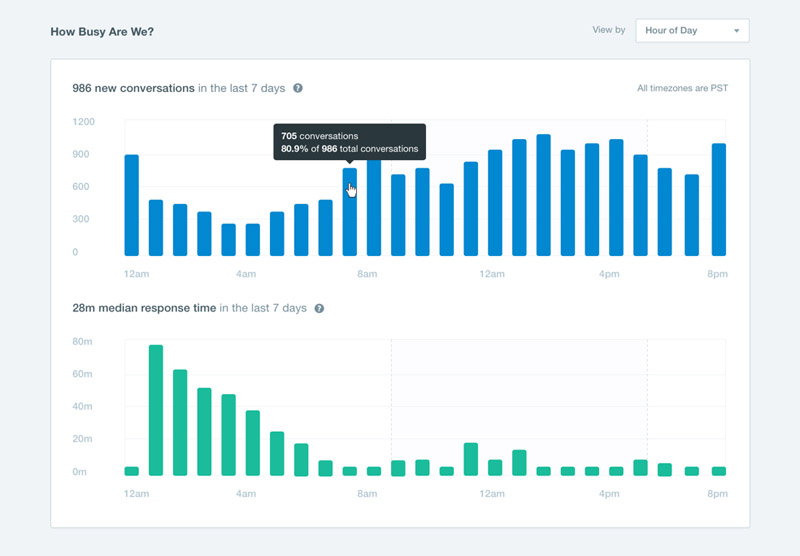 Your support insights will show you data about your signed up users and visitors to your site.
You can see exactly if your support volume is increasing, if your team is responding fast enough to your users and leads, and who on your team is busiest.
All your Support Insights get updated only once a day (midnight for your timezone).
Intercom Flexibility
iOS and Android apps will help you view, manage, and respond to customer conversations from your mobile device.
Building your own knowledge base is not supported at the moment. This is a bit of a letdown as you'll have to use third-party apps to create a self help section.
Intercom Extensibility
Intercom integrates with almost 60 popular third party apps and services to help you have more targeted interactions with your customers.
An API is available for the tech savvy to build their own apps and integrations for Intercom.
Intercom Support
Their support section is based on the Docs forum, where you can ask questions or read on related topics. The Intercom team will usually answer to all questions on this forum.
Once you login into your account, a live chat popup is available if you have questions that need quick answers.
They will also offer support by email, but no telephone numbers are listed for reaching out to the team.
Conclusion
Overall intercom.io is incredibly useful and easy to use. It comes with a beautiful modern design but the mobile experience could be improved. Intercom has a simple pricing structure and because you pay for the number of users not the number of agents it might be a bit expensive for small businesses.